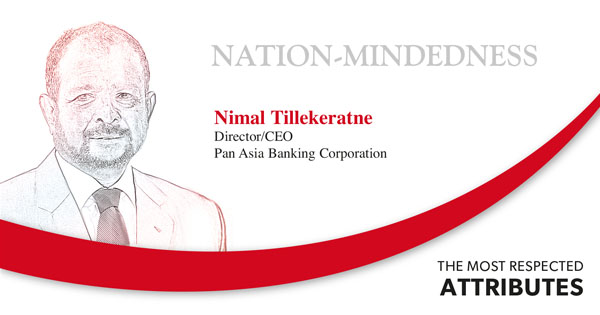 Q: Could you highlight some success stories where nation-mindedness paid dividends?
To ease the burden of the pandemic on SME customers, we organised a series of programmes to help several plan and implement strategies for a post-COVID world.
The bank was also the proud recipient of the first US$ 7.8 million green bond launched by Symbiotics – a leading Swiss based market access platform for impact investing.
We intend to utilise this to support and promote local agriculture, with special emphasis on encouraging the use of indigenous seeds, sustainable agriculture, renewable energy and energy efficiency projects.
Q: What does it mean to be nation-minded, in your view?
Our successful journey reflects our nation-mindedness and identity as 'the truly Sri Lankan bank' led by a strong sense of sustainability. Committed to benefitting customers and other stakeholders even amidst the pandemic, Pan Asia Bank has always supported market segments that are usually overlooked by the sector such as pensioners.
It is evident in how we use capital for positive environmental impacts by accelerating renewable energy financing to promote a low carbon and sustainable economy, by supporting solar power projects and drip irrigation.
Our dedication is also apparent in the friendly service that customers experience as we strive to exceed industry standards. Furthermore, our products and services are aimed at fulfilling their urgent requirements to provide greater economic and social contributions while inculcating saving habits amongst children.
Q: Is nation-mindedness a priority for businesses in the present context?
Despite the COVID-19 outbreak, Pan Asia Bank has sustained its momentum, pioneering new innovations. The Department of Pensions selected us as the first bank to enable electronic fingerprinting for pensioners in lieu of life certificates.
We also relaunched our Business Internet Banking initiative and a no-frills current account, enabling customers to conduct transactions remotely.
Technology is at the heart of our delivery so we've even launched digital exams for staff so that their learning and development isn't disrupted in any way.