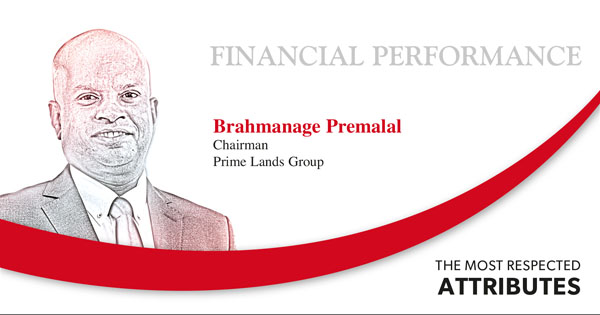 Q: Is financial soundness an accurate gauge of corporate success?
Prime Group believes that financial health is a major factor for measuring corporate success.
For the past 25 years, Prime Group has focussed on financial stability and soundness. Financial soundness refers to maintaining positive cash flow growth and a reasonable ROI, to ensure satisfied stakeholders and provide value for money to customers by increasing their wealth. Our financial stability has developed through competitive advantages in a sector faced with incomplete projects due to financial constraints.
In the light of this, we managed to obtain a credit rating of 'A-' stable from ICRA Lanka for our real estate group of companies – Prime Lands and Prime Residencies. We are one of the only real estate companies in Sri Lanka to obtain this rating and the thinking is to showcase our financial strength by volunteering to obtain it.
This indicates to customers the safety of funds invested in our apartments, houses and lands. What's more, it signifies to contractors, suppliers and banks that their commitments with us are safe.
Q: How important is it to provide stakeholders with accurate financial statements?
Prime Group is self-regulated in terms of corporate governance and best practices while adhering to statutory regulations by reporting accurately on our financial position for stakeholder decision making.
Furthermore, we are engaged with a leading investment bank to explore broad-based share options in 2021.
Q: And how can organisations ensure long-term financial health?
Since inception, we have pursued reasonable ROIs. We ensure profitability with proper market and budgetary analyses.
Moreover, we maintain positive cash flows for every project while carrying out multiple projects and monitoring cash flow, reserves and the ability to complete projects even under a worst-case scenario. This approach ensures that we can complete projects without hindrance during disasters such as COVID-19 or a financial crisis as well.
In addition, we maintain operating efficiencies in all projects by analysing cost structures, utilising value engineering and using innovative approaches for operational efficiencies.