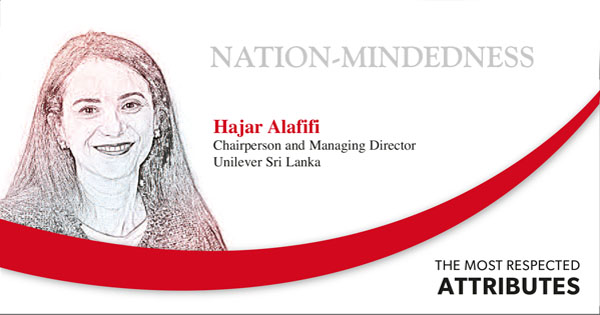 Q: Is nation-mindedness a priority for business establishments in the present context?
All socially conscious organisations have a responsibility to partner in the upliftment of the nation's socio-economy to revive the country's development agenda that's challenged by the pandemic.
As the world struggles to resurrect coherence in the aftermath of unprecedented economic turmoil and financial chaos, global health systems are being tested beyond capacity, and humanity per se is in crisis as disparity and inequalities widen.
Naturally, value systems are attacked as a result. As a nation, it is important to harness the strength of the collective. Partnerships should be preserved to protect local roots, and livelihoods and communities should be nurtured back to sustainable value generation.
Q: In your view, what does it mean to be nation-minded?
Unilever's purpose is to make sustainable living commonplace. We serve the people of this country through our brands, and partner in improving the health and wellbeing of the nation.
Developing cohesive local partnerships with connected value chain-based industries, and supporting the development of local processes and expertise capability are the core tenets of nurturing nation-mindedness within an organisation.
Q: How does this attribute translate into the daily operations of Unilever Sri Lanka?
At Unilever Sri Lanka, 96 percent of products are manufactured domestically to international quality standards and complemented with a third party business framework.
Our islandwide retail network of 100,000 is cultivated through a solid decades' long coalition of 54 distributors.
As for our brands, Lifebuoy has rolled out its hygiene portfolio, providing sinks for handwashing, reaching 2.5 million Sri Lankans through hand hygiene education.
Sunlight's 'Manudam Viyamana' campaign has assisted in mending racial harmony after the 2019 Easter Sunday bombings, Signal reached two million Sri Lankans through islandwide dental camps and Pears Baby has refurbished maternity wards.
Simultaneously, we adhere to protect the environment through conservation projects engineered by our Agarapathana and Horana manufacturing facilities, thereby economically uplifting over 3,500 rural-based ladies through our project 'Saubhagya.' These are a few of our projects that demonstrate Unilever Sri Lanka's constant commitment to the nation.