WRITERS
---
SRI LANKA

Kiran Dhanapala
Kiran is a sustainability professional with over 20 years' experience at country and global levels. A member of an international sustainability network, she adds value to individuals, companies and the planet through consulting.

Manilka Ediriweera
The writer is an undergraduate student with a passion for writing. She is presently following a business management programme.

Shiran Fernando
Shiran is an economist working at a leading business chamber in Sri Lanka.


Goolbai Gunasekara
She is a Director and former Principal of a leading international school in Colombo.

Pia Hatch
Pia is a full-time mother of two, and a part-time ghostwriter and PR consultant. Her areas of expertise include princesses, superheroes and finding things that no one else can.

Nirupa Homer-Vanniasinkam
The writer is a housewife and a mother of three, engaging in a home-based business which specialises in cakes and desserts. She focusses on traditional and modern recipes, using natural ingredients with a healthy twist.

Shyam Impett
Shyam is an avid cricket fan, a proud Sri Lankan and a sports agent by day, and a master chef, life coach and self-proclaimed know-it-all by night.

Jayashantha Jayawardhana
The columnist is a Senior Creative Writer/Project Leader – Marketing Content at a leading digital marketing solutions company in Sri Lanka. He's a Business Management graduate from Wayamba University and is deeply interested in creative entrepreneurship.

Brian Kerkoven
Following a stint as a model for Ramani Fernando Salons, Brian launched a modelling agency (Walk With Brian Kerkoven) and is one of Sri Lanka's leading choreographers today. Brian is also a fashion designer, and his designs have been showcased on catwalks in the US, Spain and Malaysia.

Archana Law
Archana is an Emotional Intelligence and Performance Coach. She also practises psychometrics, teaches neuro linguistic programming and focusses on behavioural psychology for building competencies.

Janaka Perera
A senior journalist and a former News Editor of two newspapers, Janaka was also an Information Assistant at the American Embassy in Colombo.

Dr. Jehan Perera
An Executive Director of the National Peace Council of Sri Lanka, he holds a Doctor of Law deg­ree from Harvard Law School and a Bachelor of Arts in Economics from Harvard College. He is a political columnist for a daily newspaper and contributes regularly to international publications.

Ruwandi Perera
Ruwandi has a background in marketing and sales, and a passion for writing.

Hasitha Premaratne
Chief Financial Officer at Brandix Lanka, Hasitha is also a senior lecturer in business subjects at a leading educational institute and visiting lecturer at the University of Kelaniya. He holds an MBA in International Finance and a BSc, is a Fellow of the ACCA (UK), and an associate member of CIMA (UK) and ASCMA.

Ayesha Reza Rafiq
A freelance journalist with over a decade of experience in news and feature writing, Ayesha also contributes to leading INGO publications.

Carlton Samarajiwa
He is an English Language and Literature teacher, and a freelance journalist.

Dyan Seneviratne
Dyan heads his own training and development company specialising in 21st-century business communications. As one of his many interests, Dyan reports on the latest cars and SUVs.

Nicola Walsh
Nicola is an educational consultant with over 30 years' experience teaching, and leading schools in primary and early years. She currently inspects and advises schools in the UK, Middle East and South Asia.


Akila Wijerathna
The writer holds a postgraduate qualification in agricultural sciences from the Hebrew University of Jerusalem.


Vijitha Yapa
He is the Chairman of Vijitha Yapa Group of Companies, and was the Founder Editor of three newspapers.
AUSTRALIA

Sandip Hor
Based in Australia, Sandip – who is also a photographer – enjoys travelling. He has visited over 65 countries, across five continents. His travel tales are also published in newspapers and magazines in Australia, Singapore, Dubai and India.

Amantha Perera
Amantha is a journalist and a foreign correspondent currently based in Melbourne.

Dr. Sanjiva Wijesinha
Dr. Sanjiva Wijesinha MBBS (Ceylon), MSc (Oxford), FRCS (Edin.) and FRACGP is an Associate Professor at the Faculty of Medicine at Monash University in Melbourne.
BAHRAIN

Monita Pesumal
Monita holds a Master of Arts degree from Cardiff University. She is also a qualified banker, and a public relations and marketing communications specialist. Monita has over 20 years' experience in sectors ranging from cards and payments, to renewable energy and fintech. She currently lives and works in Bahrain.
INDIA

Dr. Muneer Muhamed
The writer is the cofounder and chief evangelist of a nonprofit organisation. He advises governments around the world on policy execution and social change.

Sandhya Ramachandran
Sandhya is a writer and filmmaker who builds value and community for brands through storytelling.
INDONESIA

Pallavi Pinakin
Pallavi holds a Master's degree in English Literature from St. Stephen's College, one of India's premier educational institutions. After working with companies like IBM and McKinsey & Co., she founded her own communications firm in New Delhi. Pallavi is a travel enthusiast and a self-confessed bookworm. She has lived in India, Sri Lanka, the Maldives, Thailand and Malaysia. Pallavi now resides in Indonesia.
JAPAN

Sanjeewaka Kulathunga
The writer is a training and development researcher at Japan's Nagaoka University of Technology (NUT). He is a graduate in HRM of the University of Kelaniya and has postgraduate qualifications in International Business Management from Auckland Institute of Studies (AIS) in New Zealand.
NEW ZEALAND

Priyan Rajapaksa
An accountant by profession, Priyan has worked mainly in the corporate sector. He was a Finance Director of two public companies in Sri Lanka, and he runs an accountancy practice in Auckland serving SMEs.
SINGAPORE

Jennifer Lee
Jennifer, an Australian Chinese chef and writer based in Singapore, shares her life journey and experiences around the globe through her passions – food history and cooking.

Ranjan Mellawa
The author of Winds Behind the Willows, Ranjan pens the sports column in Living. In 2017, he was named Author of the Year at the SLT Silk Sports Awards.

Mat Ranasinghe
An avid car enthusiast, Mat is an architect who shuttles between Singapore and Australia on work.
UNITED ARAB EMIRATES

Gloria Spittel
Gloria is a research enthusiast dabbling in various topics including development, sustainability, business management, technology, ICT, education, gender and communications. She lives in Dubai and has worked as a Research Associate at the Institute of South Asian Studies – National University of Singapore.
UNITED KINGDOM

Larina Arrowsmith
Based in Birmingham, Larina is a primary school teacher, travel blogger and journalist. She recently completed her first novel. A seasoned traveller, Larina has completed many long-term sabbaticals around various parts of the world including Australia, Central and South America, and Southeast Asia.
UNITED STATES

Tharindra Gooneratne
The writer is an investment banker based in New York and holds an MBA from the Yale School of Management (you can reach him at tharindra_is@yahoo.com).

Rajika Jayatilake
A journalist and former diplomat, Rajika is experienced in international strategic communications, and media relations and advocacy.

Dr. Jan Prins
Dr. Jan Prins has been involved with the Exercise Sciences for the past 35 years. He is currently on the faculty at the University of Hawaii, where he teaches Biomechanics and Anatomical Kinesiology, and is the Director of the Aquatic Research Laboratory. He is the head swimming coach at the University of Hawaii and was an Olympic coach for Sri Lanka in 1984.

Saashya Rodrigo
Saashya is an educator and researcher in Special Education. She holds a BSc in Education, and an MEd in Multiple and Severe Disabilities from Georgia State University, Atlanta. Apart from writing for LMD and Living, she is also an artist and avid traveller, and enjoys playing several musical instruments.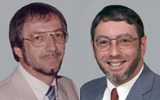 Bill and Rich Sones
Bill Sones (left) is a career journalist who writes primarily on science and math. His publication credits include Gulf News (UAE), South China Morning Post, Miami Herald, Chicago Sun-Times, Cleveland Plain Dealer and many others. Rich Sones (right) is an industrial physicist who specialises in optics and image processing.