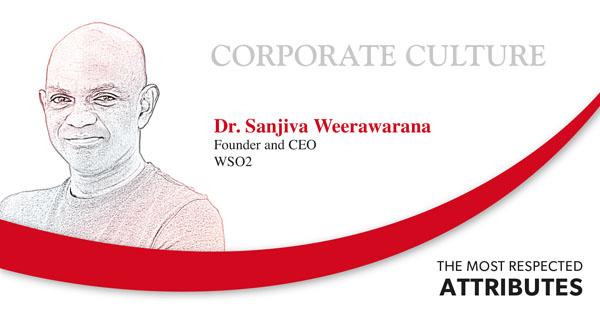 Q: How can management ingrain corporate culture in the workforce?
Clearly and consistently sharing a company's values and norms (e.g. during regular monthly town hall meetings) and maintaining open communication lines is key.
As we have expanded into new sectors and geographies, this has enabled WSO2 to maintain a strong customer focus without impacting our culture.
Moreover, our Human Resources team carefully assesses new hires, and has designed an onboarding and induction process that reinforces core values and practices.
Q: Where does a company's culture figure in corporate respect?
Since its inception, WSO2 has embraced the best cultural aspects of open-source (i.e. the Apache way). We emphasise values such as transparency, inclusivity and community contribution, and promote achievement, autonomy and inventiveness. This has helped us pursue our vision of global open-source software development to fundamentally change the software industry's dynamics.
Our culture is a key differentiator because it strongly aligns with our strategy and leadership, and enables us to collaborate as one global team. Not surprisingly, these qualities have led to a number of positive outcomes – including robust growth, international expansion, and numerous appearances on prestigious analyst reports as leaders in various industry and product categories.
Q: Are there examples that you'd like to highlight? 
Throughout WSO2's journey, we have actively aligned our leadership and cultural imperatives around key topics such as diversity, gender equality, inclusion, learning and care. For example, to highlight the importance of equality and inclusion, we recently launched a video campaign starring the women at WSO2 who develop our open-source products.
Interestingly, 33 percent of employees at WSO2 are women and 23 percent are in leadership positions, which is above the global average for technology jobs.
Our WSO2 Study Programme provides financial support to pursue higher education. We also offer monthly awards and prizes for thought leadership through our content creation initiatives. Even prior to the pandemic, we encouraged working from home (WFH) to help balance work and personal commitments – in the light of current events, we recently extended our WFH policy until July 2021.