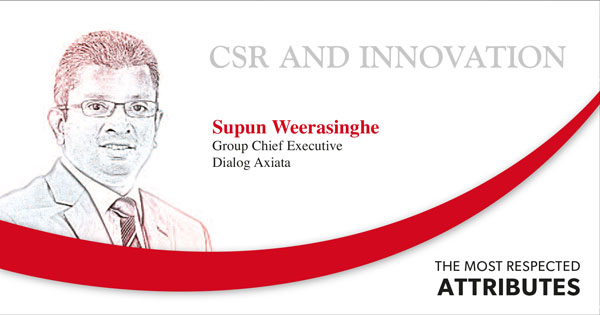 Q: Do you believe that CSR will continue to be an important attribute given the ground realities?
We have transitioned beyond CSR and embodied corporate sustainability, leveraging our resources to create long-term and lasting social value across the value chain.
Corporate sustainability is a hallmark of Dialog's culture and legacy, where serving our customers, communities and the country begins with our 3,000 strong team and exclusive network of partners, whose integrity and dedication are testimony to our success.
As a key enabler of national digital transformation, we measure our success by how we're making a difference in the lives of the people and communities in which we serve. Recent events including the COVID-19 pandemic have made this corporate responsibility even more evident.
Our long-term projects under the Dialog Foundation and other community engagements – such as Govi Mithuru, Sayuru, Saviya and more – lead with our strengths while aligning with our corporate purpose. As long as companies maintain alignment with their corporate purpose and beliefs, they will always find ways to execute their sustainability commitments, whatever the ground realities.
Q: Innovation is the name of the game particularly in the post-COVID era. How is this reflected in your industry?
COVID-19 has drastically changed the landscape for businesses across industries including telecommunication and digital services. To thrive despite the situation, Dialog put into gear a multifaceted strategy – the core of which is our social innovations – to help customers and communities.
Our social innovations focussed on the opportunity to empower and enrich Sri Lankan lives and enterprises, and help them overcome these unprecedented circumstances. We empowered the healthcare sector with telemedicine, telepresence and remote medical advisory solutions while facilitating the education sector with distance learning solutions.
With the pandemic driving digital adoption across industries, we helped enterprises ensure business continuity and redefine the status quo with our innovative service offering tailored to video-conferencing, and remote work and learning requirements despite operational obstacles.
Additionally, a special connectivity bundle was extended to our subscribers in quarantined areas and those under curfew free of charge.
All these were made possible by our team's determination and drive, embracing the company's culture of service, innovation and excellence in everything that we do.