PREFACE
The Apex
The third annual edition of the Most Awarded ranks the nation's most decorated corporations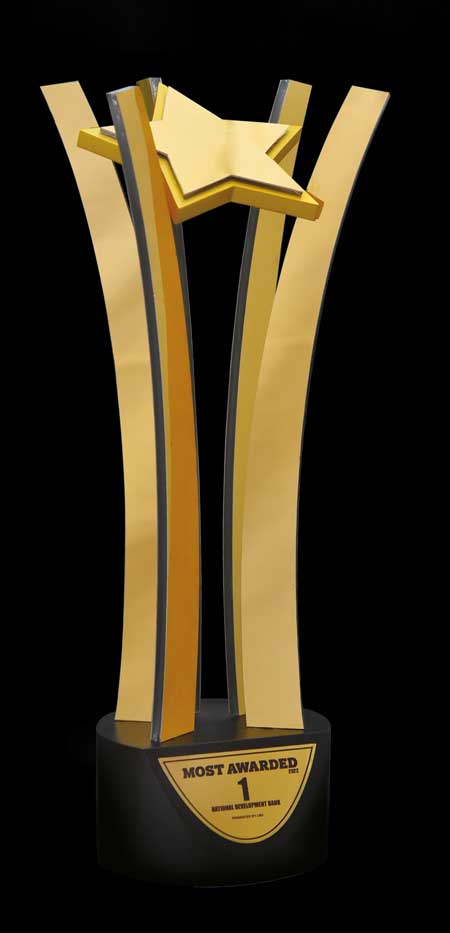 LMD's first of its kind special edition pays homage to the 'Most Awarded' organisations in Sri Lanka by tallying the cumulative awards won by business houses in calendar year 2022. Indeed, the leading corporate entities in this country are regularly recognised for their outstanding achievements both at home and in lands afar, bringing pride and joy to the business community and nation as a whole.
In this third edition of the pioneering annual rankings, National Development Bank (NDB) emerges as the Most Awarded entity in Sri Lanka for the second consecutive year – it counts as many as 92 awards for the year in review, compared to 60 in 2021.
NDB is followed by Commercial Bank of Ceylon (ComBank), which won the Most Awarded title in the first edition of the rankings. ComBank – with 78 awards versus 53 in the prior year – is followed by Softlogic Life Insurance, which was feted with 53 accolades in calendar year 2022.
The previous year's joint runner-up Aitken Spence Hotel Holdings sits in fourth position (with 41 awards) while Amana Takaful's tally of 31 awards (that's 20 more than in the preceding year) sees the insurer climb by 29 steps up the ladder in the latest rankings.
So while the top five positions in the 2022 rankings feature two banks and two insurers, the banking sector features prominently among the rest of the top 10.
Sri Lanka's two giant state banks – People's Bank (28 awards) and Bank of Ceylon (27) – along with Sampath Bank (27) are followed by Dialog Axiata, Hatton National Bank (HNB) and LB Finance with 26 and 24 awards (for both HNB and LB Finance) respectively.
Leading this edition's movers and shakers in the top 50 Most Awarded entities is the Unidil Group, which sits in 46th place compared to its No. 173 ranking in the 2021 edition. It is followed by JAT Holdings (No. 21 – 72) and Hayleys Fabric (from No. 82 to 38 in 2022).
And the top 50 is graced by two new entrants – viz. Advantis 3L Plus (Logiwiz) and Alumex.
Meanwhile, the banking sector dominates the Most Awarded rankings in sum – its 408 awards is more than double the second placed insurance sector (187), which is followed by businesses representing the manufacturing (130), diversified (114), and food and beverage (99) sectors.
And finally, as many as 1,052 awards (that's around two-thirds of the sum) of the organisations that feature in the rankings are listed on the Colombo Stock Exchange (CSE) along with 343 to private businesses (i.e. over a fifth of the total number of awards), 97 to state owned entities and 88 to multinational corporations.
– LMD
"In this third edition of the pioneering annual rankings, National Development Bank (NDB) emerges as the Most Awarded entity in Sri Lanka for the second consecutive year
---
HALL OF FAME THE TOP 50
SECTOR WINNERS
AWARDING BODIES
MOST AWARDED ENTITIES | BY SECTOR AND CATEGORY
THE AWARDS IN DETAIL