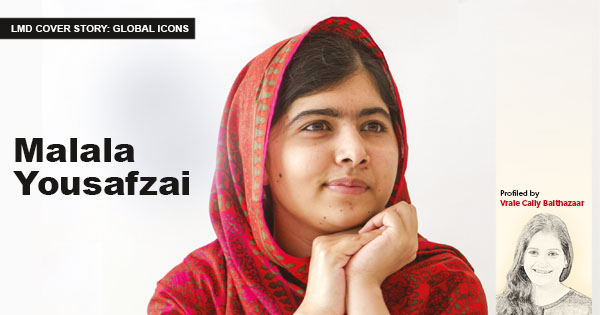 Malala Yousafzai only recently graduated from university and yet, she's had a more profound impact on the world than most could dream of. Perhaps being the daughter of an education activist provided the confidence to press forward with her agenda but it in no way diminishes the courage she displayed following an attack on her life. Education for all – a message that sounds simple, yet takes the determination of a young student from the developing world to champion.
BACKGROUND
DATE OF BIRTH
12 July 1997
BIRTHPLACE
Mingora (Pakistan)
EDUCATION
Undergraduate degree in Philosophy, Politics
and Economics from the University of Oxford
OCCUPATIONS   
Activist for female education
Former blogger for BBC Urdu
HIGHLIGHTS
Cofounder of Malala Fund
An international symbol of the fight for girls' education
Nobel Peace Prize winner in 2014
QUOTE
So change is possible and do not limit yourself,
do not stop yourself just because you are young
Malala Yousafzai
Q: In your opinion, what makes Malala Yousafzai a front-runner in activism?
A: Her story is very powerful. Here is a girl who chose to speak against oppression while continuing to be in school.
After Yousafzai was attacked by the Taliban, she chose to continue speaking fearlessly on the rights of the girl child and education – and indeed, her advocacy has impacted millions.
Activism is about creating change and Yousafzai has stayed on a hard path to make that happen.
Q: What lessons can be learnt from her life?
A: Yousafzai's courage to use her voice in a patriarchal and conservative space, and continuous strength to talk about what she believed in – despite the attack and threats.
She chose to not let adversity limit her. Instead, she allowed it to propel her to do greater things. Yousafzai is now the face of equality in education. And the ability to use her life story to impact millions of children positively – and push the conversation on education as she has – is remarkable.
Q: How can Sri Lankans be as revolutionary?
A: There are many lessons we can learn from Yousafzai. As citizens and activists, it's not easy to imagine that a single voice can create change. However, Yousafzai's story has taught us otherwise. Her ability to continue to share her story despite challenges is something we need to be conscious of.
While not facing the same challenges as Pakistan, Sri Lanka has its own education problems. System disparity was visible in the last few months during the crisis and in the response to find solutions for education.
For years, academics and activists have lobbied for a higher percentage of the country's GDP to be spent on education. The collective voice continues to make this appeal, and citizens and activists can arm themselves with education and information to negotiate and fight for a more equitable system that affords everyone the same educational access and infrastructure.
Like Yousafzai, never forget that personal stories weigh in on the broader discourse.
Vraîe Cally Balthazaar
Social activist