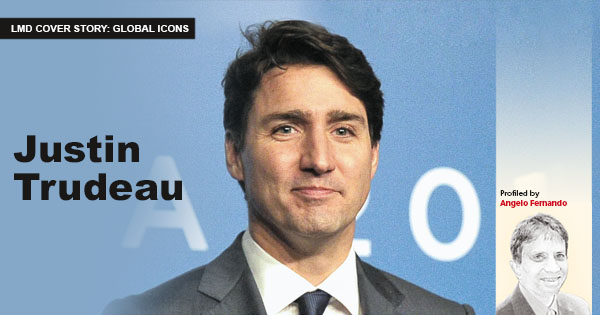 Justin Trudeau is no stranger to the political arena, being one of only two children to be born into a prime minister in office in Canada. A teacher by profession, his ascension to the role of Canadian PM in 2015 meant he'd carry on the Trudeau dynasty – but with a new age philosophy to suit the times. A self-identified feminist, he has looked to advance women's rights in Canada alongside efforts to rebuild relations with indigenous peoples. And despite sparking controversy on occasion, his administration has come to be known as following through on promises by a majority of Canadians.
BACKGROUND
DATE OF BIRTH
25 December 1971
BIRTHPLACE
Ottawa (Canada)
EDUCATION
BA in Literature from McGill University
Ed from University of British Columbia
HIGHLIGHTS
Brownface photo
Handling the Nova Scotia mass shooting
Banning assault weapons
QUOTE
Diversity isn't just sound social policy. Diversity is the engine of invention – it generates creativity that enriches the world
Justin Trudeau
Q: In your opinion, what makes Justin Trudeau a front-runner in new age political philosophy?
A: Of the two well-known Canadians named Justin, Trudeau has an international appeal that puts Bieber to shame. He is however, a complex character. The son of a prime minister, he doesn't fit the template of many other world leaders who have had greatness thrust upon them.
Youthful and controversial at times, Trudeau is a pro-choice advocate and committed to net zero emissions by 2050; but he has been criticized by the nation's indigenous people for supporting the oil and gas industry.
Trudeau's every move is finely calibrated toward building his iconic brand. He once jumped into a boxing ring and fought a conservative senator – a televised event that redefined his public persona as being tough despite his opponents portraying him as a rookie politician.
Q: What lessons can be learned from his career and life?
A: The young and dashing prime minister is one part celebrity but his rise to leadership has involved hard work. A teacher, snowboarder and one-time media person, Trudeau worked his way through grassroots politics.
His progressive policies on immigration, the economy and women's rights make him a lightning rod. But he holds his ground on the world stage.
When Donald Trump issued an Executive Order blocking asylum seekers from seven Muslim-majority countries, Trudeau fired off a statement: "To those fleeing persecution, terror and war, Canadians will welcome you regardless of your faith."
Q: What can Sri Lankans in the same field do to be as revolutionary?
A: His father may have been a prime minister but Trudeau is his own man. His style of governance demonstrates that you can shake things up without being disruptive. He may toe the party line but is unafraid to question it despite the consequences.
Canadians think of him as disciplined, compassionate and honest in a world in which 'honest politician' is an oxymoron. Politicians in Sri Lanka or those aspiring to lead can learn from his capacity to lead from the heart… and not from poll numbers.
Angelo Fernando
Published author
Computer teacher
Contributing Editor – LMD