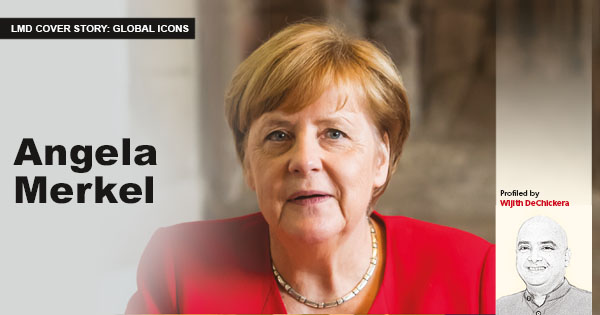 Angela Merkel is considered the de facto leader of the EU… unsurprisingly so. The record four time German Chancellor, who is a scientist by profession, has often been called upon to play peacemaker in a region fraught with diverse interests. Amid an apparent shift to insularism in neighbouring Britain as well as across the Atlantic, Merkel is even referred to as 'the leader of the free world' – a title wholly befitting one of the most powerful global icons of this day and age.
BACKGROUND
DATE OF BIRTH
17 July 1954
BIRTHPLACE
Hamburg (Germany)
EDUCATION
BSc from Leipzig University
Doctorate from the German Academy of Sciences
HIGHLIGHTS
First female German Chancellor
Contribution to greater European integration
Treaty of Lisbon and the Berlin Declaration
Financial crisis stimulus plan
Healthcare reform
QUOTE
To be serious, if we were only interested in earning big money
then a politician would have to go and work in industry
Angela Merkel
Q: In your opinion, what makes Angela Merkel a front-runner in statesmanship and politics?
A: She 'voted with her feet' early in her career to escape East German autocracy, and has embraced and espoused liberal democracy ever since.
Then she sustainably built a career with consistent policies that steadied the domestic ship in particular while charting a course for the EU in general, in addition to the sterling leadership provided to the European Council and G7.
And finally, after three decades and four chancellorships, she is able, ready and willing to step down – which is rare in ambitious and capable leaders of her calibre.
Q: What particular lessons can be learnt from her career?
A: There are many including adroit handling of state, federal and continental offices with admirable finesse.
However lacking in aplomb she may seem, Merkel more than makes up for it with a solid grasp of global realities. And in discharging her duty with both Europe and Germany in mind, she has displayed an ethos on the verge of 'an iron fist in a velvet glove.'
Perhaps most exemplary is her ability – and readiness – to appropriate the policies of even opponents… especially if they fit the federal or Eurozone bill.
Q: And how can aspiring Sri Lankan leaders be as revolutionary in their field both at home and abroad?
A: Good if not great leaders are born, some are made and others have greatness thrust upon them. With this 'Iron Woman' – also called 'Iron Chancellor' in a nod to the formidable Prussian leader Otto von Bismarck – it has been a measure of all three to some extent.
Merkel was born into and did proud by an academic family. Rather than eschew rationality despite her religious upbringing, she applied the scientific approach to policies that balanced pragmatic politics with economic realities.
'Leader of the Free World' is a baton that former US President Barack Obama in­ten­tionally passed on to her by making a call to her one of his final official acts… it's an epithet that she has done much to deserve including strengthening the continent's economic rapport with the US.
Wijith DeChickera
Editor-at-Large
LMD