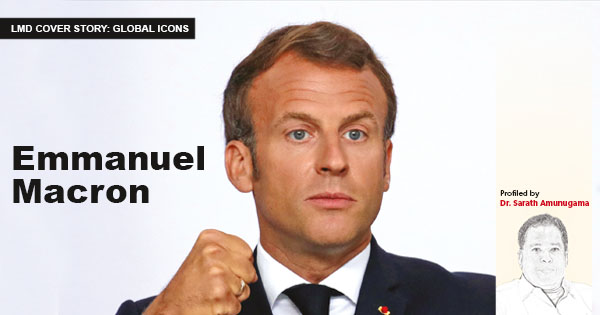 Emmanuel Macron assumed the role of President of France as recently as May 2017 and his new age political philosophy is attributed to his election to the highest office in the land. The investment banker turned politician established a liberal and progressive movement – En marche – as part of his presidential bid, drawing the crowds and international attention in the process. The youngest French head of state since Napoleon, Macron has had to weather many storms on both the local and global fronts, and continues to be a key proponent of the European agenda.
BACKGROUND
DATE OF BIRTH
21 December 1977
BIRTHPLACE
Amiens (France)
EDUCATION
MA in Philosophy from Paris Nanterre University
MA in Public Affairs from Sciences Po
HIGHLIGHTS
The youngest president in French history
Response to the COVID-19 pandemic
QUOTE
Believe in individual initiatives, in courage, in risk
Emmanuel Macron
Q: In your opinion, what defines President Emmanuel Macron's unique political philosophy?
A: Macron is an oddity in French politics because traditionally in France, the right and left are clearly demarcated.
However, in the last decade, economics has taken precedence over ideology. As a result, Macron was able to form a new party of the centre, hoping to draw the support of elements in both the right and left.
He succeeded largely because the left was divided between what we call the 'hard left' and 'soft left.' Although he thus came to power on a centrist message, his background is entirely hard capitalism – and he was supported entirely by the capitalist class.
One phenomenon in French politics since the time of Charles de Gaulle is that they have had to accommodate themselves with a new Germany as the two main European players through the EU.
Macron's hope is to work in tandem with Germany while asserting the heightened role of France. This encompasses being friendly with other Western leaders as well as appealing to nationalist French voters. Therefore, Macron isn't worried about traditional demarcations.
However, the new challenge for Macron is that the US economy has improved at the expense of the EU's. President Donald Trump's isolationism has dried up trade, which sustained both China and the EU, and this has put the EU economy in jeopardy. The COVID-19 virus has only complicated matters.
Q: What can aspiring Sri Lankan leaders and youth learn from Macron's career?
A: Macron demonstrates that he isn't concerned by the old political lexicon of the right and left. Additionally, he rightly prioritises the economy, owing to his career and experience as an economic specialist and banker.
Likewise, Macron understands the importance of an open economy because he realises that the French domestic market isn't attractive or strong enough.
Some in Sri Lanka have been talking about becoming isolationist but aspiring leaders should take note that our domestic market is very limited.
Dr. Sarath Amunugama
MP
Former international civil servant for  UNESCO headquarters (Paris)
Honorary distinction of Palmes académiques