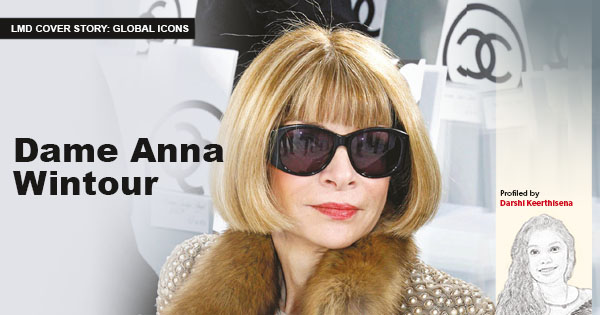 Dame Anna Wintour is widely considered to be among the most influential figures in fashion, earning recognition for her eye for trends and supporting young designers. Beginning her career in fashion journalism with two British magazines, she is credited with reviving Vogue and revolutionising the industry in her role as its Editor-in-Chief. She was also conferred the title Dame for her contribution to fashion and journalism in 2017. Her influence extends beyond the fashion industry as witnessed by her relationships with personalities ranging from museum curators to presidential candidates.
BACKGROUND
DATE OF BIRTH
3 November 1949
BIRTHPLACE
London (UK)
OCCUPATIONS
Magazine editor
Fashion journalist
HIGHLIGHTS
Among the most powerful people in fashion
Elective Trustee of The Metropolitan Museum of Art
Vogue Global Conversations initiative
Editor-in-Chief of Vogue
US Artistic Director and Global Content Advisor of Condé Nast
QUOTE
Create your own style… let it be unique for yourself and yet identifiable for others
Dame Anna Wintour
Q: In your opinion, what makes Dame Anna Wintour one of the most powerful figures in fashion?
A: Wintour has dominated three decades of fashion with her reign largely spent working for the Vogue magazine as its Editor-in-Chief, which is a role she took on in 1988.
She single-handedly changed the way the people of the world dress without too much concern for trends; in fact, she once remarked that the term 'trend' is "a dirty word."
The September Issue and Met Gala are two platforms she uses to make lasting statements in the fashion world.
Celebrating her staying power of three decades, The Guardian noted in 2018 that Wintour has always been as much about power as she is about fashion; and her most telling impact has been on the clothes we see on TV screens and the front pages of newspapers rather than on catwalks.
Q: And finally, what lessons do you think can be learned from her career? Similarly, what do you think aspiring Sri Lankans can do to make a mark in their industry?
A: Wintour has successfully demonstrated that the authenticity in creating trends is a better recipe for success than following what's already making the rounds.
She has also repeatedly demonstrated her passion for the world of fashion by helping talented young designers gain traction in the industry while working incredibly hard and remaining focussed on her own career. There is a strong case to be made for dedication, authenticity and creativity when assessing Wintour's career, of which creatives across industries could take note.
It was her example that I followed as an aspiring designer. I strived to create a trend instead of following what was already present in the industry; and this is very much the same creative philosophy I continue to pursue with Buddhi Batiks.
Darshi Keerthisena
CEO/Creative Director
Buddhi Batiks