REMOTE WORKING

HOW TO WORK FROM ANYWHERE
Ruwandi Perera offers tips on how to stay ahead when working remotely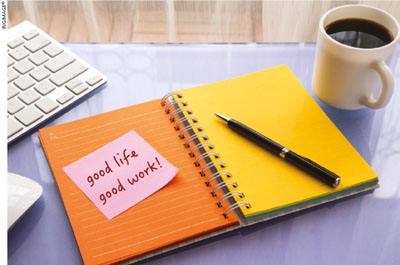 Year 2021 is perhaps the most awaited in the modern age. What this year brings forth is anyone's guess – COVID-19 mitigation, the implications of the Biden-Harris era, climate change and famine as predicted by Nostradamus, Armageddon as foretold by The Simpsons, and a whole lot of AI, robotics and augmented reality.
Closer to home and the heart is the most obvious reality of 2021 – isolation, escapism, compulsory health and safety measures… and remote working.
Market research firm Forrester predicts that remote work will increase by up to 300 percent from pre-COVID levels with companies adopting hybrid working models and more full-time remote employees working from home (WFH) and literally anywhere that is safe.
As social beings and Sri Lankans, isolation can be tough, boring and downright impossible at times. With cafes and co-working spaces viewed as risky to work in, and homes and residences not being equipped with 'office rooms,' remote working can quickly become a nightmare – you may actually begin to miss coworkers, water cooler gossip and even your boss!
While some have established remote working norms such as changing out of their pyjamas, not snacking continuously or working in bed and letting families know about meeting schedules in advance, others are yet to get on top of the trend productively.
Often, the challenges of remote working seem to centre on technological inconsistencies and illiteracy. The good news is that unlike your kids and pets who seem unable to remain silent during video calls, technology can be made to work for you.
If COVID-19 has taught us anything, it is to innovate and think out of the box – and this applies to how we work as well. When it comes to remote working, not knowing how to do something is not an excuse – because when you become a remote worker, you have to figure out many things – especially technology as your IT colleague will not be able to fix it for you.
Don't know how to do something? That's why there's Google and YouTube.
Getting comfortable with a virtual workplace is also key. Familiarise yourself with your laptop. How many programmes and applications do you really use? And how many have never been opened? How many do you have absolutely no idea about?
You might have tools at your fingertips that boost efficiency and resourcefulness effortlessly. So ask yourself whether you really know all the features on your email provider or only the five commands that are absolutely essential.
Get to know about cloud storage and how much of its capacity is being used. Know how to share work files using online storage and transfer tools. At a time when USBs are being replaced by the cloud, being ahead of your data can make a world of a difference – you don't want the machine to crash and lose all saved documents.
Zoom, Microsoft Teams, Skype for Business and Google Hangouts have become household names, but you can't stop at knowing how to use them and join a meeting. Know your conference tools, play around with the options, try things out for yourself and when you come up against a wall, discover the joy of YouTube tutorials available freely at your disposal.
Get to know the less famous online conference tools such as GoToMeeting, TeamViewer, Slack, BigBlueButton, BlueJeans and Cisco Webex in case you have to deal with people outside the organisation who aren't using the same application as you are.
Do your research. COVID-19 has converted Facebook into a newsroom and WhatsApp into a virtual news platform but they don't always provide true or credible information. When working remotely, be your own researcher – waiting on colleagues for information may slow the momentum if your work schedules don't correlate.
Practise how to comb through online clutter to obtain the truth, the whole truth and nothing but the credible truth if you want to maintain accuracy in your work. Save links, keep cookies intact and bookmark sources – you never know when they might come in handy.
Remote working means having unconventional workdays; you may not work nine-to-five, you might begin early, end late and with some luck, have free time in the middle of the day. Use this time and the hours saved from the usual commute to upgrade remote working skills.
Learn to read, type and think faster. Slow speed can quickly lead to boredom, resulting in procrastination. Improve speed to increase productivity – both your own and the team's.
While remote working can make you feel alienated, it is the future. When properly executed, remote working results in more advantages and efficiencies. So fix that slow WiFi, find a desk and promote yourself to the home office!