BUSINESS OUTLOOK

A TIME TO BREAK THE NORM
Ruchitha Perera offers alternative solutions to revive the business outlook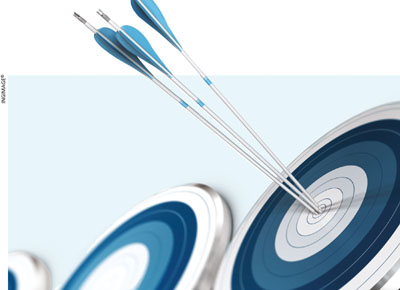 While 'Auld Lang Syne' ushered in a brand-new year, the pandemic continues to batter the global economy. The end of 2020 reflected the fragility of local businesses and impact of COVID-19 on bottom lines.
Despite the downturn and slack business performance however, there are positive expectations among the corporate community and marketers are seeking alternative solutions to improve the business outlook this year.
Although having evolved as a science over time due to the ambitions of its practitioners, marketing seems to have stubbornly held on to its own trajectory while engaging a fragmented relationship with other business functions.
In a bid to attract potential customers, the time to break the norm and employ multiple marketing mechanics is upon us. The answer lies in creating marketing fusion, which can be adopted internally and externally, leading to business growth and future expansion.
The first order of business is to create a seamless fusion between sales, business development and marketing within an organisation, resulting in a single entity. In short, the fusion of marketing led innovation will not only unite and power employees but also transform business functions into a singular platform.
There are several ways to create this synergy internally. Inculcating a business culture of 'we are in this together' should be the starting point. Businesses must merge the two interdependent factors at the heart of any successful marketing entity – viz. customers and employees.
The true power lies with customers; they will expect positive experiences, not mere products and services. And the best way to exceed customer expectations is through employee motivation and engagement. Empowering employees to create better customer experiences will be the future of marketing fusion.
Not only can organisations find fusion within but it is certainly possible beyond the four walls, so to speak. External fusion is a model based on distinction and not necessarily competition, enabling marketers to work with other businesses rather than against them. While this will require a major shift in thinking, it does not mean radical changes.
Businesses should set up fusion marketing arrangements externally to reduce costs, increase customer value and fuel growth. To implement this, businesses must begin by identifying power partners in related spheres who have similar prospects and could benefit from the same potential customers.
E-commerce businesses are increasingly using technology-based delivery service mobile apps to fulfil orders of local grocers and restaurants. Stores can stimulate spending by using discount coupons given at checkout, tempting customers to visit another store or offering online vouchers of home consumer durables. Additionally, emerging home bakers and private caterers offer new opportunities for innovative marketers looking for unique power partners.
Exercise and fitness equipment companies have thrived during the pandemic as people from all walks of life seem to make an effort to keep fit while confined to personal living quarters. following an initial lull, the education sector's use of virtual learning software has managed to keep pace but not many businesses have seized the opportunity to partner and explore this chance at fusion.
Power partners should agree on what the customer value proposition would be, starting with the benefits of the offer. It should include a brief explanation of how customer concerns and pain points would be more effectively resolved than those offered by competitors. This will trigger purchase behaviour among customers, which would benefit the original business as well as its power partner – and create true fusion.
Partnering businesses ought to keep in mind that marketing content plays a major role in the process of attracting the right target audience, thereby offering customers a product or service that will be both irresistible and trustworthy.
Finally, the implementation of fusion marketing should make it not only convenient for prospective customers to sign up but also for businesses to track customer transaction history, resulting in opportunities for future expansion.
Fusion marketing will increase exposure and reduce the marketing spend. This is usually achieved by sharing costs with power partners. It will also facilitate the merging of several functions within the business or integrate them through external strategic partners.
Creating fusion marketing partnerships is an ideal way to kick-start ailing pandemic hit businesses. It is time to recognise that marketing would work best when fused with interdependent disciplines. Two business heads will think better than one especially if the two heads share one cost centre, thereby encouraging an improved bottom line – the lifeline of any business today.
Businesses should reorganise, reach out and recreate a more symbiotic relationship with marketing to create a positive 2021.