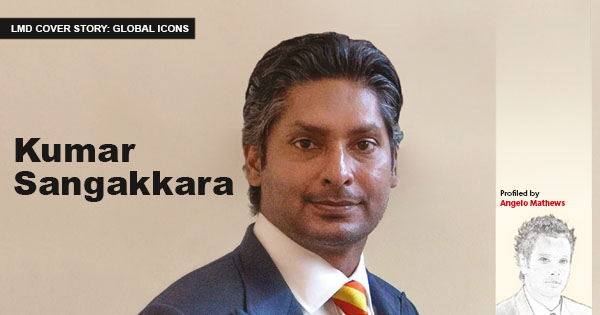 Kumar Sangakkara has been described as an elegant batsman, a reliable wicketkeeper and an astute thinker during his cricketing career – and together with his close friend Mahela Jayawardene, he was the cornerstone of Sri Lankan cricket's leadership for some 15 years. An iconic brand ambassador for Sri Lanka for more than a decade, Sangakkara has been duly recognized for challenging Sri Lanka's cricket establishment. He is presently the first non-British President of the Marylebone Cricket Club (MCC).
BACKGROUND
DATE OF BIRTH
27 October 1977
BIRTHPLACE
Matale (Sri Lanka)
HIGHLIGHTS
President of the MCC
The youngest and first active international player to deliver the MCC Spirit of Cricket Cowdrey Lecture at Lord's
Second and sixth highest run scorer in One-Day International (ODI) and Test cricket respectively
Most consecutive centuries in an ICC Cricket World Cup
LMD's Sri Lankan Of The Year on two occasions
Trustee of the Foundation of Goodness
QUOTE
With me are all my people. I am Tamil, I'm Sinhalese, Muslim and Burgher. I am a Buddhist, I'm a Hindu, a follower of Islam and Christianity – but above all, today and always, I will be  proudly Sri Lankan
Kumar Sangakkara
Q: What makes Kumar Sangakkara a global icon, in your opinion?
A: He is without doubt one of the all-time greats of the game be it on or off the field. As a cricketer, he set goals for himself and the team – and this was always backed by a meticulous thought process to take us over the line.
Sangakkara led by example and ensured that he got the best out of everyone. Off the field, he has been a mentor, friend and well-wisher, and his door has always been open to us. And it goes without saying that he is highly respected across the cricket playing world.
Q: What lessons does his impeccable work ethic bestow on Sri Lankan cricketers of the present and future?
A: Sangakkara's motto is undeniably hard work and this is exemplified by the effort he put in at the nets ahead of each and every game. This instils confidence when one goes into bat. In fact, he played every game as though it was his last.
I have not seen anyone work harder at fine-tuning his game. It is these traits that inspired us – and will continue to inspire the next generation of national cricketers.
Q: How do you view his appointment as the President of the MCC?
A: It is an honour and a privilege for all Sri Lankans especially since he is the first non-Englishman to hold such an august post.
Q: Kumar Sangakkara has been LMD's Sri Lankan Of The Year on two occasions – he's only the second citizen to win the award a second time. How deserving is he of this accolade?
A: He thoroughly deserves both awards as is the case with the numerous others that he won during what was an exemplary career. In fact, I wouldn't be surprised if he wins LMD's award for another 10 years!
Angelo Mathews
Former Sri Lanka captain