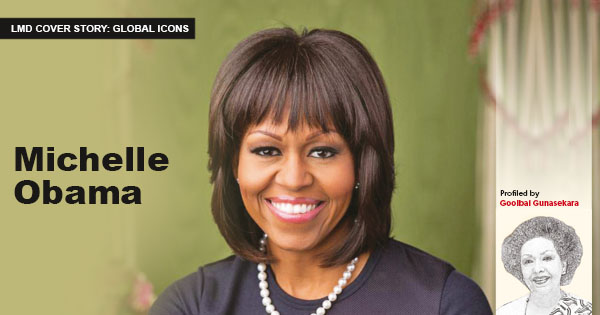 Michelle Obama is such a popular figure that many of her fellow citizens wish she'd run for office – even if she seems to promptly decline the offer on any given occasion. More recently, the Grammy Award winning former First Lady of the US has inspired people across the world through her memoir Becoming, which documents her life story of hard work, introspection, and reaching out to underserved and underprivileged communities – she is a definitive global and female icon for our times.
BACKGROUND
DATE OF BIRTH
17 January 1964
BIRTHPLACE
Chicago (USA)
EDUCATION
BA from Princeton University
Juris Doctor from Harvard University
HIGHLIGHTS
First lady of the US from 2009 to 2017
Role model for women across the seas
Support for American designers
Fashion icon
QUOTE
Through my education, I didn't just develop skills, I didn't just develop the ability to learn but I developed confidence
Michelle Obama
Q: What makes Michelle Obama a great role model for women?
A: As a graduate of Harvard, she was probably the best qualified woman to take on the role of First Lady of the US.
I admire her for the fact that as the first African-American woman in the White House, she took up black issues in a tactful and discreet manner, and focussed a great deal of her attention on the education of girls. She was a role model who always supported her husband and never sought publicity for herself.
Moreover, she was poised and articulate on many topics, and very intelligent in her own right, which is evidenced by the fact that she has published a book and continues to be a much sought after speaker.
Although one hears Washington society wasn't always kind to her, she remained dignified.
Q: And what lessons can we learn from her life?
A: Aside from her responsibilities as the first lady, she is an extremely good mother. She ensured that her children had a balanced upbringing especially as they spent their younger years in the White House.
And she shielded them from unnecessary publicity and the adulation that can occur where White House children are concerned.
Q: Can Sri Lankans in similar fields follow suit – if so, how?
A: Of course they can. Personally, I admired Obama's dress sense – stylish, elegant and understated. She built an admirable career as first lady without being ostentatious. While she knew she'd face criticism, which was often unfair, she did so with grace.
She was always punctual and highly organised. Her punctuality is something that Sri Lankan politicians and public figures would do well to emulate. Sri Lankan women can be inspired by her, and learn to showcase their passion, skills and education not only in their workplaces or in politics but in their homes as well.
Moreover, they are known to be highly intelligent and educated, and women can be encouraged by former first lady Obama to excel wherever circumstances place them.
Goolbai Gunasekara
Former Founder Principal and Present Director Asian International School (AIS)