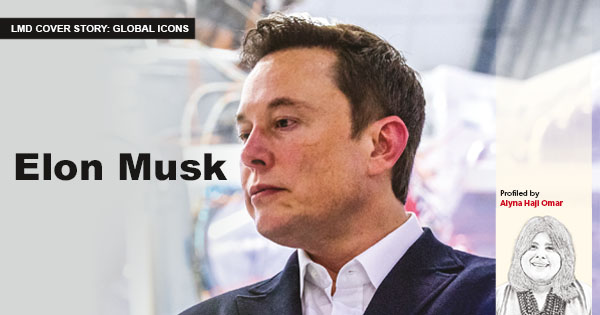 Elon Musk has looked to revolutionise transportation by introducing fully electric vehicles on a large scale. Focussing on the internet, space and clean energy, the entrepreneur and self-made billionaire – who counts an estimated new worth of almost US$ 43 billion – is widely regarded as an inspirational figure in tech; and he has declared his intention to help humanity by reducing global warming through sustainable energy production and consumption. On the philanthropy front, he is the Chairman of the Musk Foundation and has donated US$ 10 million to the Future of Life Institute.
BACKGROUND
DATE OF BIRTH
28 June 1971
BIRTHPLACE
Pretoria (South Africa)
OCCUPATIONS
Engineer
Industrial designer
Entrepreneur
HIGHLIGHTS
Founder, CEO and Lead Designer of SpaceX
CEO and Product Architect of Tesla
Founder of the Boring Company and X.com (now PayPal)
Co-founder of Neuralink, OpenAI and Zip2
Chairman of SolarCity
Dedication to space exploration
Efforts to produce affordable, mass market electric
cars and promote sustainable energy
INNOVATIONS
Falcon 9
Starlink
Tesla Roadster, Model S, Model 3 and Semi
QUOTE
Failure is an option here – if things are not
failing, you are not innovating enough
Elon Musk
Q: In your opinion, what makes Elon Musk a front-runner in 21st century innovation?
A: I saw a meme that read: 'What if Elon Musk is an alien trying to get back home?' – wouldn't that explain so much?
On a more 'earthly' note, his ability to not care what people think of him makes Musk a successful innovator. Extinction is inevitable for the human race, and Musk is trying to save the world with his mind, inventions and passion.
This combination of genius, vision, ego and resources is electrifying. Every time a human mind stretches to that scale, the impact is profound. The evidence is everywhere – from organised religion, science and technology, to art and war.
Q: What lessons can we learn from his career?
A: Connecting old ideas can create brand-new ones, and his work demonstrates the power and potential of joining two disconnected ideas to make something new. Through his work, Musk connects space travel with everyday travel, conservation with cars and the human brain with computers – and PayPal, Tesla and SpaceX are the result.
Moreover, Musk encourages one to "constantly seek criticism. A well thought out critique of whatever you're doing is as valuable as gold." This is a particularly valuable attitude for it makes one an eternal student – a quality and perspective that are priceless.
Personally, his ability to be unashamedly himself is what inspires me the most.
Q: Can Sri Lankans in the same field be as revolutionary – and if so, how?
A: Set out to build big ideas that challenge the status quo; assemble the right team and don't play safe or wait for your turn, or be afraid of criticism. Moreover, don't worry if people don't approve of you or like you, or even understand you.
In my experience, there are too many people wanting to tell you why you are wrong or can't do something, or don't have the right to aspire to your ambition.
Do what scares you and what scares the competition. You know you're doing something new, interesting and significant when the haters start ranting!
Alyna Haji Omar
Chief Executive Officer
Wunderman Thompson