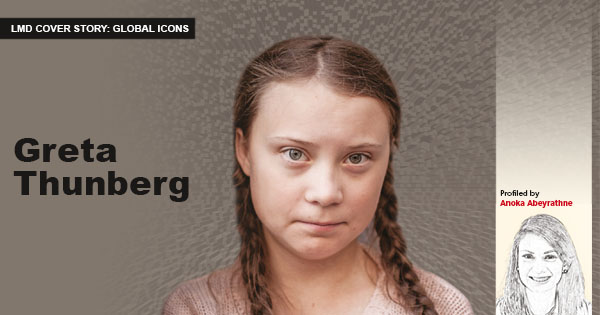 Greta Thunberg is credited for inspiring an international movement to fight climate change. Launching her campaign in 2018 with a protest in front of the Swedish Parliament House when she was 15, the teenager urged students around the world to join her and inspired more than 20,000 in several countries to demonstrate and call for action.
MOVEMENT 
School strike for climate
BACKGROUND
DATE OF BIRTH
3 January 2003
BIRTHPLACE
Stockholm (Sweden)
OCCUPATION
Environmental activist
HIGHLIGHTS
Speeches at the 2018 United Nations Climate Change Conference and UN Climate Action Summit 2019
Carbon neutral transatlantic crossing in 2019
Won the Fritt Ord Prize in 2019
Received the Rachel Carson Prize in 2019
Won the Ambassador of Conscience Award in 2019
Recipient of the 2019 Right Livelihood Award
Received the International Children's Peace Prize 2019
Time's Person of the Year in 2019
Nominated for the Nobel Peace Prize in 2019 and 2020
Honorary Fellowship of the Royal Scottish Geographical Society
QUOTE
You must unite behind the science. You must take action.
You must do the impossible. Because giving up can never
ever be an option
Greta Thunberg
Q: In your opinion, what makes Greta Thunberg a front-runner in inspiring youth climate activism?
A: Thunberg has contributed much to the climate awareness movement, drawing attention to a subject that people across the world understand is slowly killing us but choose to go about life as usual.
Two major issues for the climate movement have been people with vested interests – i.e. copycats of social movements out of Sri Lanka or elsewhere for personal gain – being a part of the movement and people being unable to communicate the urgency of climate change.
However, Thunberg has been a game changer in these aspects. Her ability to engage and inspire schoolchildren is a gift she uses for the good of the planet!
Q: So what lessons can be learnt from her career or life?
A: Inspiring world leaders isn't easy but she has been able to do so with conviction and action. For example, she didn't fly to New York but travelled there on a solar powered boat. Little things such as this demonstrate commitment to action.
Q: And what can Sri Lankans in the same field do to be as revolutionary?
A: Be real; don't merely copy a movement and try to replicate it; learn why something is broken and needs to be fixed. Moreover, by doing this for the right reasons, people will be supportive.
Furthermore, think about practical and not only idealistic changes as well. One of the reasons why the NGO and development sector has failed in many ways is because there aren't people who understand how corporates and the government really work whereas those perspectives help.
Anoka Abeyrathne
Forbes Under 30 featured
sustainability activist
Animal welfare advocate