SRI LANKA-INDIA FERRY SERVICE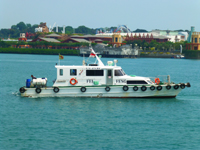 A ferry service linking Sri Lanka and Tamil Nadu, which was established in 2011 but discontinued due to reduced traffic, is expected to resume. The service between Kochi and Colombo will be a purely passenger service, and will later have a freight element included.
This initiative has reportedly been taken due to the growing demand of the people in Tamil Nadu, and the Tamil-speaking north and north-eastern parts of Sri Lanka.
In addition to increasing links between the two countries by sea, this sort of ferry service is said to be one of the cheapest modes of transport in the Bay of Bengal.