INTERNET OF THINGS
THE WORLD OF

THE JETSONS 

 
Yamini Sequeira weighs the pros and cons of connectivity via the Internet of Things (IoT)
The Internet of Things (IoT) World 2018 Conference, which was held in California from 14 to 17 May, was attended by a large number of participants. Their interest revolved around gaining insights into the future of IoT and how businesses will be impacted.
Even though the world is at an early stage of IoT adoption, the precise risks and challenges of this technology aren't very clear.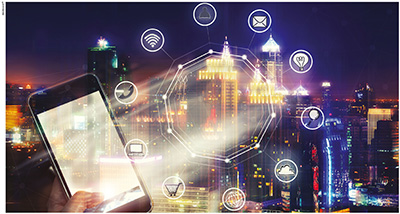 Speaking at the event, the Chief Operating Officer of Helium Inc. Frank Mong noted: "The Jetsons was the epitome of smart cities, smart world! Where are the flying cars and robots serving humans? We are still in the age of The Flintstones!"
He continued: "Why? So far, IoT has failed to meet people's expectations but there is hope. What we need is a decentralised network to connect equipment openly and freely. What we need is blockchain, a wireless network, plug and play, and open-source software – no strings attached."
Apart from some high-tech global companies, adopting IoT seems like a monumental task for most businesses. There is no doubt that the unique blend of IoT, analytics, blockchain, machine learning and big data will help enterprises optimise their businesses by solving their biggest problems.
But many IoT projects struggle to get off the ground since both IT and business functions grapple with the far-reaching implications of IoT for an organisation.
IoT will help make sense of the exponential growth of data. The sheer amount of data that may be created from sensors, video systems, monitors and other IoT devices could be staggering. Organising all that data calls for software, interoperability, analytics and storage. In addition, training will be necessary for the end user to interpret the data and policies will need to be in place to decide who sees it.
Pros have a mantra to avoid the obstacles of IoT adoption by following these core principles: start small, scale fast; failing fast is not failure; and prove value as soon as possible.
Indeed, the time is right to discuss wireless network security.
An 802 Secure report reveals that 100 percent of the organisations had rogue consumer IoT wireless devices on their enterprise networks; 90 percent had Shadow IoT/IIoT wireless networks (undetected company deployed wireless networks separate from the enterprise infrastructure) and were victims of at least one wireless attack every week. Further, emerging threats include new wireless USB thumb drives and spy cameras.
Addressing security, the Chief Security Officer at 802 Secure Michael Raggo explained that "IoT introduces new operating systems, protocols and wireless frequencies. Companies that rely on legacy security technologies are blind to this rampant IoT threat. Through IoT wireless network monitoring, organisations can expose these devices, tie approved devices into their asset management, isolate rogues, measure security posture, identify attacks and mitigate threats through deceptive networking."
Sri Lanka's first IoT community was founded in 2014 but further adoption of the technology has been slow.
The Megapolis 'smart cities' vision for Colombo and its suburbs sounded promising with its real-time traffic information systems, and smart power grids and street lighting – much of which would need IoT. Unfortunately, the Megapolis concept has been relegated to paper with little implementation on the ground.
Perhaps we could emulate the city of San Francisco. To close the digital divide and provide more choice, competition and affordable internet service prices, San Francisco is seeking to develop a citywide network that provides a fibre based internet service directly to every home and business.
This network will be universal throughout the city and available to everyone in San Francisco regardless of their income. It will also provide open access so that any qualified entity that wants to provide a service to residents and businesses would be able to do so.
Sri Lanka's first IoT product, the ePro1000 electricity consumption monitoring smart meter, was recently launched as a single platform. It will provide residential and commercial utility solutions through automation. This concept not only enables the Ceylon Electricity Board (CEB) to reduce its peak power generation charges by encouraging consumers to shift electricity use to off-peak hours but helps replace the costly traditional model that requires regular home visits to read electricity meters.
In addition, the homegrown Orange Electric Smart Socket is a wireless plug and play device that enables users to control electrical appliances in their home remotely via the Dialog Smartlife mobile app.
These are two excellent examples of how IoT can power our lives. The technology is moving at a rapid pace but the landscape may be hard to navigate!
If Sri Lanka is to emulate The Jetsons anytime soon, the spectre of the recent partial shutdown of social media platforms doesn't serve us well. Internet Society partner NetBlocks, which researches the global flow of data and universal access to information, has estimated the economic loss from the partial shutdown in Sri Lanka between 7 and 15 March at US$ 30 million.
Think about that!