TRADE PROTECTION
TIT FOR TAT

TRADE TACTICS  
Gloria Spittel pays heed to the negative consequences of protectionist trade policies
Presumably the world economy is enjoying a purple patch! In April, the IMF stated that the global economy's strongest upswing since 2011 would continue for a further two years, riding on the back of international trade.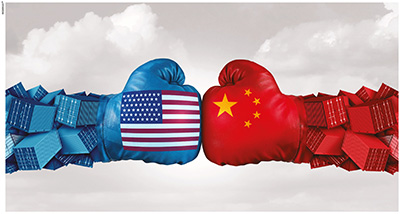 Beyond this, global economic growth is expected to slow down due to various reasons, one of which is increasing protectionism by governments trading in both physical and digital goods.
Earlier this year, the IMF predicted that the world economy would accelerate by 3.9 percent in both 2018 and 2019. But increasing trade disputes between the US and China – the world's first and second largest economies respectively – spurred by government policies of protectionism are likely to disrupt international trade and therefore, global economic growth.
The trade disputes between these two world powers began in January with the United States announcing the imposition of tariffs on stainless steel from China and India.
Over subsequent months leading into the second quarter of 2018, the disputes steadily gained momentum with the US insisting that China cut its annual US$ 337 billion trade surplus by two-thirds over a period of two years so that the 200 billion dollar trade deficit reduction goal could be achieved – all the while refraining from any retaliation against US trade demands and actions.
As China reciprocated with its own tariffs and demands on US imports and trade, fears of a trade war gained credence. At the time of writing, there are conflicting signs as to whether or not a trade war will be the new world order. This is the result of negotiations between the two countries that yielded a vague agreement in which China had promised to purchase more US goods and services – especially agricultural and energy products – but without any mention of specific sums or dollar values.
For its part, the US agreed to suspend tariffs previously threatened against Chinese imports. However, arising from the months of tit for tat measures between the US and China are two characteristics that could define and influence global trade: volatility and protectionism.
Volatility in markets across the globe was the immediate effect of the trade dispute between the US and China. And while there was some respite following a negotiated settlement in May, the vague agreement between the two nations and effervescence of the Trump administration meant that international trade would have to take place in a volatile environment.
While it is true that volatile environments are not new to international trade, the dispute between the US and China is underpinned by rising protectionism in the United States, and to an extent in the UK through Brexit. Protectionism is not native to America and Britain. But the public stands taken by these nations could lead to a domino effect across the globe.
Protectionist trade policies are meant to encourage local businesses to produce goods and services for the domestic market, in an environment of reduced competition from imported products and international corporations.
In the near term, protectionist policies can have the effect of boosting national economies and increasing employment. However, there are many intrinsic issues with respect to protectionist policies that do not lead to the utopia they promise – in contrast, they may have a lasting disruptive impact on existing global supply chains. This is primarily and ironically due to the lack of competition.
It is believed that when companies are driven by competition, they reinvest in their products and services through R&D to make them more attractive to consumers and increase competitiveness. This could be either through the quality, cost or features of the product that the competition fails to deliver.
But in the absence of viable competition, a company could practise predatory policies such as increasing the price of its products and services – and arguably worse still, through sheer negligence by offering low quality goods and services.
In short, the absence of strong or healthy competition impedes the innovation of new knowledge and technology, and provides fewer incentives for improving cost cutting and timesaving efficiencies across local businesses. And this will directly affect their ability to export and compete internationally.
These policies also interrupt the sharing of technology, specialities and advantages amongst trading partners. Ultimately, policies that were once helpful in the short term would be ruinous if persisted with.
At the heart of the matter though, it is consumers who face the brunt of protectionist policies. Not only would consumers be paying more for low quality products but they would not enjoy or have limited high cost access to better products and services.
Furthermore, protectionist policies can have unintended consequences on cultural exchanges as they project negatively on dealing with other countries in comparison with local vendors and suppliers. This could lead to distrust between countries as communities across the globe remain in their silos.
A final blow from long-term protectionist trade policies is a continuous and vicious cycle of retaliatory policies of protectionism, not unlike that exemplified by the recent trade disputes between the US and China.