STATE CAPTURE

PEOPLE'S
RIGHT TO KNOW          
Rajika Jayatilake elaborates on how freedom of speech in South Africa is enabling the fight against corruption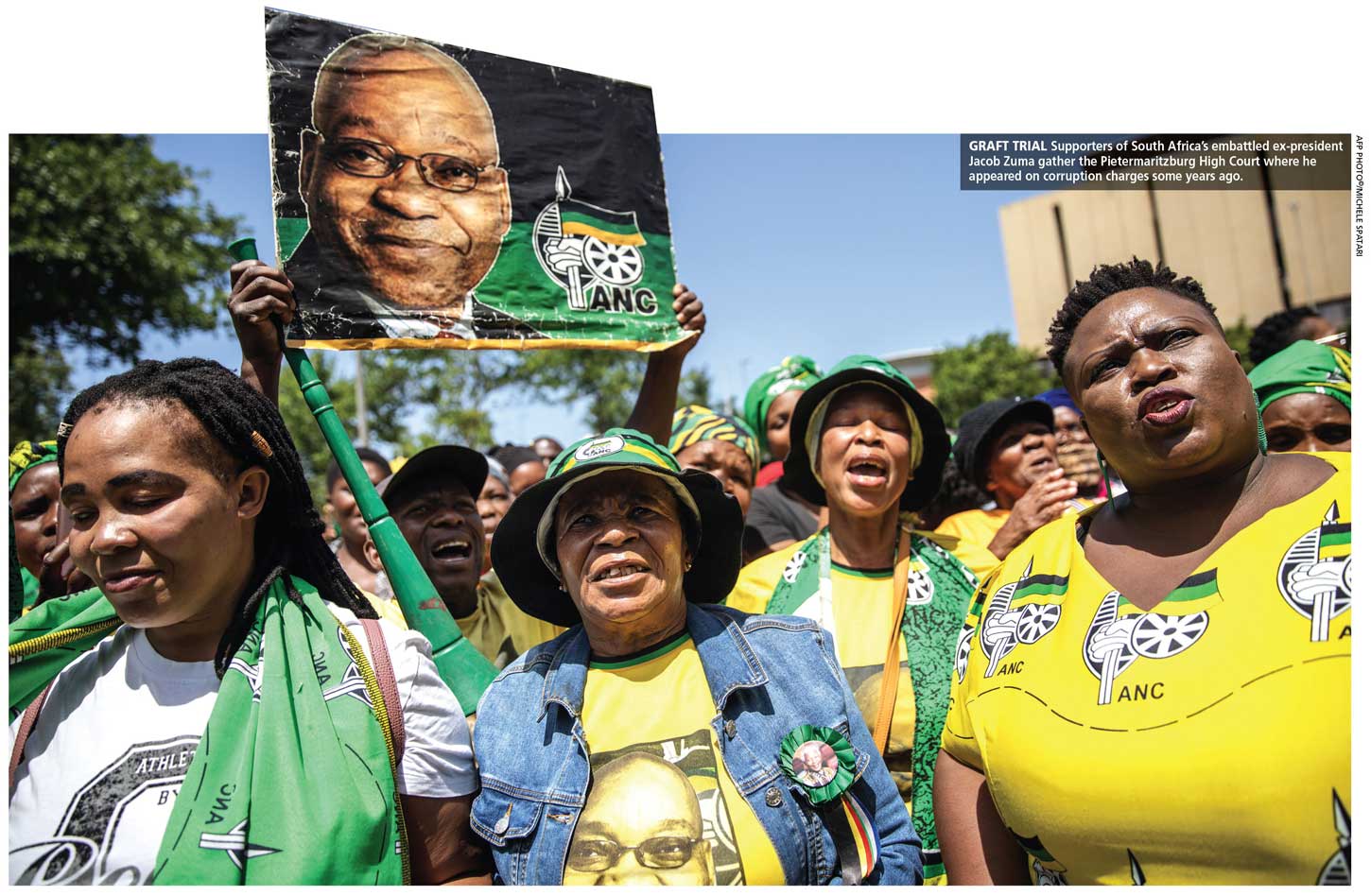 Countries where people have the freedom to be informed about the corruption of their leaders are better at taking action to wipe it out – because they understand how it affects their own quality of life.
Echoing this general perspective, Chairperson of Transparency International Delia Ferreira Rubio says: "People's indifference is the best breeding ground for corruption to grow."
Unfortunately, people of most Asian and African countries are fearful of punitive action by the perpetrators. So citizens look on and do nothing.
South Africa is one of the few countries in the region that respects the freedom of speech, and is unafraid to expose corruption and corrupt leaders. Many publications and reports on corruption's ever increasing grip on the country are freely available to the public to help them understand what's going on in South Africa.
The latest addition to this repository is South African journalist and political analyst Dr. Mpumelelo Mkhabela's 2022 publication 'The Enemy Within: How the ANC lost the battle against corruption.'
It's a revelation of how corruption is ingrained in South Africa's ruling party, the African National Congress (ANC) – and the ANC's futile efforts to fight it.
Moreover until recently, South Africans watched a massive corruption inquiry unfold on live TV for three years. The accusations were focussed on former president Jacob Zuma and his associates. Authorities estimate that tens of billions of dollars could have been robbed during Zuma's administration between 2009 and 2017.
The inquiry was based on a 355 page corruption report titled 'State Capture,' which was documented by South Africa's former public protector (akin to a national ombudsman) Thulisile 'Thuli' Madonsela.
It details the extent to which corruption is embedded in South Africa's national fabric. The report also led to the phrase 'state capture' becoming synonymous with politically connected private citizens looting government resources.
Chairman of the South Africa-based Democracy Works Foundation William Gumede says that State Capture reveals how a systemic party exists within the ANC, which has ruled South Africa since 1994. From his perspective, the report is "a turning point because people's eyes are (now) open."
State Capture led to a powerful investigation called the 'Judicial Commission of Inquiry into Allegations of State Capture, Corruption and Fraud in the Public Sector including Organs of State' headed by South Africa's Chief Justice Raymond Zondo.
The inquiry revealed that resources earmarked for welfare measures for the poorest South African communities were diverted to several of the country's wealthiest people. For instance, over US$ 20 million intended for small-scale black dairy farmers under a programme called 'Zero Tolerance for Hunger' was allegedly given to a family of affluent Indian business­people and their associates.
In another instance, a state-owned railway that millions of working-class citizens apparently relied heavily on for transport was almost ruined because of stealing and mismanagement.
Meanwhile, the latest high profile victim of South Africa's corruption is the CEO of the country's failed national power utility company Eskom. André de Ruyter narrowly escaped an assassination attempt using cyanide poisoning after tendering his resignation with effect from 31 March 2023.
He was investigating endemic corruption at Eskom, which is unable to provide reliable power to the people and functions at 50 percent capacity. South Africa once had a thriving energy sector but corruption has led to its downfall.
When Chief Justice Zondo handed over the final report on the findings of the three year corruption inquiry, the approximately 5,000 page report exposed Zuma's close connections to corrupt deals. It also faulted the incumbent – President Cyril Ramaphosa – for not doing enough "to stop the rot."
Several of Ramaphosa's political friends were called out in Zondo's report while the entire ANC is implicated in State Capture.
Speaking upon the release of the final volumes of the report, Ramaphosa said it is far more than a record of widespread corruption, fraud and abuse. He added: "It is also an instrument through which the country can work to ensure that such events are never allowed to happen again."
He has promised that his office will develop a plan within four months to implement the report's recommendations.
Subsequently, Ramaphosa introduced several strategies to fight corruption based on the hundreds of recommendations made by the Zondo commis­sion. He has even allowed himself and his cabinet to be scrutinised on their personal lifestyles and spending habits.
In December, Ramaphosa overcame a serious challenge to his ANC leadership and was reelected for a second five year term. Though his hallmark promise since becoming South Africa's president in 2018 was to fight corruption, he has frustrated the public with inaction.
There is still hope that he will make good with this second opportunity. Johannesburg-based political analyst Dr. Ralph Mathekga notes: "We came from an era where we had a president who went out of his way to protect those that are corrupt. I don't think Ramaphosa's going to protect anyone."
People's indifference is the best breeding ground for corruption to grow
Delia Ferreira Rubio
Chairperson
Transparency International