BIMSTEC REVIEW
CONNECTIVITY FOCUS IN THE OFFING
Zulfath Saheed discusses the potential for greater integration in the Bay of Bengal
Sri Lanka is assuming the chairmanship of the fifth Bay of Bengal Initiative for Multi-Sectoral Technical and Economic Cooperation (BIMSTEC) summit, which is scheduled to be held in Colombo. This was decided at the last summit, which was concluded in Kathmandu recently.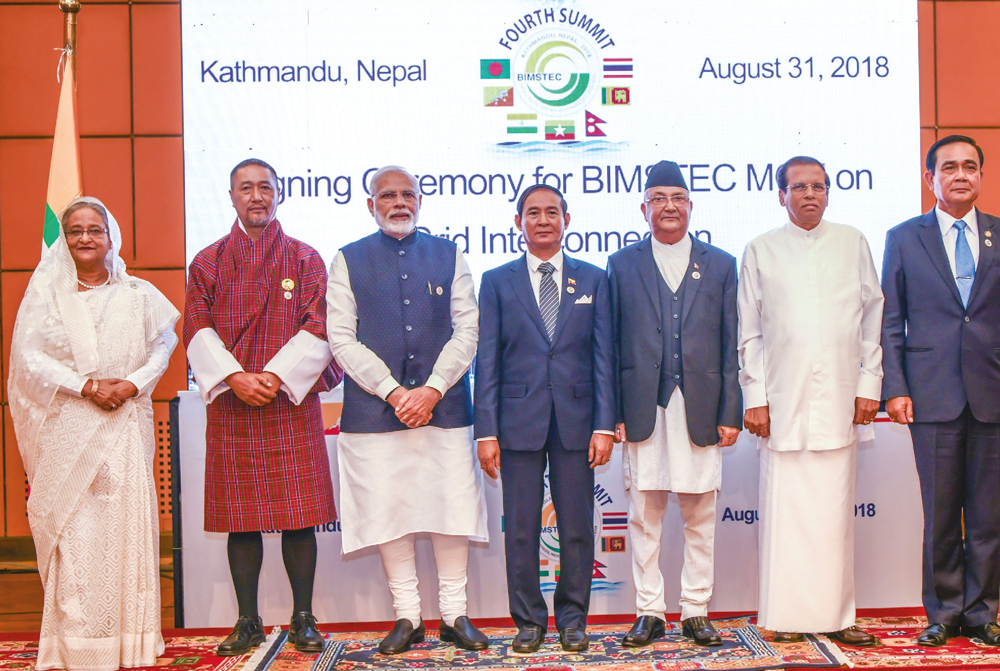 However, BIMSTEC has been met with scepticism from some quarters owing to its past performance vis-à-vis slow progress in finalising deals that could make the most of the geographic location of the regional alliance. For instance, critics point to the fact that only one of six legal instruments awaiting legalisation was inked at the latest BIMSTEC summit.
Whereas summit participants did echo the benefits arising from greater regional connectivity, operationalisation appears to remain a concern for BIMSTEC.
Also noteworthy is the fact that the regional alliance has convened at the country head level on only four occasions so far – this despite its existence for more than two decades.
REGIONAL ROLE A regional organisation comprising seven member states lying in the littoral and adjacent areas of the Bay of Bengal constituting a contiguous regional unit, BIMSTEC came into being on 6 June 1997 through the Bangkok Declaration. It constitutes seven member states with five from South Asia (i.e. Bangladesh, Bhutan, India, Nepal and Sri Lanka) and two from Southeast Asia (Myanmar and Thailand).
This sub-regional organisation constitutes a bridge between South and Southeast Asia, and represents a reinforcement of relations among these countries. BIMSTEC has also established a platform for intra-regional cooperation between SAARC and ASEAN members.

Building such an alliance is intended to harness shared and accelerated growth through mutual cooperation in different areas of common interests, by mitigating the onslaught of globalisation, and utilising regional resources and geographical advantages.
Unlike certain other regional groupings, BIMSTEC is a sector driven cooperative organisation. Having kicked off with six sectors encompassing trade, technology, energy, transport, tourism and fisheries for sectoral cooperation in late 1997, it expanded in 2008 to embrace nine more sectors – viz. agriculture, public health, poverty alleviation, counterterrorism, the environment, culture, people to people contact and climate change.
ENERGY OUTLOOK According to its Energy Outlook 2030 report, BIMSTEC's Energy Centre was established in 2009 to coordinate, facilitate and strengthen cooperation in the energy sector in the region by promoting experience sharing, capacity building and best practices.
Its key initiatives so far have been in the areas of oil and gas, power or electricity and non-conventional sources of energy.
In August, member nations of BIMSTEC signed an MOU to establish electricity grid interconnection that would enable optimisation of energy resource usage in the region, and promote efficient and secure operation of power systems.
But despite its efforts, the bloc has fallen short of early operationalisation of the BIMSTEC Energy Centre.
SECURITY ACTION Leaders of BIMSTEC nations have identified the fight against terrorism and organised crime as an important prerequisite
for sustainable growth, and maintaining peace in the region.
Member states signed the BIMSTEC Convention on Cooperation in Combating International Terrorism, Transnational Organized Crime and Illicit Drug Trafficking in 2009, which is pending ratification. Another legal instrument – viz. the BIMSTEC Convention on Mutual Legal Assistance in Criminal Matters – is awaiting signature by member states.
The second meeting of national security chiefs of BIMSTEC member states was hosted by Bangladesh in March.
It emphasised the importance of collaborative efforts, and information and data sharing, to address common security threats – both traditional and non-traditional – in the region.
More recently, the regional grouping faced a setback at its inaugural military exercise – with Nepal pulling out at the last minute citing 'a political decision' and Thailand also falling short of sending a full contingent.
LOCAL PERSPECTIVES Addressing the regional summit in August, President Maithripala Sirisena stated that he would steer the BIMSTEC initiative by adopting a transparent agenda during his tenure.
Going beyond this statement, it is worth noting the relationship between Sri Lanka and the regional bloc: trade with BIMSTEC states accounted for 17 percent of Sri Lanka's trade in goods in 2016 primarily comprising imports from India, according to a report released by the Lakshman Kadirgamar Institute.
The report emphasises that "Sri Lanka should prioritise finalising the BIMSTEC FTA" for which negotiations began in 2004 "with discussions on trade in services and investment provisions." It also points out that Sri Lanka could strengthen links to ASEAN's and India's production networks through the FTA.
Moreover, Sri Lanka may seek to evaluate its relationship with BIMSTEC in the areas of connectivity, security and dispute resolution, energy and the environment.