REGIONAL TIES
ASEAN'S
DYNAMIC

NEW ROLE
Yamini Sequeira discusses the rise of ASEAN and how Sri Lanka can engage with its member states
The World Economic Forum on ASEAN 2018, which was held in Vietnam in September, addressed a wide range of issues related to the future sustainability of the regional grouping. The Association of Southeast Asian Nations comprises Brunei, Cambodia, Indonesia, Laos, Malaysia, Myanmar, the Philippines, Singapore, Thailand and Vietnam.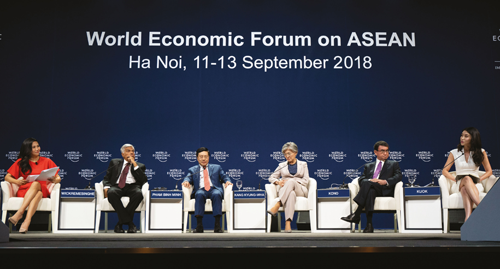 Trade took pride of place on the summit agenda with the world's two largest economies (China and the US) locked in a tariff war.
A recent survey found that concerns of Asian economists have increased sharply over rising trade protectionism and the possible impact of quicker than expected rate hikes in the US, which in fact materialised at the end of September.
Economists particularly in Singapore, Malaysia and Thailand are taking the rise of protectionism very seriously.
Since the group has a combined population of 630 million people with rapidly rising spending power, full implementation of the ASEAN economic community is vital to its future relevance. It is also home to a wide variety of businesses including a number of family owned conglomerates and state linked enterprises. Yet, small and medium-size enterprises (SMEs) together with micro-entrepreneurs make up nearly 90 percent of business activity in the region.
Thanks to a strong regional market, ASEAN can drive its own economic destiny rather than rely on demand from external markets – and it will be better insulated against potential protectionist shocks. The bloc is also looking to play a more strategic role in the developing relationship between the two Koreas, which could impact its member states as well.
Apart from the positive news that emerged from the summit, many challenges among member countries remain and they need to be addressed. The Straits Times notes that according to the Asian Development Bank (ADB), less than 50 percent of women in Asia are currently in the workforce compared to 80 percent of men. Furthermore, women who work are paid almost 25 percent less than their male counterparts.
The article points out that "it is deep unjust gender disparity that is holding Asia back." Management Consultants McKinsey & Company estimates that if nothing is done about this imbalance, the global economy stands to lose about US$ 4.5 trillion in annual GDP by 2025 – that's roughly the output of an economy the size of Japan's being lost every year.
The implications of the Fourth Industrial Revolution and technologies (including digital platforms, big data analytics and cloud based services) were also hotly debated at the summit. There was a consensus that with a single digital market, ASEAN can develop truly pan-regional services in finance, healthcare, education and e-commerce.
Cisco Systems worked with Oxford Economics to better understand the labour implications of AI in ASEAN. They found that as many as 28 million workers – which is more than 10 percent of the current workforce – could be displaced across the bloc's six largest economies over the next decade. Less skilled workers in the services and agriculture sectors are the most vulnerable.
The analysis highlighted that there's an acute skills shortage particularly in technical skills and IT across all six major ASEAN economies. There's a need for formal training and education to produce a larger number of specialist workers. According to estimates, around 41 percent of workers who are likely to be displaced in the next decade are acutely unprepared for IT related roles.
In addition, many workers will need to transition into jobs that call for softer, customer oriented or interactive skill sets. They will require a range of approaches including greater commitment to on-the-job training, more flexible online courses, and in some cases 'work experience schemes' to complement (or even substitute for) formal schooling and tertiary education.
Entrepreneurship is on the rise in ASEAN countries, and cofounder and CEO of Vietnam's first tech unicorn VNG Corporation Le Hong Minh offered this advice at the summit: "Don't ask for money; don't do normal stuff – look for the things that are magical."
Indonesian President Joko Widodo said that "as our economies develop, they are driven increasingly not by natural resources that are limited but human talent, which is unlimited."
Significantly, Sri Lanka has been linked to the sprawling ASEAN region following its FTA with Singapore. This is a step towards closer integration with the region and was in fact signed the same month that Singapore took over as chair of ASEAN for 2018.
The government has already begun preliminary discussions with Thailand on a potential FTA and formal talks were launched during the visit of the Thai Prime Minister Prayut Chan-o-cha to Colombo in July. This too is an important step since Thailand will be taking over as chair of ASEAN next year.
Historically, Sri Lanka has not been able to optimise on its trade agreements. But one hopes that this time around, it will use a new playbook to boost exports and reduce an expanding budget deficit.