PEOPLE'S PRESIDENT
How Croatia's lady president won the hearts of the world
RIDING

A WAVE OF OPTIMISM
Croatia may have fallen short in the FIFA World Cup final on 15 July but the team's feats in the tournament have boosted the small Balkan nation's morale – and many hope it could help its image abroad too. During their run through the competition, captain Luka Modric and his men wowed fans around the world with their attacking style and dramatic comeback wins.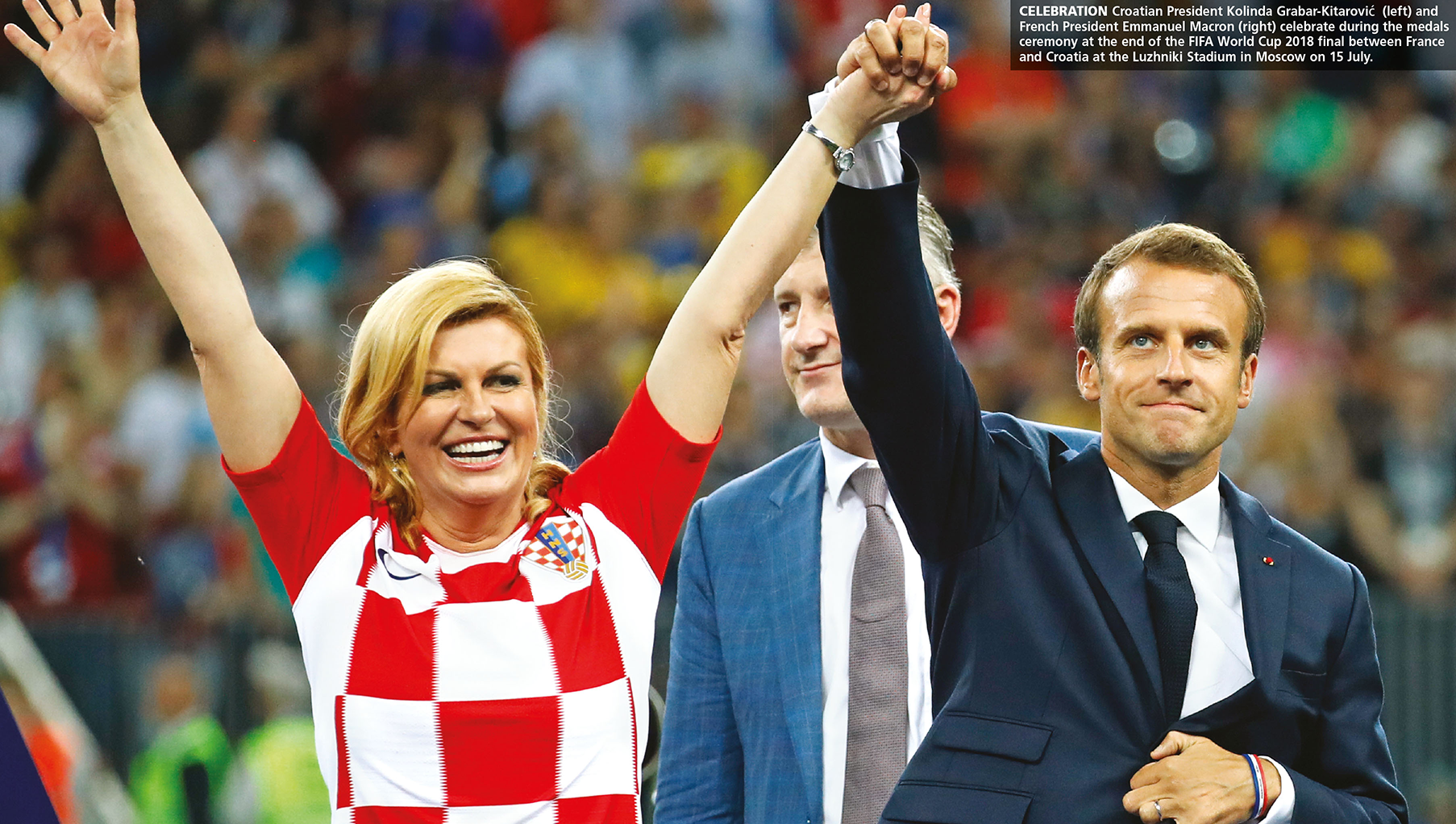 "We have won the sympathy of the entire world," says Miroslav Milosevic, the legendary coach of the team that reached the semi-finals in 1998. But this time around, the team went a step further to their first final, only to lose to France in what was an enthralling battle for supremacy.
Croatia's President Kolinda Grabar-Kitarović whose exuberant celebrations of the team's successes in Russia attracted widespread attention, said the World Cup can "start positive processes in Croatia." And before the final, she urged: "We have to ride this wave of optimism."
Grabar-Kitarović's outward enthusiasm was well-received by fans abroad on social media. "It's been a superb promotional campaign; more effective than the 1998 success when the Western press was still writing mainly about the (Franjo) Tudjman regime," notes Loic Tregoures who is an expert on football in the Balkans.
He was referring to the country's authoritarian 1990s leader. In contrast, Grabar-Kitarović portrayed a "friendly and fun" image, says Tregoures.
The 50-year-old president was the youngest Croatian to assume the presidency four year ago and the first woman to be elected to the office since the first multi-party election of 1990. Last year, Forbes ranked her as the world's 39th most powerful woman in the world.
Grabar-Kitarović is a former army commander and an experienced career diplomat who speaks a number of languages, including Russian and French fluently – which perhaps is why she was seen engaging freely with both Presidents Vladimir Putin and Emmanuel Macron during the World Cup in Russia. What's more, it has been reported that the Croatian president booked an economy class ticket to fly to Moscow for the final so she could travel with the fans.
Economic data currently paints a bleak picture however, which has led many Croatians to wonder if joining the EU in 2013 has improved its people's lives. Average monthly wages have stagnated at around 830 euros while unemployment persistently exceeds 10 percent. Analysts point to deeply embedded clientelism and corruption, and a lack of reforms, as underlying structural problems.
Croatia is also dogged by negative demographic trends in part caused by alarming levels of migration. An expert has warned that Croatia's population could drop to under three million if current trends continue. Around 40,000 people left the country last year, according to official
data, although some estimates say this number is more likely to be in the region of 80,000.
Despite a booming tourism industry that accounts for around 20 percent of the country's GDP (more than 18 million tourists visited Croatia last year), droves of young people have opted to migrate in recent years in search of a better life abroad.
But the World Cup exposure may draw even more tourists to the country's stunning island studded coastline and crystal clear waters, says the nation's tourism chief Kristjan Stanic.
After the semi-final win against England, the national tourism board released a promotional clip ('Croatia Full of Life') that featured Modric, Mario Mandzukic and Ivan Rakitic showcasing beauty spots like the Plitvice lakes and ancient coastal city of Split. "You must visit our national parks," said a beaming Rakitic in one section.
On World Cup final day, the board said its online page views grew by 200 percent compared with the same day in 2017.
But locals complain that many tourist hotspots on the coast like the city of Dubrovnik are already saturated while hopes of an economic bounce from the World Cup were dismissed as "no chance" by the academic Tregoures. "The boost to morale could perhaps translate into a mini-boom for some months, but it won't stop young people from leaving; and as for tourism, it's already full house," he opined.
– LMD (compiled from recent AFP reports)