LUXURY LIVING
INTERNATIONAL CONSTRUCTION CONSORTIUM
 
Q: What was the thought process behind pioneering a project such as Oceanfront Condos?
A: Our Chairman Harsha De Saram came up with this idea while holidaying in Queensland where he was staying at a beachside condominium. He realised that a similar project in Sri Lanka would offer people an opportunity to invest and also feel at home while on vacation without the constraints that a hotel imposes.
One can enjoy the luxuries of a hotel and enjoy a degree of privacy too. These condominiums offer the blissful solitude and freedom of feeling at home while on holiday.
International Construction Consortium (ICC) is a leading Sri Lankan general contractor and the project lead for Ocean­front Condos in Nilaveli. For the first time in Sri Lanka, we are offering interested parties an opportunity to purchase a beachfront condominium, which could function as an investment or a getaway holiday destination.
The first owners of the ocean­front condominiums were handed the keys to their homes by the beach recently.
Q: Are there unique advantages to investing in these condominiums?
A: The high end apartment market in Colombo is expected to saturate in the next two years. However, the situation is not so in Nilaveli, which is becoming increasingly sought after.
People have realised the convenience of owning a holiday home as it also holds a higher resale value and can be rented as well. Since buyers gain outright ownership, they'll own a property by the beach they can call 'home.'
Meanwhile, ICC will facilitate the renting and managing of condominiums on behalf of clients so that their investment not only increases in value but also generates revenue in the interim.
Q: The property is also being promoted as a holiday hangout – how does this work?
A: Oceanfront Condos in Nilaveli is now listed on Booking.com and Agoda. A condo can also be booked directly or through a travel agent. Reservations will soon be possible though our official website as well. We are looking at people who would stay at the property on a long-term basis, and take the time to unwind and explore Nilaveli, which is a spectacular location. Our condominiums offer blissful solitude since they're located between a naval base and Nilaveli's main beach strip.
Q: What does it mean to be on holiday in a serviced apartment as opposed to a hotel?
A: To begin with, there's more privacy in a serviced apartment. Also, there is the aspect of space; the size of a standard hotel room would be between 150 and 200 sq ft whereas these condos range from  1,180 to 2,100 sq ft.
And of course, there's the comfort of having the living room, bedrooms and balconies with a sea view all to oneself. Guests can choose to cook in the kitchenette, explore the area and stay for the long haul. There's also a restaurant that serves fresh seafood, a gym and a pool for guests to enjoy.
Therefore, one has the option of relaxing in a home away from home in a picturesque location that offers some of the best views in the island.
Q: What future plans are there for Oceanfront Condos?
A: The second phase of Ocean­front Condos is underway, and will be ready for occupation and renting by March. We have 20 apartments in phase two and some of them are now for sale.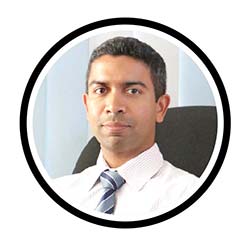 Based on popular demand and the enthusiasm of prospective buyers, we've picked Galle as the next destination to build oceanfront condos.
Charith Perera
Director Administration
Telephone 0766 333666/0770 333666
Email oceanfrontnilaveli@gmail.com
Website www.oceanfrontnilaveli.com