YOUTH FORUM
WINNING HEARTS AND MINDS
Tharushihan Muhunthan places reconciliation on the development agenda
Q: Where do you see yourself in 10 years' time?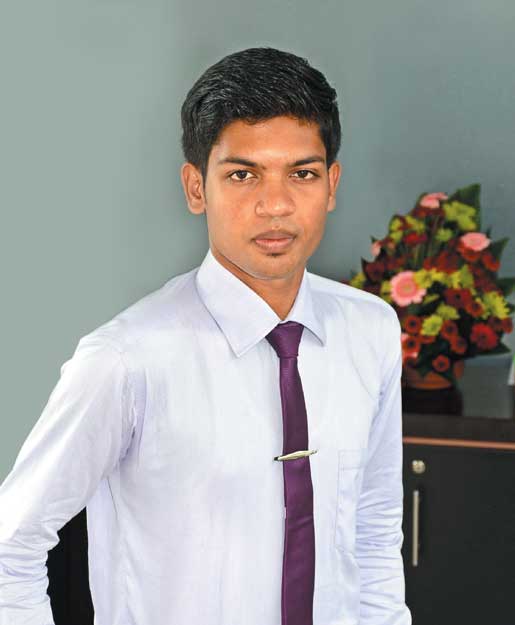 A: Hopefully, I would have completed my MBBS, and be pursuing a postgraduate degree in cardiology. I would have also completed my Assistant Leader Trainer course, conducted by the Asia-Pacific Regional Scout Association, enabling me to establish new scout troops across the island.
Moreover, I hope to work as a member of the National Training Team and President's Scouts Guild of the Sri Lanka Scout Association, to achieve my goal of creating a better Sri Lanka through scouting.
Q: Do you believe that Sri Lanka will be united one day?
A: Yes, but this will not happen overnight. There are numerous barriers, including long-term issues pertaining to minorities and language, which must
have the commitment of all politicians to act cooperatively and responsibly. The National Unity Government is a positive sign, but progress will be stagnant until politicians eschew racist policies.
Q: How can Sri Lanka retain the talent it has?
A: It is a pity that people leave the country seeking greener pas- tures, having enjoyed the free education that it offers. There is a huge difference in salaries, of course; but if they feel their competencies are valued more in Sri Lanka, it would curtail the brain drain.
Political instability is another reason for educated people deciding to migrate. This will decline, as the country marches towards stability and unity.And young people migrate due to higher education options. This can also be minimised by providing quality educational options in Sri Lanka.

Q: And how do you view the growing importance of social media, today?
A: Social media is an integral part of life. In many cases, it has become the primary means of communication. It expands the radius of global communication, and will create a paperless world.
However, addiction to social media can become a serious issue, especially among the younger generation, curbing them from enjoying interpersonal relationships.
Q: What changes do you see, in the context of national reconciliation?
A: Successive governments have concentrated on telling a story that only translates into electoral success, rather than winning hearts and minds. Although the Government is planning a national-level reconciliation programme, the lack of countrywide mechanisms to implement it inhibits progress.
Much has been done in infrastructure development, restoration of commerce and re-establishing administrative structures. But a commitment to sustain such initiatives, for there to be a meaningful impact, has not always been evident.
A less partisan understanding of the real challenges to post- war reconciliation is needed. Sri Lanka must eschew politics of the past, to achieve a lasting peace built on pluralism, tolerance and justice.
Q: What changes do you see in the spheres of education and health care?
A: While education in Sri Lanka is free, foreign universities and affiliated colleges offer degrees for high fees. Obtaining a degree from a local university was a challenging task in the past, but with money, gaining a degree is easy. Furthermore, with tuition classes taking an inordinate amount of young people's
time, there's little time left for research, pursuing hobbies, outdoor activities and exercise.
Although Sri Lanka provides free health care, the lack of doctors and medicines, overcrowding and high fees at private hospitals are the present- day difficulties. There's also an increase in infectious and non- infectious diseases. Compulsory three-year service for doctors, restrictions on state sector
Successive governments have concentrated on telling a story that only translates into electoral success, rather than winning hearts and minds…
doctors engaging in private practice and a larger intake of students into the medical faculty will help to assuage these challenges.
Q: What's the good, bad and ugly of the world we live in?
A: Technological advancements, new avenues in education and careers, global commerce and gender equality are some features that are 'good.'
However, the influence of Western lifestyles on our culture, and multinationals on local industry, as well as the shift from extended families to the nuclear family, work-oriented lives, less consideration for humanity, less human-to-human interaction
and increasing natural disasters are the 'bad.'
The 'ugly' consists of terrorism, forced religious conversions, arms suppliers, politicians who have no value for life, and
the ignorance of governments and authorities on how to preserve the environment.