EDUCATION SECTOR
HIGHER LEARNING QUANDARY 
Janaka Perera wonders if there is light at the end of the tunnel for students
Observing the situation in Sri Lanka's state run universities, one wonders if the entire higher education system has gone haywire. For nearly two decades, we have been watching university students repeatedly demonstrating, agitating over some issue or the other, and being baton charged, teargassed or subjected to police water cannons with virtually nothing achieved in the end.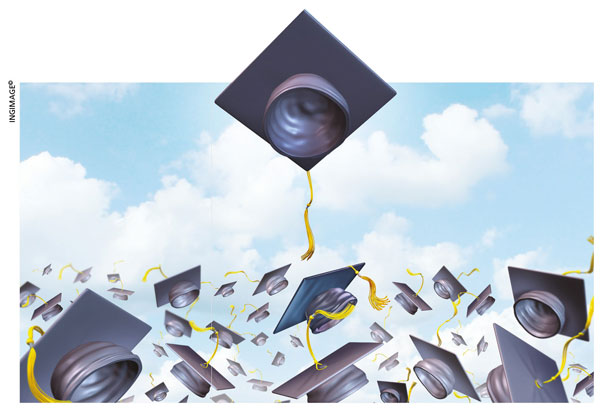 During the protest demanding the closure of private medical college South Asian Institute of Technology and Medicine (SAITM), government medical students not only lost a whole year of their academic careers but also effectively shut down the next batches who were eagerly waiting to enter the medical faculty.
Not all the students participating in these demonstrations do so willingly. They're coerced under threat of being subjected to harassment by the more politicised students' unions. Their union leaders focus more on dubious political objectives rather than studies and passing exams in a certain time frame.
The perennial shortcomings of state universities – mainly due to a lack of funds – have become a godsend for political agitators. It is also a fertile ground for student thugs engaging in brutal ragging. This scourge has plagued our campuses for decades but no university administration has succeeded in eradicating the phenomenon so far.
Meanwhile, the State Minister for Higher Education and Cultural Affairs reportedly stated that nine students have died due to ragging over a period of 40 years. Four committed suicide as a result of trauma experienced during ragging and five percent of the victims were crippled while others suffer from mental illnesses.
While presenting evidence in 1975 before the V. W. Kularatne Commission to probe ragging, the late Dr. Buddhadasa Bodhinayake – Senior Medical Officer at Lady Ridgeway Hospital for Children and a counsellor at the National Youth Council – said that rag leaders should be psychoanalysed.
Last year, the faculties of at least five universities remained closed due to ragging as authorities struggled to bring these campuses under control. One serious incident led to the closure of the administrative offices and several faculties of the University of Ruhuna.
As in the case of government medical students, boycotting lectures will in no way reduce the cost of the education bill that taxpayers shoulder. Over 80 percent of the state's revenue is earned from the poor and low income groups by way of indirect taxes.
Less than 30,000 of about 125,000 students who pass the GCE A-Level examination enter state universities. But does this mean that those who are left out are less qualified to pursue higher studies?
Today, they are left with three choices: gain admission to a foreign university, a local private university or an institute; or join a vocational training institute. But due to financial constraints, most seek employment that promises only low wages.
Contrary to misguided student organisations agitating against opening private universities, experiences in other countries suggest that state and private universities complement each other. These countries include neighbouring SAARC nations. Pakistan for example, had 74 approved private degree granting universities in 2015. All are supervised by that country's Higher Education Commission (HEC).
Private universities offer current courses to aspiring students. They're far ahead of state universities in terms of using modern technology in education. Their curricula are updated, and revised regularly and promptly while state run universities lag behind. Private universities provide students with skills that the job market requires.
The University Act of 1978 lacks a provision to establish local or international private universities. Therefore, a separate higher education act for national and international universities, and branch campuses as in Malaysia and Bangladesh, may be placed before parliament.
Senior Professor of the Department of Political Science at the University of Peradeniya Professor Gamini Samaranayake stressed this during a speech delivered at the Eastern University Sri Lanka (EUSL) convocation in 2013.
He saw the need for state universities to be responsive to changes taking place in the global and regional spheres. It is necessary for the government to permit recognised foreign universities to have branches in Sri Lanka and set up a special council to regulate them to ensure quality.
Generally, private universities are committed to quality education despite having business interests. They employ scholarly tutors with good qualifications by offering better terms, which exceed industry standards. Their own standards are used to sharpen students' skills. Private universities give students the option of studying subjects of their choice without fear of being dragged into politicised protests.
Therefore, it is vital to establish a fair and reasonable system for university admissions.