CAPTAIN OF COMMERCE
Deshamanya Sohli Captain
CIC Holdings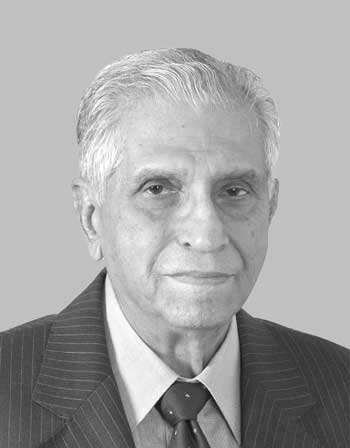 Deshamanya Sohli Captain has been honoured with many accolades in his 60 plus years of leadership and accomplishment. He has been listed among the most admired leaders in Sri Lanka and accorded the second-highest national honour awarded by the Government of Sri Lanka for highly meritorious service.
But there is so much more to this gentleman than meets the eye.
The arc of his efforts and tremendous success in the realms of commerce has been complemented by myriad acts of service and compassion. Philanthropy has lain at the heart of so much of his contribution to this country. Perhaps the most merit worthy and notable of these is the first cancer hospice in Maharagama, which he built and continues to fund.
His proven business acumen has ensured the inclusion of his name as one of Sri Lanka's most astute and respected investors in the annals of time. Captain has strategic stakes in several fundamentally sound enterprises, and his investments have often provided a much needed boost to local companies – to their fiscal standing and corporate reputations, an endorsement of their worthiness.
Even though Captain is considered to be among the richest Sri Lankans and one of the major investors in the Colombo Stock Exchange (CSE), he carries the remarkable success of his life's endeavours with little pomp and circumstance. Here is an example of simplicity and reticence for these, our braggadocio times of social media.
Lore has it that Captain's father was a manager at the Wellawatte Spinning & Weaving Mills and that his son also joined the enterprise. When the mills were eventually closed and its machinery sold for scrap, Captain bought some of the machines, had them refurbished and set out on an entrepreneurial journey to the triumph it has culminated in.
In addition to his association with CIC Holdings, he is considered a pioneer of the country's plastics sector, and his other entrepreneurial ventures include developing Polypak Secco into one of the largest plastic packaging solution providers, in addition to numerous other investments in real estate and apparel.
Captain may be hailed as a pioneer, as the Warren Buffet of Sri Lanka, as a mastermind, as a titan of commercial enterprise, but he is also a man who has shown great reticence in seeking the limelight for any of his accomplishments or charitable actions. He will always be remembered for the right qualities of greatness.
Sohli Captain: a man whose actions demonstrate the class of his leadership.