PERFECT DISTILLER
Carl de Silva Wijeyeratne
Rockland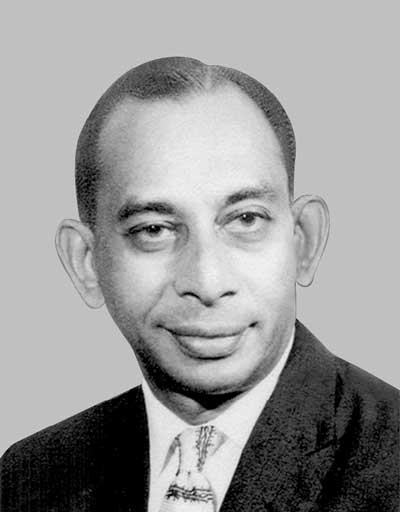 The art of distillation has intrigued humankind for centuries and if the gods have nectar, then men must have their wine.
Carl de Silva Wijeyeratne was already familiar with the arrack business as he had relatives who were arrack renters – although originally, it was not his first choice for a career or livelihood.
All things mechanical fascinated him. Carl grew up tinkering with his father's car and repairing anything that needed attention in his ancestral home in Beruwela. He was an avid photographer, and enjoyed capturing family portraits and beautiful landscapes. And he dreamt of being a doctor and even gained admission to study medicine.
However, Wijeyeratne was keen on joining forces with his favourite uncle J. B. M. Pereira in pursuing a dream of establishing a distillery. Leaving aside early ambitions, Carl went all in and together, they built a distillery that was ahead of its time.
The facility was set up by a French engineer using machinery specially imported from France on the family estate called Rockland. But the young man soon suffered a setback: six years into their enterprise, Carl was faced with his uncle's sudden demise. The years that followed tested his fortitude when the company was pushed to the brink of closure.
Thankfully, with the immediate and unwavering support of his family, Carl was able to save the distillery. Even so, to remain viable, the company had to innovate and evolve.
Following a substantial effort to revise excise regulations, Wijeyeratne finally succeeded in getting a suitable notification enacted to enable the manufacture of 'Country made Foreign Spirits.' And in 1947, Rockland Gin – Sri Lanka's first locally produced Gin – was born.
Thereafter, the launch of Lemon Gin, Whisky and Brandy were marked as key milestones in the Rockland journey.
As the years progressed, Carl was nominated as the president of many reputable associations such as the Rotary Club of Colombo, World Health Foundation (Sri Lanka) and the Distillers Association of Ceylon.
His pioneering spirit went far beyond the business and onto his staff; fondly referred to as 'Rocklanders.' He established his own version of a benevolent fund for his employees long before the mandatory Employee's Provident Fund (EFP) was enacted in 1958.
Rockland has persevered, for it was Carl's dedication to perfection and precision that has remained steadfast through the generations. Quality over profit – a mantra the family still lives by.
Carl de Silva Wijeyeratne: he set the bar on quality over profit.