BRIGHT STAR
Upali Wijewardene
Upali Group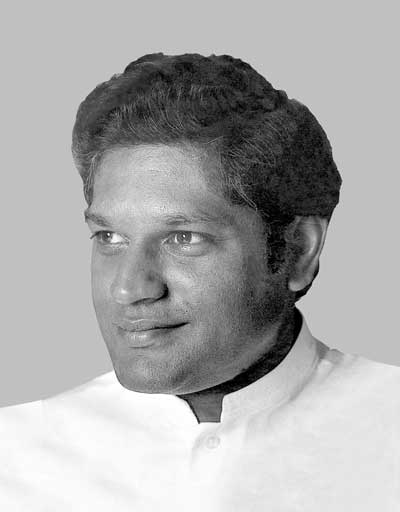 There was something of Apollo in him. Upali Wijewardene was a man who turned heads – not once but twice. Even the emblem he chose for his business – a blazing copper sun with a 'U' at its centre – brought to mind the sunniness of his personality, the brilliance of his smile and the sheer life force that poured forth from every pore. His focus on branding was unmatched.
Wijewardene built a global corporation that spanned several countries in the 1970s and early '80s, in an era in which communication methods encompassed 'snail mail,' telegrams and pre-booked international calls – and took weeks; and travel overseas was very expensive and a luxury to most.
The great strides and speed at which he operated in a technologically Spartan era is still considered outstanding.
But Wijewardene was a man who dreamt big and scythed through obstacles.
In May 1981, just too years before his inexplicable disappearance – when his private Learjet failed to arrive in Colombo from Kuala Lumpur in February 1983 – the then 43-year-old commodities wizard had started what was referred to as 'Upali's Third 20-Year-Plan' – the first 20 years had been education; the second, business; and the third, politics. He was reaching for the highest peak: the presidency.
Suave and witty, Wijewardene was a darling of the press and adorned the covers of coveted international business journals, and is still the only homegrown Sri Lankan entrepreneur owning a multinational to have been featured in Fortune magazine.
Having read economics at the University of Cambridge, the 21-year-old returned home in 1959 and was recruited by Lever Brothers as a management trainee. He quit after two short years.
Instead, he determined to seek his own fortune – first, with a friend's ailing confectionery plant, which he re-baptized as Delta; and a few years later, with Kandos – the brand promoted by Ceylon Chocolates.
Following in his uncle D. R. Wijewardena's footsteps, he launched The Island and Divaina newspapers – declared one of his 'fun-projects' – disregarding feasibility studies that claimed that the national newspaper market was already saturated. In his dashing style, he used his own aircraft to deliver newspapers to remote areas before 8 a.m.!
Wijewardene's sudden disappearance off the face of the Earth is still a cause for consternation and speculation – did he fly too close to the sun? But memories are long, and he is still remembered with awe and admiration.
Upali Wijewardene: a blazing son of Sri Lanka.