THE TIMEKEEPER
Deshabandu W. A. Wimaladharma
Wimaladharma Brothers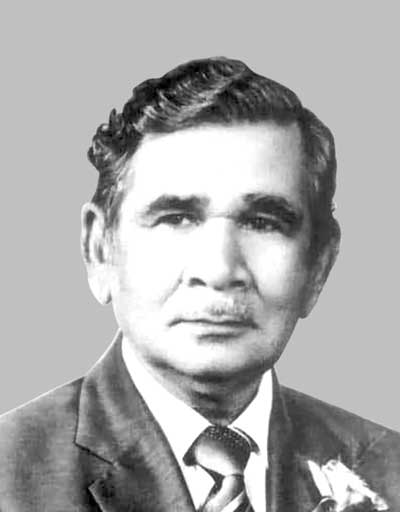 Islanders have a reputation for a notional system of time – 'island time' – and Sri Lankans are no exception. Perhaps it was this that the 23-year-old Deshabandu Weliwitigoda Ariyadasa Wimaladharma was determined to do something about when he established his eponymous enterprise – Wimaladharma Brothers – in 1936.
Perhaps it was also this that inspired the tagline: 'The time keepers to the Nation.'
Sri Lanka was still Ceylon – and independence was still some years away – when Wimaladharma set up in First Cross Street in the commercial hub of the city with a showroom for watches and clocks, which he imported.
Post-independence, business picked up and the operation moved to Front Street, Pettah, and a showroom was opened and commemorated in 1958 by Dudley Senanayake, who was prime minister at the time. The building remains a landmark to this day.
In 1961, Wimaladharma Brothers commemorated its silver jubilee and it was in that year that the Wimaladharma Watch and Clock factory was established in Ratmalana, fruition of the founder's plans to commence local manufacture and assembly of wall clocks and wrist watches.
A soft spoken and seldom outspoken gentleman, Wimaladharma conscientiously observed Buddhist ethics in his commercial activities, and devoted much time, effort and resources to several charitable works. In addition to his association with the Ceylon National Association for the Prevention of Tuberculosis, he formed the Sri Lanka Eye Donation Society with Dr. Hudson Silva.
In his childhood, he had had his primary education at Dangedera Jayawardena Maha Vidyalaya, Galle, and he did not forget to share his good fortune with his alma mater. He donated a fully equipped science laboratory to his old school. He also set up annual scholarships for deserving underprivileged undergraduates from the Southern Province.
He may have indulged in advertising for the goods and services of his commercial ventures but Wimaladharma never bragged of his acts of altruism. He was mindful of his precepts and adhered to the code of lay ethics.
But Wimaladharma's great acts of benevolence and charity to his compatriots did not go unnoticed. In 1994, for services rendered to religious and educational activities, and society at large, he was honoured with the national title of Deshabandu.
Now, nearly nine decades on, Wimaladharma Brothers' products and services have contributed not only to a nation's sense of timeliness but also provided elegant solutions to ensure that we can no longer reasonably resort to island timekeeping.
W. A. Wimaladharma: he ensured that a nation kept to time.