LIMITED EDITION
Rajan Yatawara
Hayleys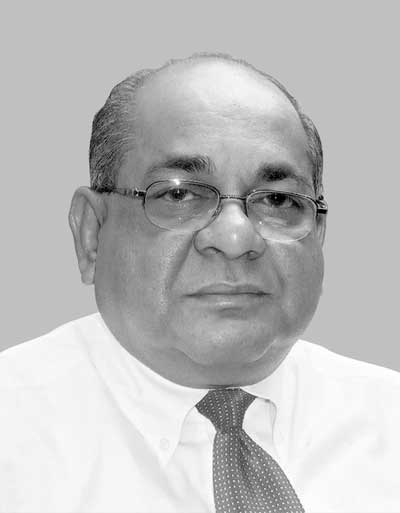 Rajan Yatawara passed away in 2017 but he lives vividly on in the words his friends, colleagues and subordinates have chosen to pen of him.
The strongest image that shines through their words is of a man extraordinarily devoted to doing the right thing and ethical behaviour. He demanded these lofty ideals of himself and from those he dealt with, and spoke with a candour and directness that some found formidable.
He was the first Managing Director of the Hayleys' company Haycarb, who together with his small team and consultants, developed the technology to produce steam activated coconut shell carbon and coco bricks for export. A firm believer in value added exports, this venture raised the conglomerate to the position of the number one market capitalised listed company for many years.
From 2004 to 2007, he led Hayleys as its Chief Executive and Chairman, and his leadership style is memorialised by one writer as follows: "I trust you to deliver; my doors are open to you 'son': but if you have a problem, don't come to my room without a few solutions. If you make a mistake, I'm there and will sort it out for you."
On two occasions, he advised a colleague who had been invited to leadership positions outside of the company with these words: "You take the job, do what's right for the country and not what is right for Hayleys." And he added: "Take it son, do public service but don't mess around with public funds and be a burden to the public."
A man or woman is not called a legend of business because he or she grew profits for a company – it is because of values such as these that they imparted and led with, with the greater good always in mind.
It is said that Yatawara had the ability to "extract extraordinary performances from ordinary subordinates" with his persuasive and motivational style. He is remembered for his unfailing compliments for good work and tangible appreciation in the form of increments.
He discouraged the practice of being called 'Sir' and requested that staff refer to him as 'RY' instead, which set a trend at Haycarb. Unabashed, this man whose diligence and perseverance had established an activated carbon manufactory, and whose extensive research on the technology made him an authority on the subject, would freely admit that he had only an A-Level in science.
Rajan Yatawara: cared deeply for the things that he did and the people who worked with him.