THE MERITOCRAT
Deshamanya Dr. Indrajit Coomaraswamy
Central Bank of Sri Lanka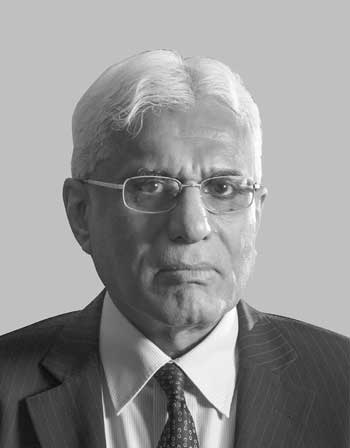 The appointment of Deshamanya Dr. Indrajit Coomaraswamy, a highly regarded economist, as the 14th Governor of the Central Bank of Sri Lanka will be recorded for posterity as a singular instance of meritocracy in this, our island nation. For far too long, Sri Lanka had deviated from the principle of merit in its appointments to public office.
He has been described as 'civilised' – a rare compliment indeed. Another writer in a salute to the ex-governor of the Central Bank has said that "Coomaraswamy has many feathers in his cap as [a] ruggerite, cricketer, brilliant economist and banker. The country could not have found a shining star of such calibre to captain the Central Bank. Meritocracy at its best."
A shining star he has been, on the sports field as well as in the financial firmament. At cricket, he was considered an all-rounder; and at rugby, he was a flashy and tactical wing forward. At 14, he played first XI cricket for Harrow, and would go on to captain the team and lead it to victory against perennial rivals Eton.
Coomaraswamy led the national team to glory and second place in the 1974 Rugby Asiad played at Longden Place against a formidable XV representing Japan. On the field, as in his professional life, he earned respect for his exemplary leadership – fair, tough on ethics and uncompromising on quality.
These demonstrated qualities have stood him in good stead and his reputation has remained unassailable. Indeed, his appointment as the governor was hailed as a triumph for decency, ethics and fair play, for he is one of our ablest to have held that exalted position. And in many ways, it was for him a 'homecoming.'
Soon after his appointment, Coomaraswamy was named Sri Lankan Of The Year by LMD – such was the confidence the business community and media had in him.
His association with the Central Bank is not a recent phenomenon. It was in 1973 that he joined the bank as a staff officer and served for 16 years in its Economic Research, Statistics and Bank Supervision Divisions, prior to being seconded to the Ministry of Finance and Planning to advise on macroeconomic issues and structural reforms.
Thereafter, he held a number of senior positions at the Commonwealth Secretariat, and was a member of the Monetary Policy Consultative Committee of the Central Bank and an advisor to the Ministry of Development Strategies and International Trade.
He remains an exemplar of the quality of leadership to be aspired to.
Indrajit Comaraswamy: when merit alone is enough.