GRACEFUL FINANCIER
Chrisantha Cooray
Hatton National Bank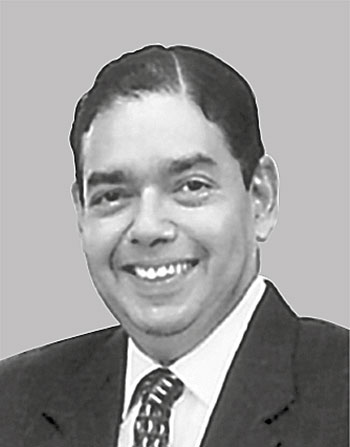 Sri Lankans will recall Boxing Day in 2004 with great sadness for the Asian tsunami that swept away so many lives, and led to inconceivable destruction to homes and livelihoods. What's more, 2004 is also the year in which many in the business community mourned the passing of an esteemed colleague.
An announcement in the Sunday Times read: "Chrisantha R. Cooray, Chairman of Browns Group of Companies and Chairman, Hatton National Bank, died on Thursday of a heart attack."
For Cooray though, the year was one that held promise. He was looking forward to the general elections in April and in fact had been persuaded to accept a position on the National List of the People's Alliance (PA) with the prospect of being offered the portfolio of Minister of Finance.
Cooray was Chairman of Hatton National Bank (HNB) and the Browns Group of Companies at the time of his demise. He has been described as a business magnate with a charming personality, and his death as an irreparable loss to the nation's business community. He was particularly dedicated to the development of sustainable economic growth, and the rural and small and medium enterprise (SME) sectors.
Close associates reminisce about the distinguished man's geniality and charisma, his unassuming simplicity and above all, his humility. Humility, he was often heard to say, is the key to success in business and social well-being. He was a man who wined and dined with the elite, but always had a warm welcome and a kind word for one and all from any walk of life.
As Group Chairman of HNB, he steered the transformation of the bank – which was established in 1888 as the Hatton Bank, to cater to the flourishing tea industry in the central hills of Sri Lanka – into one of Sri Lanka's largest private sector financial services groups.
Gentle and even-keeled, Cooray encouraged both discussion and dissension at the meetings he chaired, to seek the best and most effective outcomes. At both HNB and HNB Assurance, he contributed to the corporate governance culture, clearly defining the roles and responsibilities of leadership, and settling pathways for proper control.
Looking forward, he realised the significance of an iconic headquarters for a giant financial services institution with expansion and growth in mind, and the bank owes its HNB Tower to his foresight – though he would hardly have taken the credit for it himself.
Chrisantha Cooray: a graceful and foresighted financier.