BOTS AND TROLLS
WEAPONISING

SOCIAL MEDIA
Amantha Perera discusses the trend of bots in social media and their impact on people's perceptions
A month or so after the infamous social media block in Sri Lanka, I suddenly became quite popular on Twitter. Dozens began to follow me every day – a marked improvement from the single digit numbers of the past.
But it seems my cyber attractiveness was not so unique…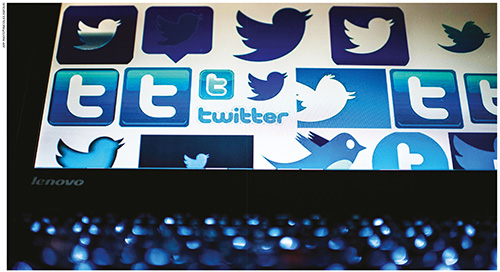 Many other 'tweeps' of Sri Lankan origin were also being followed suddenly. Unexpectedly, hundreds of new accounts had become popular overnight. However, these did not look or behave like normal human beings would do on social media.
For starters, some of them had very odd handles like @NSilva34714688 or @S41571276. Neither account had a bio, picture or any major activity – the usernames themselves looked like they had been automatically generated by Twitter.
It is possible that these could have been the legitimate accounts of two humans who didn't tweet much but when similar accounts began springing up in large numbers, some of my colleagues dug deep into what was going on.
And what they found was eye-opening.
Sanjana Hattotuwa and Yudhanjaya Wijeratne – two cyber experts here in Sri Lanka – and Raymond Serrato conducted a study on the bot phenomenon aptly titled 'Weaponising 280 Characters: What 200,000 Tweets and 4,000 Bots Tell Us About the State of Twitter in Sri Lanka.'
First, they found that most of these fake accounts were bots – meaning they were programmed machines acting as human beings.
Secondly, the report disclosed that "a visualisation of the number of accounts targeted by the bots revealed that leading diplomats, ambassadors based in Sri Lanka, the official accounts of diplomatic missions, leading local politicians, the former president of the Maldives, media institutions, civil society organisations and initiatives, leading journalists, cricketers and other individuals were amongst those who had large numbers of bot followers."
And herein lies the larger issues…
Who is creating these accounts? Is it a single entity or several entities linked to each other, or otherwise? Why was so much time spent on setting up these accounts, which did not seem to be doing much soon after their appearance? And perhaps most importantly, for what purpose are these accounts being set up?
During the social media block, Twitter remained the only viable platform in Sri Lanka that was legal. But many Sri Lankans simply ignored the ban and used VPN technology to circumvent the block – and access Facebook, for example.
Getting back to Twitter, it was a few weeks after the block that we witnessed an increase in the number of bots. Twitter usage in Sri Lanka is not as extensive as Facebook, which accounts for about six million profiles of Sri Lankan origin – or a billion plus points of content from Sri Lanka each month on Facebook, WhatsApp and Instagram. Twitter reach would probably be about a fifth of that.
But Twitter has an influential community ranging from politicians to diplomats and journalists. They use it as a dual platform to disseminate and source information – the same categories that the bots seemed to be following.
While these bots were being set up, I was at the Commonwealth Heads of Government Meeting (CHOGM) in London. And I was asked during a panel discussion what I felt the biggest and most immediate threat to media freedom is. I had no hesitation in remarking that it was these thousands of bots that were being set up.
"What we are seeing in Sri Lanka and other parts of Asia right now is the weaponisation of social media. There are thousands of bots under the control of presumably one entity. When and how they will be deployed is the big question," I told the forum.
It is simply illogical to expect Twitter to monitor these accounts and block them if necessary. Also, as with Facebook, there's no indication that Twitter has in-house capacity to monitor content in Sinhala.
There have been instances of local users notifying Twitter of such accounts and these have been blocked. But unless those accounts are deployed in their masses and for specific tasks such as trolling, amplifying, or taking on an issue or a person, we will not know their true purpose and potential.
This is not an issue that's unique to Sri Lanka. Nor is it the first time somethinglike this has transpired.
At the time the bot trend was noted here, similar developments were visible in several East Asian countries. Concerns over the use of the internet to manipulate public opinion using fake accounts haven't gone away since the US presidential election. If anything, the concerns have grown.
Sri Lanka too is heading into elections. During the last national polls, social media played a role by enabling candidates to reach out to a new set of voters, as well as being a platform for disseminating views and information.
But at the next election, social media is unlikely to play such a secondary role. Rather, we will see how it has evolved into a major sphere of influence especially among young voters. We will also see how these types of artificial bot accounts can be used to create human noise within social media.
Despite all the advantages that social media brings, there are inherent flaws and some of them are very hard to monitor. And that is why user awareness matters.
So Sri Lanka's main internet security agencies should take an interest in this as a matter of urgency.