TRAINOCATE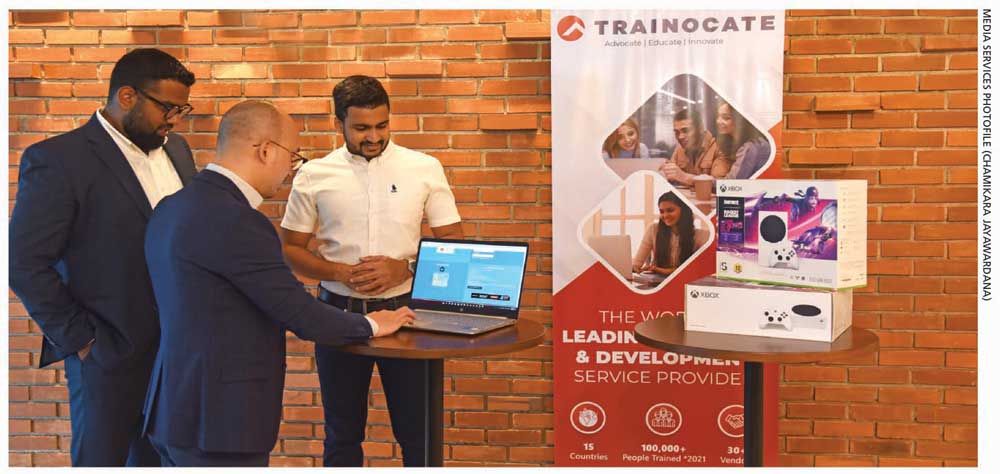 Q: What is Microsoft's role in Sri Lanka and the Maldives especially with regard to the technological and IT industry?
Harsha Randeny (HR): Our mission is to empower every person and every organisation on the planet to achieve more. In Sri Lanka and the Maldives, we stay true to our mission by empowering both these countries and their people, organisations and governments to achieve more.
Q: How do you perceive the role of Trainocate in this endeavour? 
HR: Trainocate brings in experience and real life challenges, and provide trainees with solutions to address these issues practically without being limited to theory. The company also plays a significant role in our drive to keep customers up to date by providing them with the opportunity to experience knowledge in a real world setting.
Q: What are your thoughts on undertaking customised training that's tailored to a specific organisation's technology and upskilling requirements?
HR: When it comes to digital literacy, competency and knowledge levels, multiple organisations are on multiple levels – a one-size-fits-all product doesn't work.
As a Microsoft learning partner, Trainocate tailors training programmes so that customers gain value. We also do customisations to ensure that training caters to a spectrum of customer needs. For instance, generic courses fulfil the entire product but some customers will need only specific elements such as security.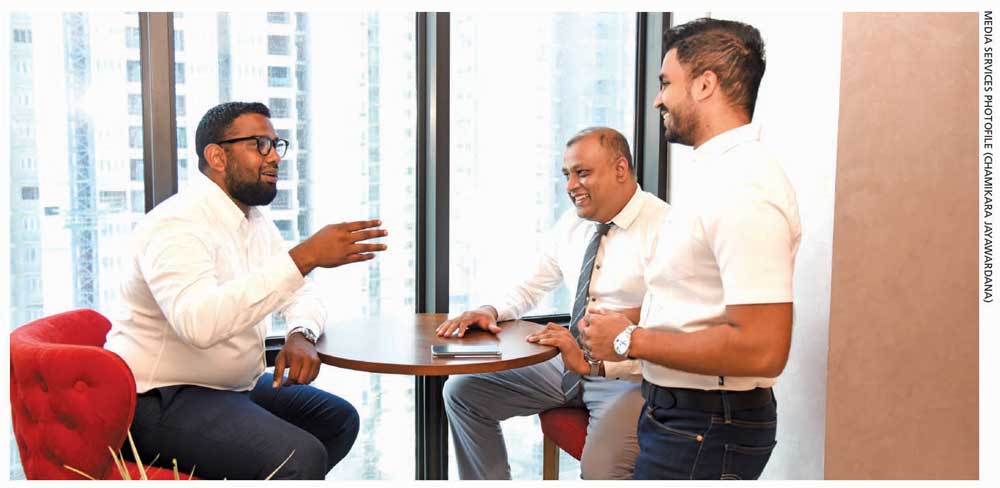 Q: How can Sri Lanka leverage the tech enthusiasm of people in the tech industry? 
HR: As a country, we welcome and use technology to give us an edge in transforming innovations into marketable products with good customer experience
As a nation, we need to harness our skills initiatives to ensure that all individuals in all ecosystems enjoy tech inclusivity. This is also necessary to create foreign direct investment opportunities where we can have locals serving foreign clients.
Q: How do you envision the future of Sri Lanka's IT and tech industry aided by certified training?
HR: Sri Lanka has the opportunity to produce world-class engineers who can get involved in many IT projects across multiple global organisations.
Yet, we don't have adequate engineers in Sri Lanka and this is further crippled by high migration rates of qualified professionals. We need to train a large volume of engineering students and reskill students educated in other streams such as arts and science to fill this void. So we require partners such as Trainocate to scale training to suit the massive volumes we need for Sri Lanka.
Q: How do training and development help an organisation retain exceptional talent?
Ashiq Niyas (AN): If organisations don't invest in areas of skills development, they will lose their employees to other companies that are head hunting.Gen X and Z want to grow and achieve great things, and get into roles they love without stagnating in one place.
Individuals are seeking new skills – you have technology-related individuals exploring marketing and marketing professionals who want to learn to code.
As such, organisations have a massive role and responsibility to identify employee aspirations, talent and competency gaps, and invest in the right skills development.
Q: What role does certification play in enhancing an individual's or an organisation's value?
AN: There are multiple ways to get skilled and qualified, whether it's following a course or shadowing a mentor. Today, we are in a digitally diverse culture and industry recognised certification helps you show that you have knowledge and skills.
Microsoft is committed to helping organisations understand and identify necessary skills, ranging from technical skills to those required to perform in the 'new normal' of working from anywhere. Partners such as Trainocate can help fill much needed skills gaps in the new era of technology.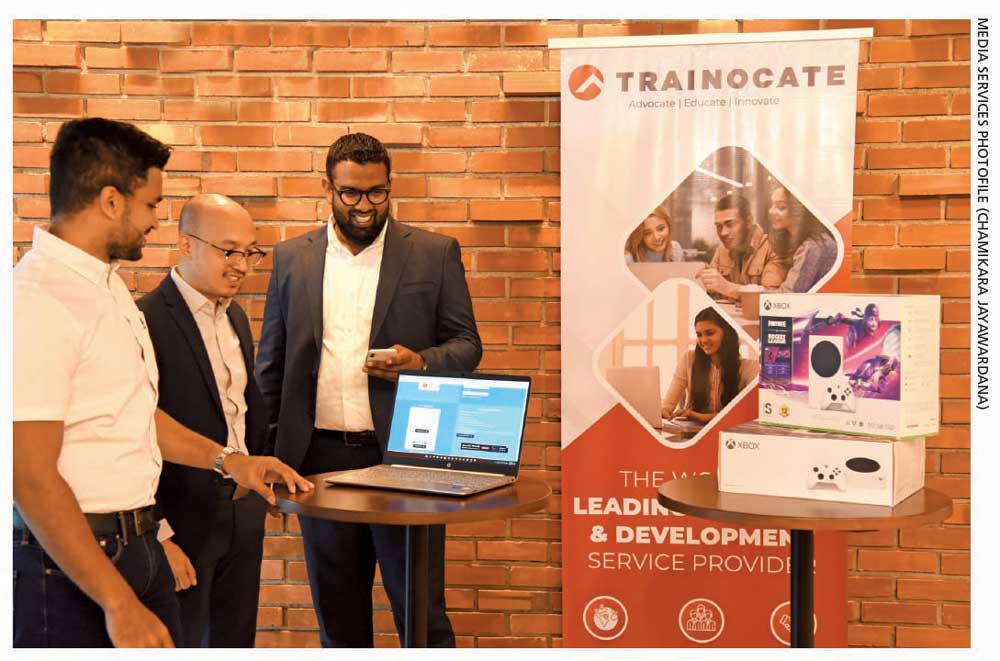 Q: How does Trainocate help achieve Microsoft's mission through customised training?
AN: Trainocate is one of our learning partners and it enables organisations to come up with and deliver training programmes that cater to the specific needs of their employees. Trainocate specialises not only in offering a service but also providing the right service in terms of skills needed, and individual and organisational interests. The company then tailor-makes an engaging development model.

Q: With regard to the Trainocate Assessment Tool, what are the advantages of doing self-assessment before commencing training?
AN: Before engaging in training, individuals need to do a self-assessment of what skills they have, what they need and where they want to be. After that they can use the Trainocate Assessment Tool to help cover areas they have overlooked. From an organisation's point of view, I believe such assessments should also align with the respective company including assessing its vision, culture and principles.
This type of assessment practice helps both individuals and organisations to be better prepared for the training that's to be undertaken and also outlines training needs clearly.
Q: What can Microsoft do to help youth bridge the gap between ICT education and industry requirements?
AN: Microsoft's mission is to empower every person and every organisation on the planet to achieve more. It drives us to make sure that our customers, communities and partners are enabled not only with our solutions but also with the right skills.
We undertake several initiatives, of which our student ambassador programmes with partner communities have been vital in skills development. The Microsoft Imagine Academy is another such endeavour that provides certification to students and educators, and gives them a platform on which to submit their ideas.
Q: What is Trainocate's vision for South East Asia New Markets (SEANM)?
Zafarullah Hashim (ZH): Trainocate is a leading IT and human capability development training provider in Sri Lanka and the Maldives. Leveraging our success in these two countries, we are expanding in the SEANM region to work with local Microsoft teams and partners.
We are driven to bridge skills gaps in the region through product knowledge sessions, bite-size programmes and industry specific sessions to name a few, and ensure that individuals and organisations gain the right skills needed to thrive in today's tech driven world.
Q: Why did you choose Microsoft as your market partner? 
ZH: Microsoft was the first partner we approached and 12 years on we are continuing our successful journey of growth with them. We believe in the quality and brand promise that Microsoft, which is used by most Fortune 500 companies, brings to the table. When we represent a service or product, we have to believe in it and we believe in Microsoft, as do our customers.
Q: What is the end-to-end training process that you follow when you meet a new customer?
ZH: When a customer comes to us with a training requirement, we check to see if they've done their prerequisites. Then we learn about the customer in terms of upcoming projects, skills and technology. Using the Trainocate Assessment Tool we identify individual skills pertaining to the required technology and existing gaps.
To make training more interesting especially in virtual environments we have a lot of engagement sessions including one-on-one discussions. We have checkpoints between modules through tests and quizzes, and provide trainees with a post-assessment in addition to exams.
The training process doesn't end with certification because we also provide product knowledge sessions and stay connected throughout. Furthermore, Microsoft has a very engaging self-study platform called MS Learn, which empowers trainees to take charge of their learning at their own pace.
Q: What are Trainocate's core strengths and capabilities?
ZH: Trainocate has 25 plus years of experience in the field. We have a varied and experienced team of trainers who hail from various countries and as such are able to train in diverse languages.
Our training tools are unique and support multi-language training. In addition, our support is unparalleled right from identifying students' training requirements to helping them continue their learning beyond certification.
Q: What is the next big thing for Trainocate?
ZH: Our future plans include moving into new markets in the region and covering Sri Lanka more inclusively in partnership with Microsoft. We're very excited about our move to the Middle East and will be approaching this massive market across different demographics to help bridge skill gaps.
Trainocate is also driven to take tech to the rural parts of our markets and reach schools, students and communities. We want to enable everyone with the right tools to bridge skills gaps and help them grow with technology.
COMPANY DETAILS