ZONE24X7
Providers of innovative technological solutions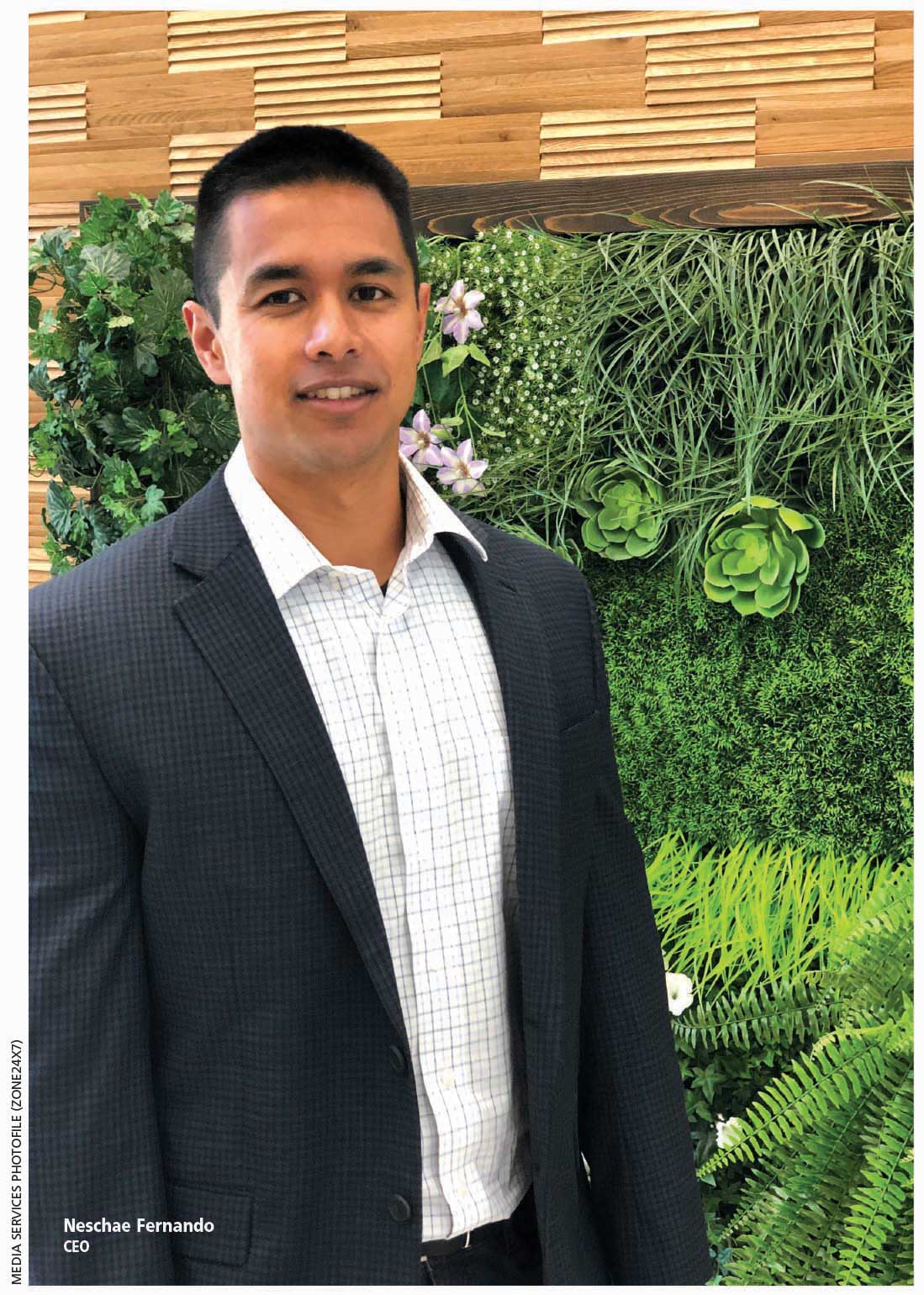 Q: How would you introduce yourself?
A: As an innovative problem solver who can devise pragmatic business solutions. I grew up in San Jose, California during the early days of the internet technology boom and it was inspiring to see how technology could positively impact the way the business spectrum worked.
My father Llavan Fernando founded Zone24x7 and created other startups too. I was fortunate to be able to work summer internships at his company. Upon graduating, I joined Cisco Systems and working at that renowned company gave me a lot of exposure to the operation and management of successful teams. With the family business growing rapidly, I was ready for Zone24x7 in 2012.
This company was built on the shoulders of giants and I will continue to build upon their legacy as CEO while striving to lead the organisation to new success.
Q: How do you maintain a work-life balance?
A: Removing distractions is an essential part of my daily routine. This includes turning off my phone and not casually reading emails when I have to do deep thinking or strategic work.
A big part of this is creating family time where we get to do fun activities together. Whether it's playing a board game, attending a martial arts class with my kids or an event with my son's Boy Scouts group, I am fully immersed in the situation and the moment.
It is also worth mentioning that Zone24x7 is a family-owned business and I am part of the second generation. My sister joined the organisation before me and I have to admit that social events often turn into business meetings. This is a unique experience where the lines blur and others working in family-owned businesses will understand.
Daily meditation and working out have helped me appreciate the importance of living in the moment. Having mental separation is extremely valuable.
Q: What made you decide that this was the line of business for you?
A: I realised at a young age that I wanted to create something that could improve many lives and knew that technology and engineering would be the right path for me.
Though there have been significant innovations and improvements in the world of technology and communication in the past several decades, it's an evolving continuum. This is why consulting is great and we can be part of the technology solution.
Q: Tell us about your organisation and its entrepreneurial journey…
A: Established in 2004 and headquartered in San Jose, Zone24x7 is an advanced Technology and Research Centre that's located and operating in Colombo.
In the 90s, my father developed technology to digitise the payments industry. This earned him a reputation as an innovative problem solver. The company later became Symbol/Motorola and is now known as Zebra Technologies in Sri Lanka.
Zone24x7 specialises in offering end-to-end technology consulting and engineering services. It encompasses hardware and software by bringing and identifying areas for tech innovations. We work closely with our clients and partners to learn of domain specific challenges and use our experience with technology to solve new problems.
Q: What are the solutions offered by Zone24x7 and can you briefly explain the functions of some of them?
A: Over the last two decades, the company has developed an impressive portfolio of services, which includes Enterprise Software Applications, Big Data, Data Science Engineering, Embedded Systems Engineering, Remote Monitoring, IoT, Machine Learning, Cognitive Vision, Robotics and Innovation Services with Technology Proof of Concept Development.
We work closely with our global clients and partners to identify their unique problems and help build customised solutions to provide value to their business operations.
Our ability to meld hardware and software solutions places us among a handful of companies globally with the ability to do so. We have experience in handling over 50 enterprise customers in a multitude of industries including Retail, Hi-Tech, Banking and Financial Services, Telecommunications, Logistics and Manufacturing.
We've worked with some of our esteemed client partners to develop a QE24x7 engineering and incubation programme that creates a constant flow of great engineering talent and resources. What this means for our customers is that they have access to the best engineering talent.
Q: You work with some of the world's leading technology providers. How important are partnerships?
A: We thrive on finding the right innovative partner networks where we can create meaningful solutions at Zone24x7. Fairness is paramount to the success of any long-term relationship and we have been looking at growing through some of these strategic partnerships.
The vote of confidence from a trusted party helps gain trust with prospective clients and it is something we take very seriously.
Q: What's been the impact of the pandemic on digital companies?
A: The pandemic has fundamentally changed the pace of business and work from home mandates have opened up new opportunities. This is a transitionary period where more effective ways to work are essential.
Zone24x7 is in a great position as the business world adapts to this new reality. We see an uptake in the demand and growth for resourcing groups from our global clientele.
Q: How do you envision the future of technology and how will Zone24x7 be a part of it?
A: We believe in investing in the 'now' to be ready for 'tomorrow' and draw from rapidly emerging capabilities, use cases, technologies and experiences. The company continually reimagines and innovates to provide meaningful value to our customers and partners. It's what we are about. Zone24x7 is a forward-looking company.
– Compiled by Fazmina Imamudeen
INTERVIEWEE DETAILS
Neschae Fernando
CEO
COMPANY DETAILS
Telephone:2033900/+14089229887
Email:info@zone24x7.com
Website:zone24x7.com