HATTON NATIONAL BANK
Q: How do the International Excellence in Retail Financial Services awards solidify a corporate's reputation as a bank?
A: The prestigious International Excellence in Retail Financial Services programme, which began in 2002, is a meticulous and transparent awards programme for consumer financial services worldwide. For the 12th time, Hatton National Bank (HNB) has been declared the Best Retail Bank in Sri Lanka at The Asian Banker® Excellence in Retail Financial Services International Awards 2022.
This programme evaluates the candidate banks based on business sustainability, service standards, product innovation, digital integration and customer feedback.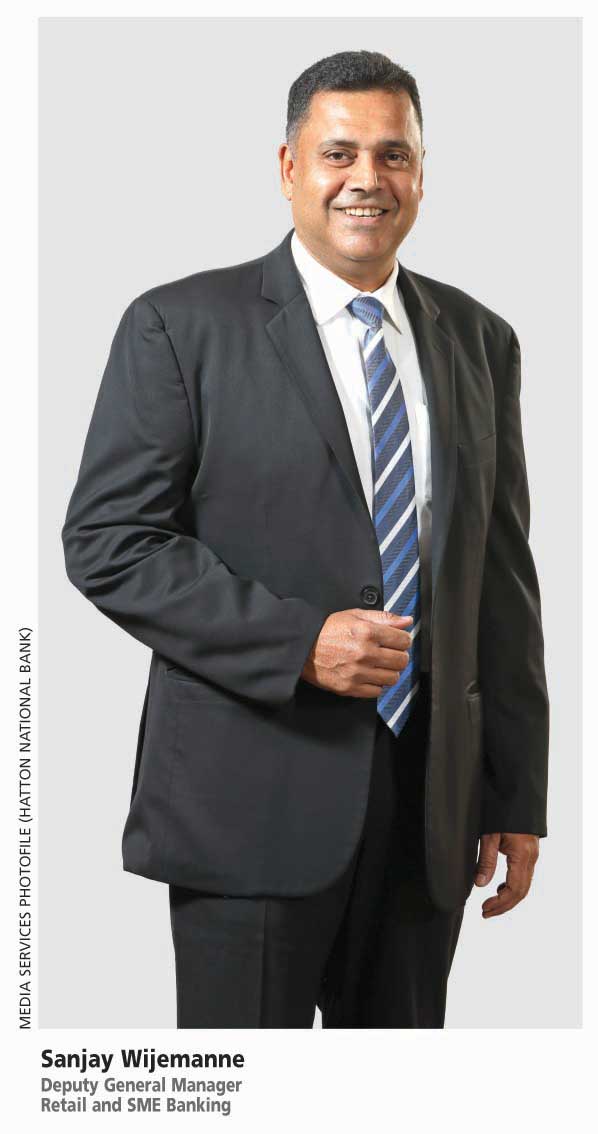 Q: What strategies does HNB employ to stay ahead of the competition?
A: With a proud history of over 134 years, there is no room for doubt about HNB's stability and strength. Over time, the bank has efficaciously built upon this heritage and expanded at a steady exponential rate.
All areas including profit, deposits and advances have demonstrated sustainable growth over the evaluation period while delinquency management and cost management have been better than others in the rest of the sector.
In terms of service excellence, HNB has scored remarkably high in a customer satisfaction survey conducted by an independent research team using the Net Promoter Score evaluation.
In addition, we keep track of the turnaround time at customer touchpoints for our various product offerings and continuously try to accelerate processes to ensure high customer satisfaction.
We analyse complaints to find practical solutions. Once a solution is found, we incorporate  it and reengineer our processes while upskilling our employees to ensure that they are equipped with the necessary knowledge to handle the situation in case it occurs again.
Service excellence is a high priority at HNB. Aimed at driving it further, a multi-pronged service campaign titled 'Committed to Serve' was conducted across the branch network to improve customer satisfaction.
From Singithi Kirikatiyo, Singithi Lama and Singithi Surakum to HNB Teen +, HNB Youth, Senior Citizens Scheme and Sathkara for senior government pensioners, HNB has a product for everyone from the cradle to the grave. The bank constantly keeps on improving its savings, loans, cards and remittance products to suit continuously evolving customer behaviour and market trends.
Q: How would you describe HNB's commitment to digital adoption?
A: The consistent investments that HNB has made in digitalisation over the years to harness technology and offer a seamless banking experience have strengthened the bank's stance as a front-runner in digitalisation.
Currently, HNB holds over 40 percent of the market for traditional point of sale (POS) terminals while HNB Momo has over 50 percent of market share for low-cost mobile POS terminals.
Taking steady steps toward a cashless nation, SOLO by HNB is a digital wallet that provides contactless QR-based payment facilities, which can be used for all retail payment requirements. And with the HNB Digital Banking mobile application, customers can conduct transactions conveniently anytime from anywhere.
Q: What does it mean for you to be recognised in the global arena?
A: With HNB's extensive portfolio of products and services that have been curated for a wide variety of market segments including individuals, the corporate sector and institutional clients, it has been a privilege and pleasure to represent Sri Lanka's banking sector among the global banking giants.
We strive to put the learnings of this experience to practice, refine the areas that can be improved and continue HNB's legacy in the years to come as well.
– Compiled by Isanka Perera
INTERVIEWEE DETAILS
Sanjay Wijemanne
Deputy General Manager
Retail and SME Banking
COMPANY DETAILS
Telephone2462462
Email:hnbconnect@hnb.lk
Website:www.hnb.net