THE BIG PICTURE
WHEN THE TOUGH GET GOING
It's been some time since the national carrier caught the attention of the media and public for the right reasons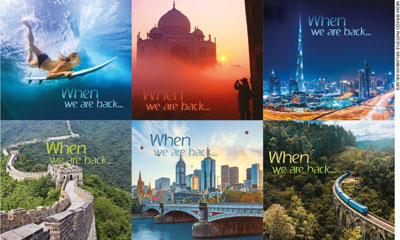 Our national carrier has done the nation proud during this time of extreme crisis, following the sudden emergence of a virus that took the world we live in by storm – suffice it to say that what followed was chaos and mayhem unlike many of us have witnessed in our lifetime.
By all accounts, one has to step back to the first half of the last century when not one but two World Wars held the world to ransom.
Of course, many Sri Lankans would have two dastardly insurgencies and a protracted civil war etched in their collective memories forever, as would they recall the Asian tsunami on that fateful Boxing Day in 2004 when the island's pristine coastline was turned into a war zone in a matter of minutes.
And perhaps worst of all, how could peace-loving Sri Lankans ever forget the ugly events of 'Black July' back in 1983?
Amid the most recent catastrophe, there have been a number of stories of bravery with the nation's front liners (the medics and security forces in the main) taking the honours along with Sri Lanka's newfound no-nonsense leadership – which it has to be said, is a far cry from what we witnessed on 4/21.
And there were others too…
Our national airline has for long been criticised not only for the financial losses it has accumulated over the years but also on many occasions for mismanagement, a poor track record on punctuality and even questionable service.
But times are changing; or so it would seem…
Firstly, it was at the forefront of the world's first COVID-19 rescue mission when Sri Lanka repatriated students who were stranded in the original epicentre of the virus in Wuhan. That Sri Lanka won applause from across the seas for what was a daring 'mercy mission' is a given.
Since then, SriLankan Airlines has crisscrossed the globe on similar rescue missions and it continues to do so despite the stringent COVID protocols.
The mouth-watering slides reproduced at the top of this page are but a selection from a PR campaign being run on Facebook by the national carrier, which could well be a sign that the once ailing airline means business when the skies open up in the weeks ahead.
Sustaining any business, be it state or private sector owned, will be a daunting challenge in the post-lockdown era; but as they say, when the going gets tough, the tough get going.
And for that, SriLankan Airlines has led the way by not only maintaining its composure but going the extra mile to remind the world that its wings spread to some of the most sought after destinations on Earth.
– Editor-in-Chief