SOCIAL MEDIA
HOW TO LIVE AND LET LIVE
Manilka Ediriweera profiles a networking tool we can't seem to live without
In recent years, with the advent of faster internet connections and smarter mobile devices, social media has become an ever-present and necessary part of our lives. And indeed, the time spent on social media for networking and content sharing purposes is creeping upwards at an alarming rate.
Through social media platforms, individuals and communities share, create and discuss user generated content, and they also network. While there are a number of social media sites, they vary in terms of functionality and scope. Social media is fast changing the public debate while setting trends and agendas on a variety of topics and issues, which range from politics and the economy, to fashion and entertainment.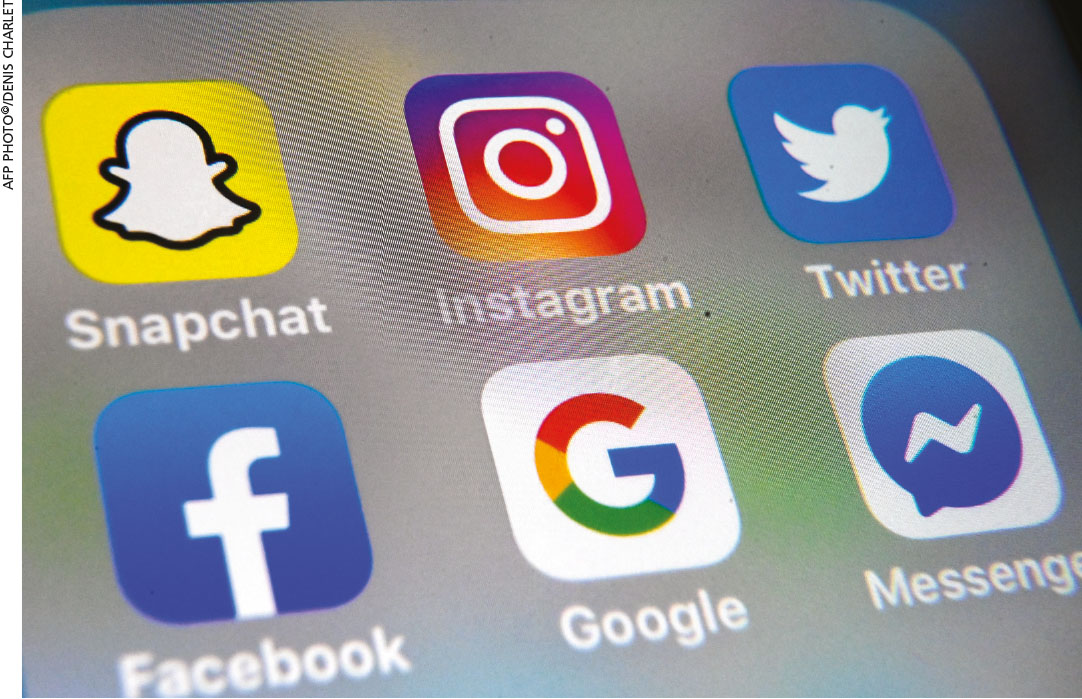 Social media may be fun and games in the case of friends, celebrities and brands that you follow. However, many common issues such as cyberbullying, spamming, fake news and privacy or security concerns are still to be appropriately addressed.
According to Buffer, the top five most used social media platforms with the highest number of monthly active users are Facebook (2.2 billion), YouTube (1.9 billion), WhatsApp (1.5 billion), Messenger (1.3 billion) and Instagram (1 billion).
The ability to network and share content in real time has not only changed the way we live; it has also altered the way we do business. Therefore, it is safe to say that social media has become a viral platform in the corporate communications sphere as well.
Social media platforms such as Instagram, Facebook, LinkedIn and Twitter are developing and expanding tools that enable businesses to promote brands and reach customers more efficiently. The business profile developed by Instagram in 2016 is one such tool.
Having a business profile offers users access to Instagram insights (which provide analytics on stories and posts) and the ability to add a contact button, and advertise and promote brands or products through the platform. Meanwhile, research conducted by software marketing company HubSpot discovered that 74 percent of Facebook users use the social media platform for professional purposes.
Before building up a brand on social media, it is necessary to have a comprehensive understanding of the brand and its values, as well as the target audience. Consistency and commitment to posting, together with integrity, are crucial when looking to build a brand on social media.
Today, consumers seek an authentic experience more than ever before. So to establish long-term connections with consumers, integrity is vital. The authenticity of a brand and its content will not only attract consumers and encourage brand loyalty but grow sales too. Instead of sharing perfectly manicured content therefore, content should be real and reflect the ethos of the brand in an authentic manner.
In the present context, businesses use social media as a CRM system to delight customers and carry out marketing campaigns. Influencer marketing through social media is also growing in popularity. This can be described as the process of compensating celebrities, social media influencers, bloggers, vloggers and industry experts, to create and promote content on behalf of a brand or provide brand endorsements.
On the other hand, there is a darker and more negative side to social media. With the rise of social media, corporate communications have been democratised. These days, power lies in the hands of individuals and communities, rather than marketers and public relations executives.
Former BBC business and technology editor Tim Weber even notes that "one witty tweet, one clever blog post, one devastating video – forwarded to hundreds of friends at the click of a mouse – can snowball and kill a product or damage a company's share price."
The United Breaks Guitars video by Dave Carroll is one such example. In 2008, when United Airlines damaged Carroll's US$ 3,500 guitar, the airline and its employees were indifferent and refused to compensate him. So he made a music video about the experience and posted it on YouTube, which resulted in a massive PR disaster for United Airlines. To date, the video has a tally of more than 19 million views on YouTube.
In such instances, organisations should take action to address the issues at hand in a positive and professional manner, and react to them quickly – because that too could determine the future of their business.
Given the dynamic nature of social media, it is increasingly difficult to predict a result or outcome as what works today may not work tomorrow. Therefore, firms must develop models that will continually adapt to these changes. They need to monitor and understand how social media activities vary in terms of impact and function, and develop congruent strategies.
Certainly in this day and age, social media has a resounding power and influence over our lives. Let's therefore, make the most of it.