SINO-US RELATIONS

CAN THE US 
CONTAIN CHINA? 
The world order is changing rapidly and US influence seems to be waning – Saro Thiruppathy
While President Joe Biden is battling the COVID-19 crisis, domestic terrorism and a divided people at home, his actions overseas are being watched carefully by the international community. What's most interesting is how he plans to address the US-China relationship, which his predecessor sought to destroy.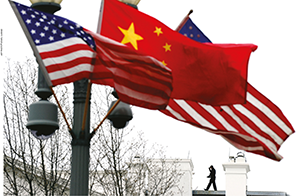 The US has a litany of complaints against Beijing including China's aggression in the South China Sea, it's hawkishness on Hong Kong and Taiwan plus the human rights violations committed on the Uyghur people of the Xinjiang Uyghur Autonomous Region.
This is in addition to China competing with the US, hurting American workers and blunting Uncle Sam's technological edge.
STRATEGIC PATIENCE Though the Biden administration intends to take China to task on these various grievances, it has no intention of throwing the baby out with the bath water. Instead, Washington plans to build cooperation with Beijing on issues of mutual concern such as climate change.
The US is adopting a policy of strategic patience with China while it tries to build consensus in Europe and the Indo-Pacific region as a force multiplier on a wide range of challenges. The Quadrilateral Security Dialogue (Quad) in the Indo-Pacific region includes the US, Japan, India and Australia. The Quad had previously conducted joint military exercises and reaffirmed links on bilateral defence agreements.
Biden is also reviewing all activities under the previous administration in terms of security and trade with Beijing. In January last year, ex-president Donald Trump signed a Phase 1 trade agreement with President Xi Jinping following a trade war of almost 18 months.
Under the new agreement, China was to increase purchases of agricultural and manufactured goods, as
well as energy and services by US$ 200 billion. This was to take place over two years but the quantity fell short by 42 percent in 2020.
However, Washington isn't overly concerned since there are several months left on the agreement.
TRUMP'S CHINA POLICY A few days before leaving office, Trump declassified a key strategic guidance document that details the US' approach towards Asia, which it calls the Indo-Pacific region.
The strategy is about mobilising and helping key allies achieve US aims. While Biden may not throw out Trump's China policy in toto, he will cherry pick what suits his agenda best.
Research professor at the US Naval War College Lyle Goldstein calls it a "blueprint for a Cold War 2.0." He says the document affirms the US' intention to maintain strategic primacy in the region and includes both the economic and military side as well.
Director of the East Asia Program at the Quincy Institute for Responsible Statecraft Michael Swaine notes that America's aim to maintain primacy as the world's undisputed military and economic power may see a zero-sum result.
He cautions that this approach of containing China is not going to win the anticipated support of allies in Asia and elsewhere. Swaine fears that even though a US presence in the region to provide a counterbalance to China isn't a bad thing, it would result in a cold war between the two giants.
Meanwhile, the Chair of the 21st Century China Center at the University of California San Diego Susan Shirk is candid when she says that "they are coercively trying to impede China's development."
Trump's strategy document also shows that the US was aiming for a Korean Peninsula that is free of nuclear, chemical, cyber and biological weapons, and was planning to accelerate India's rise so that Washington and New Delhi could "cooperate to preserve maritime security and counter Chinese influence."
In July 2020, then US Secretary of State Mike Pompeo criticised Beijing and called on the Chinese people to change the ruling party's direction. Though he didn't vocalise a call for regime change, Pompeo urged allied nations to work with the US to change the behaviour of the Communist Party of China.
Beijing slammed the strategy document and said that "its contents only serve to expose the malign intentions of the US to use its Indo-Pacific strategy to suppress and contain China, and undermine regional peace and stability."
EUROPE'S RESPONSE Though Biden is hoping for a positive response from European allies, it may not be forthcoming since Trump's hostile regime has caused bad blood between Europe and the US. And even though many Europeans were pleased that Biden won the presidency, there are doubts about the continuation of his policies in the event that Trump or a similar leader takes over in four years time.
Further, many in Europe believe that the US political system has failed and China will be the more powerful force during this decade. All this has created serious doubts in the minds of Europeans who now prefer to invest in their own defence and work with Berlin rather than Washington.
They also prefer to stay neutral and not get involved in a conflict between the US and China.
Europe's preference to distance itself from a possible conflict between the US and China, and Asia's concerns about an American presence in the Indo-Pacific region don't bode well for Washington's plans to develop a force multiplier.
So it seems that with the fast changing world order, the US' ambitions for hegemony in the region may end up being left at the gate.