SELF-MADE INDUSTRIALIST
Deshamanya A. Y. S. Gnanam
St. Anthony's Group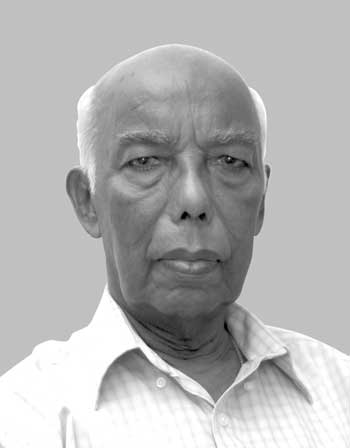 In 1983's 'Black July,' thugs broke in and robbed A. Y. S. Gnanam's home. He was dressed in a simple sarong and vest as was his custom. The thugs offered the 61-year-old trousers and a shirt.
Even in that terrible hour, he proudly responded: "Not to worry. I came like this from India and used to go from house to house buying old newspapers in this same attire. I am prepared to go with the same dress to the refugee camp."
Deshamanya Arulanandam Yesuvadiyan Samuel Gnanam arrived in what was then Ceylon when he was a child of nine to join his father and brother who were operating a small grocery shop. The oft recounted anecdote of Gnanam selling scrap iron on the road as a young man conjures a vision that is a far cry from the tycoon he had become by the time of his death.
This initial trade in steel is credited as being the first seed of the hardware enterprise he eventually parlayed into the booming St. Anthony's Group, encompassing not only hardware but trading in global brands, cement, textiles and print media.
Gnanam had the knack of seeing opportunity in adversity – of quite literally seeing the silver lining. When local industry and nationalisation were the order of the day, he saw fresh prospects. He realised early the advantages of international collaboration for local production and was one of the first entrepreneurs to obtain funding from theWorld Bank.
Two observations by an ex-employee are most revealing of his character and moral beliefs. The first: "He has a clear vision of anything he's involved in and also a well-defined goal. He knows the way to achieve it too."
And the second: "He would not get excited by any calamity. He is a firm believer in God and in himself for whom failures are always pillars of success. Even when his entire industrial complex was destroyed in 1983 at the ethnic disturbance, his enthusiasm did not suffer even an inch. He came back with sheer determination and rebuilt everything to a greater height."
A man of no letters what he lacked in formal learning, Gnanam had in abundance in nous and integrity, and the nation honoured this self-made industrialist with three national titles – viz. Deshabandu (1986), Deshamanya (1994) and Vishwa Prasadini (1996).
A. Y. S. Gnanam: he believed in God and hard work.