PARDON FOR PEACE

THE SOFT QUALITY OF MERCY
Rajika Jayatilake explains Indonesia's novel approach to preventing the spread of terrorism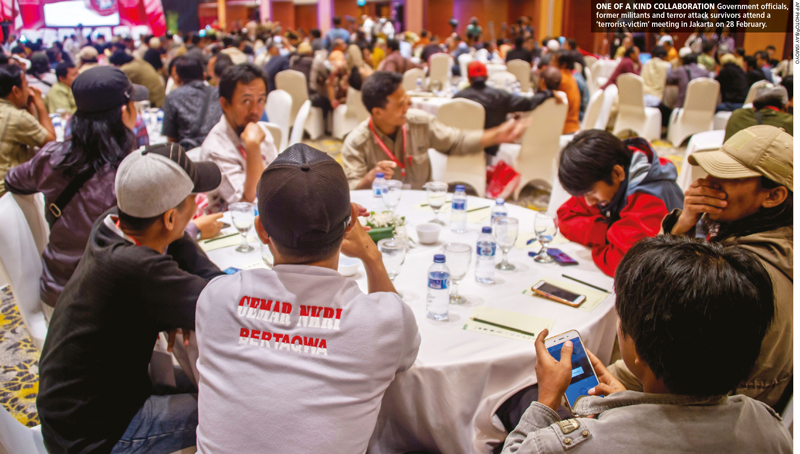 Forgiveness is such a powerful weapon, said former South African President Nelson Mandela, since it liberates the soul and removes fear. He added: "There is no future without forgiveness."
Indeed, fear is widespread and overwhelming in countries that have suffered long years of brutal terrorism. Decades of violence and bloodshed have resulted in entire communities being paralysed with fear and engulfed by flames of hatred. Even with terrorism vanquished, such societies are unable to return to normalcy without facing up to the truth of what transpired.
Innocent people lost their lives to terrorists. Family members went missing, abducted by terrorists and even the authorities. These people cannot move forward until they face the truth and find the closure they so desperately need. Very often, violent and destructive behaviour continues to burn beneath the surface as it waits for the slightest provocation to flare up.
As inventor Karthi Vadivelu noted: "It's not a matter of punishment or revenge. We'd like to put an end to this and learn why it happened."
Faced with a similar situation, Indonesian authorities decided on a strategy to bring together former terrorists and survivors of terrorist attacks, as well as victims' families.
A meeting was recently arranged in Indonesia's capital Jakarta by BNPT, the National Agency for Combating Terrorism through means of prevention. The aim of this meeting was to provide victims and perpetrators with an opportunity to see one another, and lay to rest traumatic feelings lodged deep within them in order to be able to move on with their lives.
Commissioner General Suhardi Alius who became BNPT's chief in 2016 is trying new strategies to prevent the spread of terrorism – including programmes to deradicalise perpetrators through a multi-sectoral approach. His most recent soft approach was this revolutionary meeting. Alius stated: "This is the first time we're having a meeting between formerly convicted terrorists and victims of terrorist attacks in Indonesia. This is perhaps even the first meeting of its kind in the world." Chusnul Kotimah, a badly burnt survivor of the 2002 Bali bombing who was at the meeting, said: "I can accept the situation. I can forgive them."
Another victim, Gatot Suranto noted that "all this time, I have been trying to make peace with the incident but sometimes I still feel traumatised." Febby Isran, whose burn injuries from the 2003 bombing of the JW Marriott hotel in Jakarta cover 45 percent of his body, remarked: "I have forgiven them, and it has even improved my recovery process and calmed me down."
In the words of Nelson Mandela, "courageous people do not fear forgiving for the sake of peace."
However, not all survivors of terrorist bombings felt comfortable meeting their assailants. About 50 of them participated in the event along with at least 124 former terrorists. One ex terrorist Zumirin who is now out of jail, said: "All my assets and money disappeared when I was in prison. Now that I'm free, I am left with nothing. I have to start from zero."
Another former terrorist Mokhtar Daeng Lau who is guilty of killing innocent people, revealed: "I have repented and I'll help the government educate others not to follow a radical path as I did." Yet another ex terrorist observed: "I had not imagined the impact would be like that. I'm sorry and have apologised to them."
Former US President Abraham Lincoln once observed: "I don't think much of a man who is not wiser today than he was yesterday."
Shaking off the stigma of being former terrorists isn't that easy. The ex terrorists are looked on with suspicion and even hostility. No one will employ them or wants to know them. One simply explained: "They don't believe that we've changed." This sense of rejection by society drives some of them back to their violent past.
At the recent ASEAN Summit, Malaysian Prime Minister Najib Razak said that a military solution alone will not be sufficient to defeat those who want to cause war.
Indonesian authorities hope this is a positive first step towards combating radicalism and fostering reconciliation. At the end of the event, Indonesian authorities pledged to help the ex terrorists and their victims.
The Minister of Manpower Hanif Dhakiri said they have programmes to teach skills to victims and perpetrators, which will help them find work. An agreement with the corporate sector ensures that one percent of the labour force of companies will comprise people with disabilities.
Indeed, the challenge is enormous but Alius is determined. His strategy is a multi-sectoral approach, which includes 17 government institutions tasked with identifying and addressing the root causes of terrorism.
Meanwhile, the Communications Ministry is shutting down websites that promote hate and radicalisation, cyber-terrorism and recruitment. The Religious Affairs Ministry is focussing on spreading tolerance. The Education Ministry is working to prevent radicalisation in universities. The Youth and Sports Ministry is organising a multitude of sports programmes to draw youth away from radicalisation.
Above all, the commitment to reconciliation and genuine mercy is what will ultimately help prevent the spread of terrorism. So Lincoln's words hold true even today: "I have always found that mercy bears richer fruits than strict justice."