STATE OF THE NATION

OH THE GAMES PEOPLE PLAY NOWADAYS
Wijith DeChickera is stranded at the popping crease because our coaches and skippers have lost their heads – it's not cricket!
There's something about Fridays and executive actions. It spans the gamut from arrogantly sacking parliament to arrogating the state printer. The most recent shenanigan was hastily summoning cabinet to pronounce that he would not permit national security officials to appear before a Parliamentary Select Committee (PSC) investigating lapses that led to Black Easter. This president has a penchant for giving the country pre-weekend jitters.
But for once, the nation was not watching its head of state. All eyes were on foreign fields where Sri Lanka were slated to play Pakistan in a more interesting Friday encounter.
Once they held their collective breath in anticipation of what horrors the chief executive would unleash on Colombo. Now they waited eagerly for the weather gods to relent at Bristol. In both instances, the would-be spectators waited in vain. Rain called off a cracker game on Friday 7 June… and a damp squib president has proven a total washout.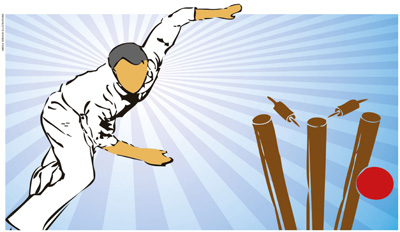 RUN OUT The two arenas
have startling similarities and equally significant points of departure. National politics – like Sri Lankan cricket – is a sacred trust. No matter who we are in terms of faith or philosophy, we expect our 'national teams' to perform at their best always.
Sadly, politics is not a gentlemen's game… and nor is cricket at times! But the summer game (and whether we win or lose, it still binds us together in joy or pain) is about the only reprieve we have these days.
There was a time when we expected the president and his king-making prime minister to 'rotate the strike' of good governance to deliver a win-win result. It was anticipated by pundits that a wide repertoire of strokes – from dismantling autocratic authoritarianism of the previous regime, to reinstituting law and order, through establishment of democratic norms and attendant reforms – would be played. That the president ran out his partner in a failed coup has been the bane of politics since late last year.
STUMPED The premier has failed to capitalise on the right playbook once regaining the strike thanks to the judiciary's third umpire, watched closely by that match referee of sorts: the media. A flurry of egotistic strokes has alienated our supposed democrat from the support base that helped him consolidate the mandate we gave him – or both of them – back in 2015.
More recent overtures made to a one-time opposing skipper – the present leader of the opposition – has his critics and champions scratching their heads in dismay and disbelief. It beggars belief why the prime minister's party doesn't move to impeach a president who not only blatantly violates the letter of the constitution but brazenly breaches the spirit of a pact between himself and the people to return our blessed isle to its place in the sun.
If we're no longer the prettiest girl on the beach, it's equally down to dastardly youth blowing themselves up in the hope of heavenly concupiscence as it is to dirty old men raping democracy openly.

HIT WICKET Another parallel is that the reality is usually more complex than what is visible to the spectators in the stands. Out there, we see bright talented lads apparently hamstrung by their lack of confidence, poor leadership skills or bad decisions taken in the heat of a moment.
The rot often goes deeper than this… to rumoured locker room invasions by gambling mafias and alleged corruption. It's the same with politics, whose cupidity is a public secret. You can't cleanse the Augean stables if the hands holding the hosepipe are muddy.
There is no other explanation. The depth of grubby culpability in our political structure best explains why our most recent experiment with democratic-republicanism has failed so abjectly.
Baser human emotions – from ambition and brashness, to cowardice and greed for power or lucre – play a part in our being bowled out.
But a more plausible explanation for failure to dismantle the apparatus of a dark deep state is that everyone's dirty; in the thick of paying off old favours and making new power plays.
BOWLED OUT At present, cricket and political games remain twin cynosures. On the one hand, finger-pointing over the state defence fiasco and passing the buck dominate the executive and, to a lesser measure the legislature.
Whatever conclusions the PSC may have come to as to whom to hold accountable, the blame game will not serve the national interest as well as naming and shaming driven resignations of top politicos.
On the other, cricketing skippers step down or ask to be relieved of the captaincy – if only to spare themselves or others.
Whether or not we would make it to Lord's is anyone's guess in the 2019 world contest of glorious uncertainties. And while that is all but a remote possibility at the time of writing, one thing is for sure: if cricket is our island's religion, it stands to reason that only a gentleman player of a certain calibre can lead us out of hell to salvation.
Into such a time and place may our land awake the day after the 14 July World Cup final at Lord's.