LAUGFS
LAUGFS Power Clinches Mahaweli Entrepreneurship Presidential Award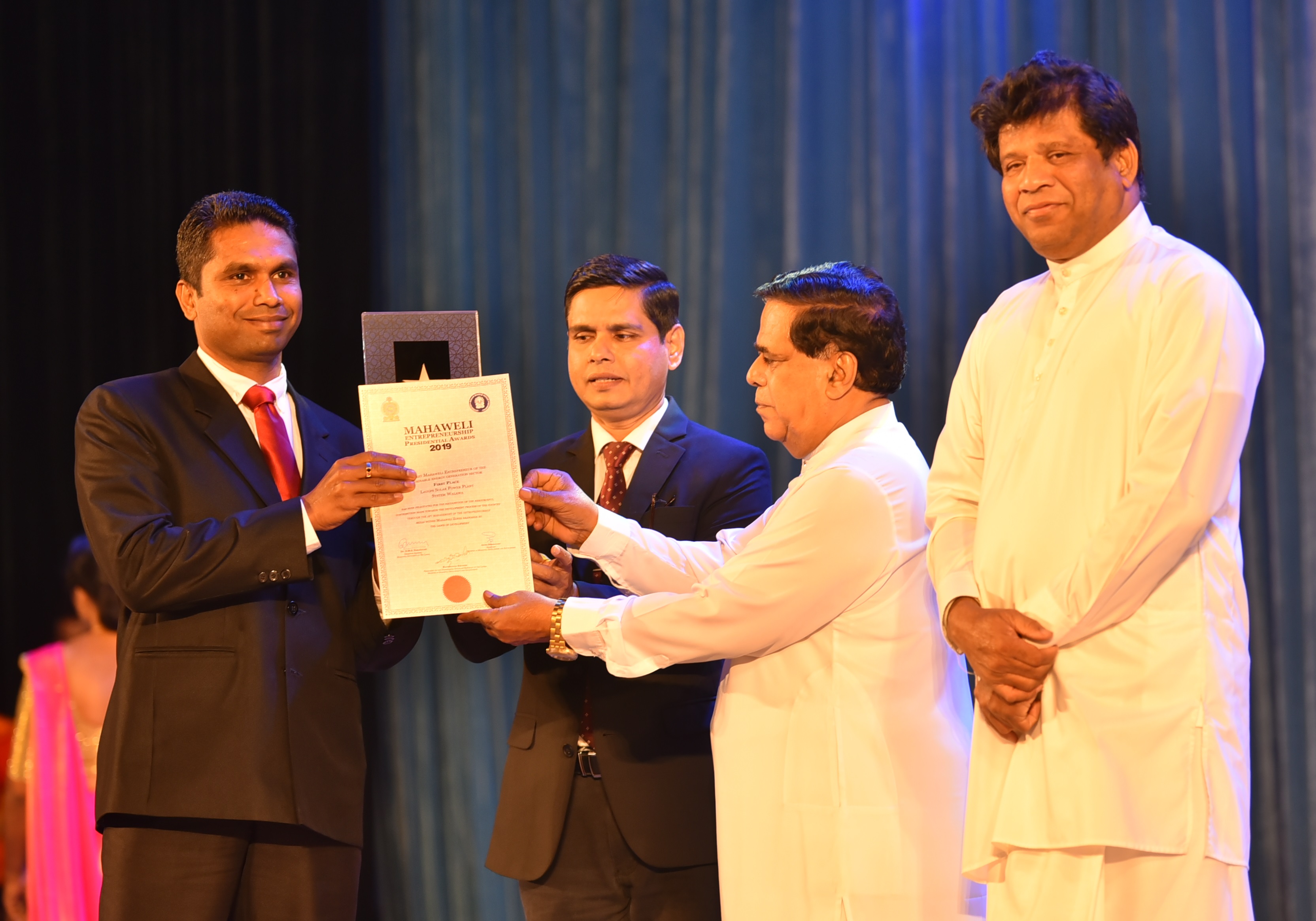 Illustrating the Company's impactful presence in the renewable energy sector, LAUGFS Power, a subsidiary of LAUGFS Holdings clinched the first place at the Mahaweli Entrepreneurship Presidential Awards in the 'Best power generation' category. Located on a 90 acre land in the Hambantota Mahaweli zone, the Company's signature solar power plants, Iris and Anorchi collectively contribute 38 GWh (Gigawatt hours) of energy annually to the national grid. Mahaweli Entrepreneurship Presidential Awards recognise and honour entities that contribute to the country's progress through resourcefully and effectively using Mahaweli land and water.
This year's Mahaweli Entrepreneurship Presidential Awards was held recently at the BMICH in the presence of President Maithripala Sirisena, State Minister Ajith Mannapperuma, Members of Parliament Nimal Siripala de Silva, Mahinda Amaraweera, Weerakumara Dissanayake, Secretary of the Mahaweli Development and Environment Ministry Anura Dissanayake and Director General of Mahawali Authority Dr. D.M.S. Dissanayake.
"Given the emerging environmental concerns and the ever rising demand for energy, the way we use and produce energy will have to change profoundly. At the moment, the challenge is about balancing growing energy requirements with the long process of shifting to low carbon energy resources. Our two power plants Iris and Anorchi are integral to our well-defined and pragmatic plans to strengthen the sustainable energy sector in Sri Lanka and beyond. Our interest in the renewable energy sector is multi-faceted in terms of contributing to the global sustainable energy mix, reducing our own carbon foot print and pursuing business success through innovation. Winning this award is a testament to our success as well as our significant contribution to fostering the renewable energy sector in Sri Lanka," commented LAUGFS Power General Manager, Mr. Mahinda Senarath.
Currently, LAUGFS Power contributes to the nation's sustainable energy generation mix by operating solar power plants and mini hydro power plants. In the long term, the Company is set to pursue both local and international investments in the renewable energy sector with focus on building, operating, owning and nurturing viable energy generation projects. As such, LAUGFS Power is committed to consistently exploring possibilities in both hydro and solar power generation sectors with multiple projects already underway. Forming strategic partnerships too is a key aspect of the Company's objectives for the future. At present, LAUGFS Power facilitates rooftop solar power generation in collaboration with numerous strategic partners to contribute energy to the national grid.
LAUGFS is one of the largest diversified business conglomerates and a trusted name in Sri Lanka. Founded in 1995, LAUGFS today has expanded across 20 industries in Sri Lanka and overseas, establishing a strong presence as a leader and pioneer in the power and energy, retail, industrial, services, leisure and logistics sectors. With 4,000 employees and an annual turnover exceeding Rs. 54 billion, LAUGFS continues to expand and empower millions as a trusted Sri Lankan brand.