HEALTHCARE SECTOR
MEDICAL MARKET
Compiled by Yamini Sequeira
TECH INDUCED DIAGNOSIS
Dr. Sajeeva Narangoda calls for AI and machine learning in healthcare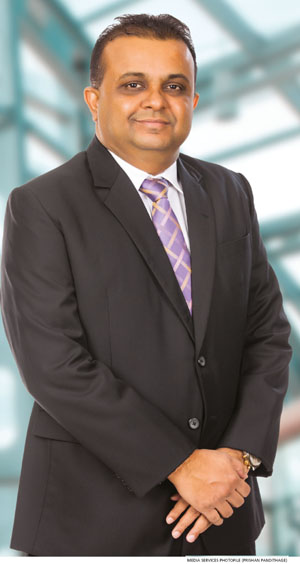 The private sector continued to play an important role in providing healthcare services last year. By the end of 2018, there were 200 registered private hospitals with 5,120 beds, which included 23 private Ayurvedic hospitals with 454 beds, according to the Central Bank of Sri Lanka.
Amid rising income levels, increasing communicable diseases and an ageing population, the demand for private health services has grown rapidly over time.
Commenting on this, Dr. Sajeeva Narangoda asserts: "Compared to the developed world, we have a commendable public healthcare system in Sri Lanka. While some Colombo based private hospitals have gained international accreditation, what we truly need is a national healthcare accreditation system and maintenance of electronic health records for evidence-based medicine management."
"A national accreditation system will ensure that minimum standards are maintained when it comes to processes, protocols and measuring clinical outcomes. Availability of systems to measure clinical outcomes and patient satisfaction levels would enable healthcare operators to benchmark services with international parameters," he adds. STRENGTHENING SKILLS While he believes that public healthcare outreach in remote areas is largely positive, Narangoda recommends that more attention be paid to streamlining accident and emergency services: "The issue is not healthcare upon arriving at hospitals but rather, reaching hospital in time is the main challenge patients face due to inadequate connectivity."
"Therefore, an emergency hotline is urgently needed to contact paramedical services," he adds.
Narangoda cites the strengths of the public healthcare system, which generates a large pool of specialist doctors who practise in state facilities thanks to the free education system. Sri Lanka produces more than 1,300 doctors every year.
"But when it comes to nursing care, both public and private healthcare suffer because we have a shortage of nurses in the country. We need a nationally accepted registration process for privately qualified nurses to address their shortage in private hospitals. We had addressed this issue to a limited extent in the recent past whereby BSc nursing programmes are now being offered through national universities," Narangoda informs.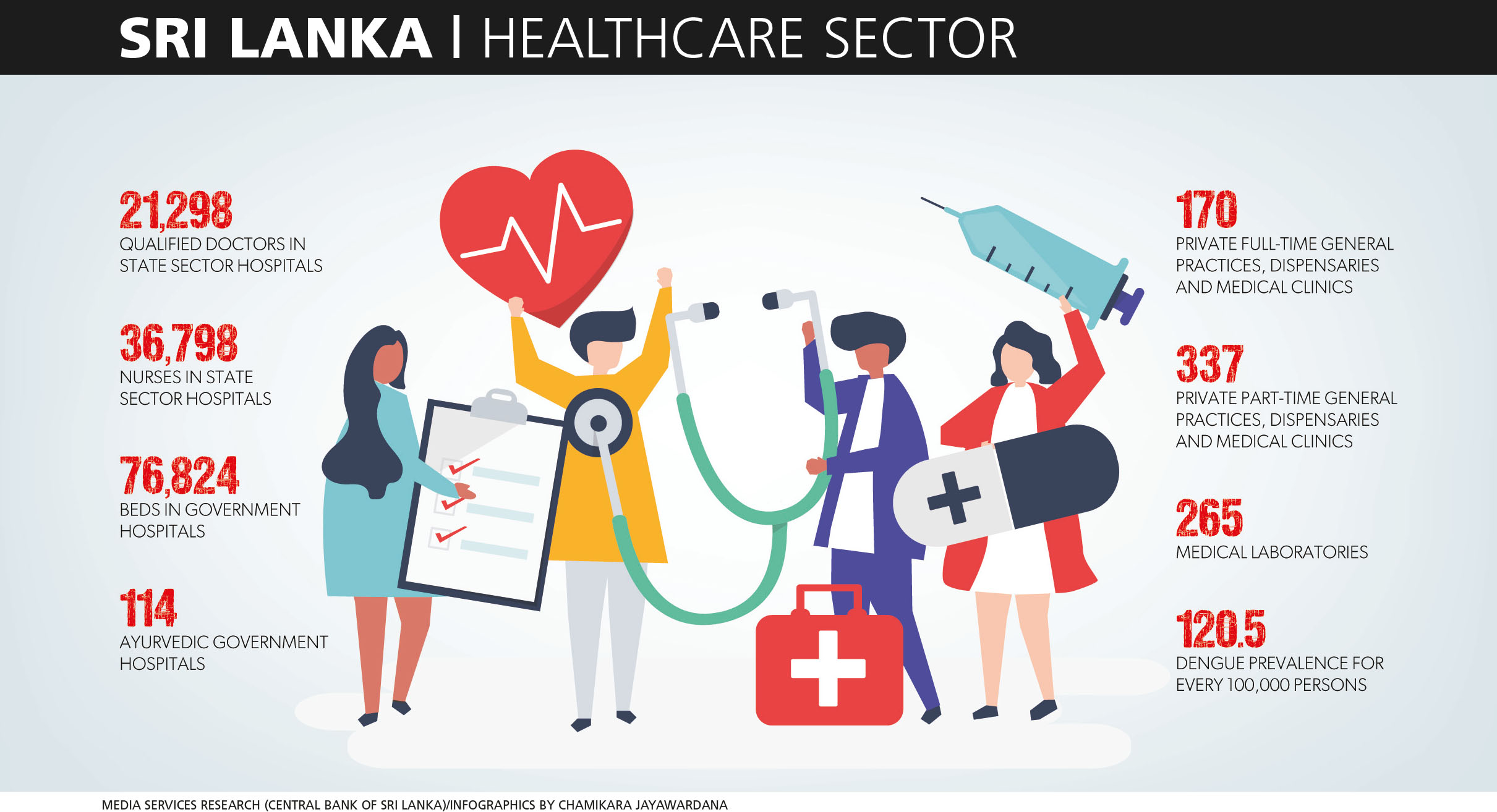 From his perspective, Sri Lanka compared to neighbouring countries has more miles to cover in medical tourism – for various reasons at that.
Narangoda elaborates: "If you consider annual growth rates from 2013 to 2019, medical tourism grew by around 17 percent while the global medical tourism market was worth US$ 37 billion. But Sri Lanka isn't attracting even a fraction of that. In the region, India, Singapore and Thailand have gone a long way in medical tourism while we're barely scratching the surface."
He continues: "We need public-private partnerships, better infrastructure, and trained nursing and paramedical staff to maintain internationally accepted standards of care. In terms of offering world-class medical and surgical care, our clinicians and doctors are on a par with those of other countries."
"As for medical tourism, there are two aspects: tourists who travel beyond their own countries for rejuvenation purposes or to obtain curative care. Rejuvenation is somewhat available in Sri Lanka but there has to be a national accreditation system to attract more international patients," Naran­goda remarks.

ADOPTING TECHNOLOGY Commenting on trends, he notes that "globally the main healthcare trends are on the technological side as equipment for surgical and imaging facilities have been developed rapidly."
He elaborates: "Minimally invasive surgical techniques have come a long way when it comes to brain surgery and cardiac care. Artificial intelligence (AI) and machine learning (ML) speed up the processing of healthcare data, and are used to identify and diagnose health problems. AI is used to analyse information from patients' electronic health records (EHR)."
"EHR provides doctors permanent access to patient data to diagnose health problems more accurately and find methods to treat them. AI and ML can also be applied in pathology, as well as radiology to detect irregularities in MRI scans and X-rays," he adds.
According to Narangoda, "the Internet of Medical Things (IoMT) connects medical devices, sensors, software applications and healthcare IT systems that focus on medical testing, monitoring and diagnostics. These include sticking plasters that monitor body temperature, blood pressure and heart rate, and wearable devices such as smartwatches and smartphones with health related apps, enabling clinicians to use real-time data for diagnostics and decision making."
"Advancements in 3D technology and printing have the ability to customise prosthetics – especially in certain surgical areas such as hip and knee transplants where prosthetics can be customised. All these result in the advent of 'smart hospitals,' which will be the future," he predicts.

AFFORDABLE HEALTHCARE The rising cost of private healthcare remains a challenge in Sri Lanka. Narangoda explains: "Not only in Sri Lanka but across the globe, there is a problem as there are pricing variations for the same procedure – in the same hospital, across the same hospital chain, across regions and of course, between countries. And healthcare providers and policy makers should address this."
"In Sri Lanka, we don't have regulation or a national benchmark when it comes to professional charges or what the accepted price is for certain procedures. I am passionate about finding a solution to this by way of developing certain management accounting tools to introduce a formula based system founded on the time spent on patients, facilities being utilised or technology used to come up with the right price," he explains.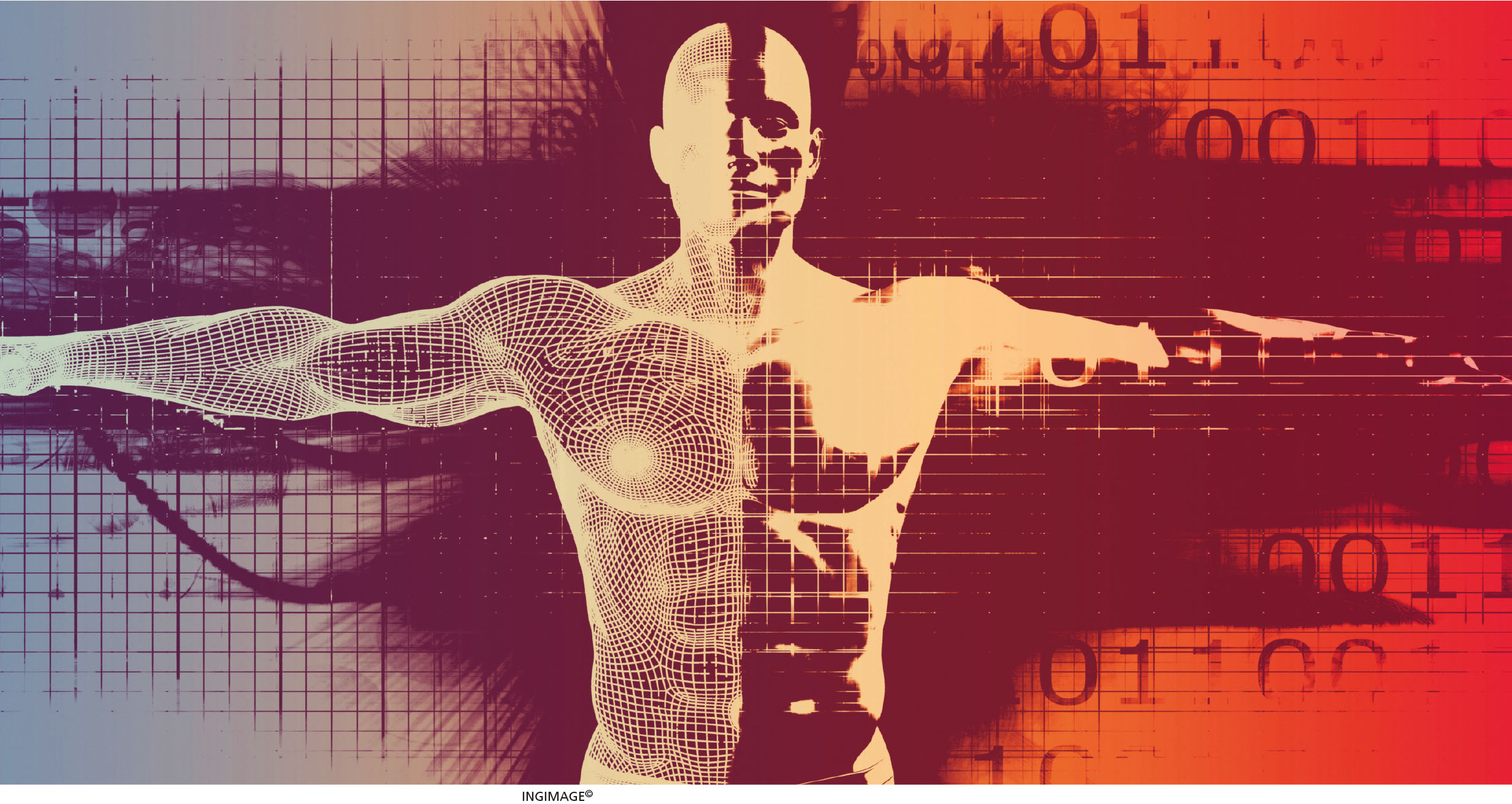 The rise of noncommunicable diseases (NCDs) is a growing challenge, to which Narangoda responds: "NCDs are a lifestyle related issue and the best way to tackle it is by raising awareness."
He notes that "as communities become more affluent, this trend will set in faster. The government and Ministry of Health are looking to address this through health education programmes but the easiest way would be islandwide awareness campaigns, which should also be held in schools – because if bad habits form at a young age, these could lead to unhealthy lifestyles later."
One major impediment to the growth of the private healthcare sector is insufficient health insurance penetration, which makes services less affordable for the general public. In this regard, it is important to popularise health insurance – especially among upper middle income groups – to reduce the burden of private healthcare costs on households particularly in the context of a rapidly ageing population, Narangoda concludes.
The interviewee is an International Hospital Surveyor and Consultant of the Australian Council on Healthcare Standards