COVER STORY
EXCLUSIVE REPORT
PORT CITY SPECIAL
A wide-angle view of the merits of Sri Lanka's most ambitious development project to date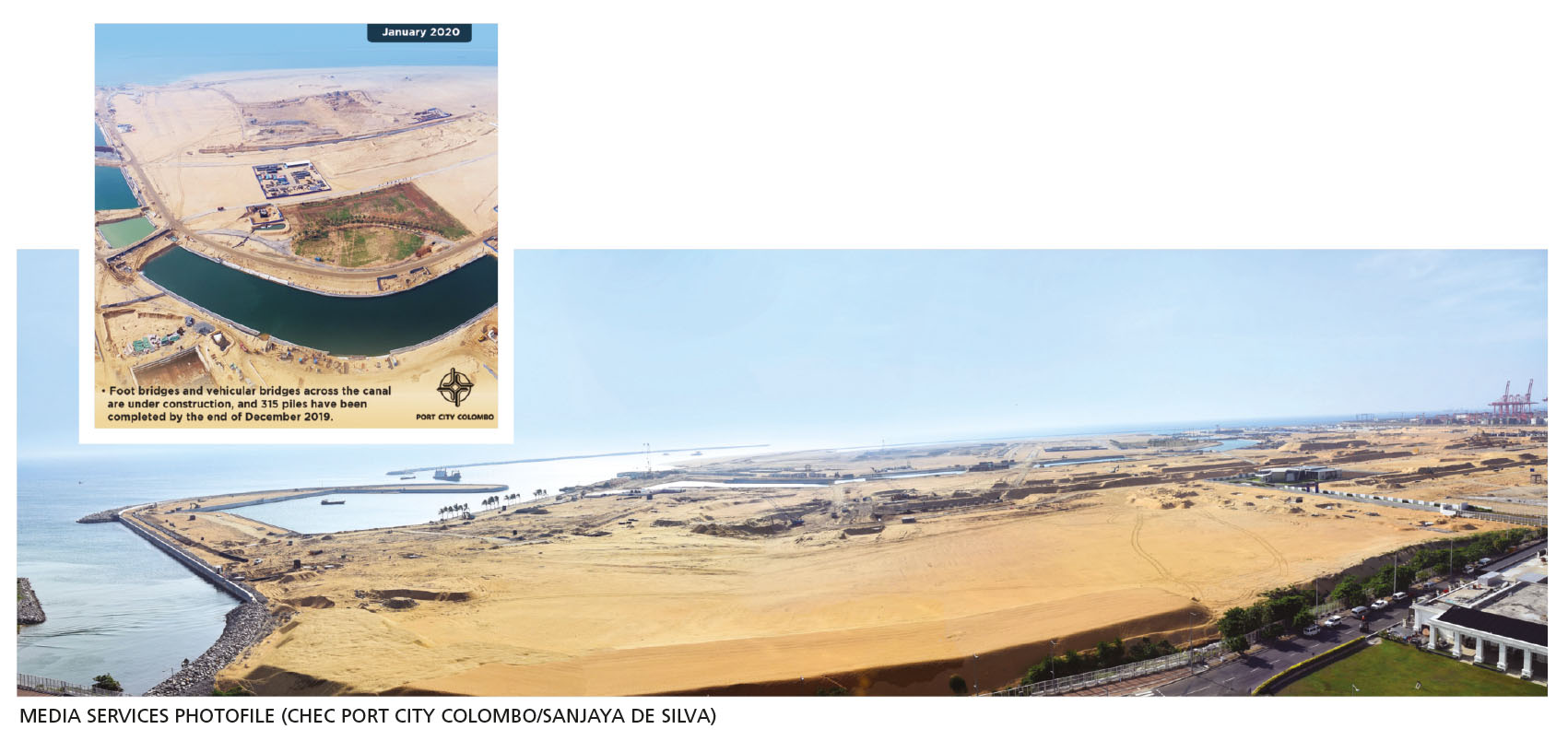 In today's global parlance, financial centres or hubs refer to cities that boast strategic locations as well as high calibre financial institutions, a reputed stock exchange, a dense concentration of public and private sector banks, and trading and insurance firms.
This is in accordance with the view of investing and finance education portal Investopedia, which states that "these hubs are equipped with first-class infrastructure, communications and commercial systems, and there is a transparent and sound legal and regulatory regime backed by a stable political system."
"Such cities are favourable destinations for professionals because of the high living standards they offer along with immense growth opportunities," the portal adds.
Indeed, international financial centres – of the likes of New York City, London and Tokyo – are full-service hubs with direct access to large capital pools from banks, insurance companies, investment funds and capital markets, and considered major global cities.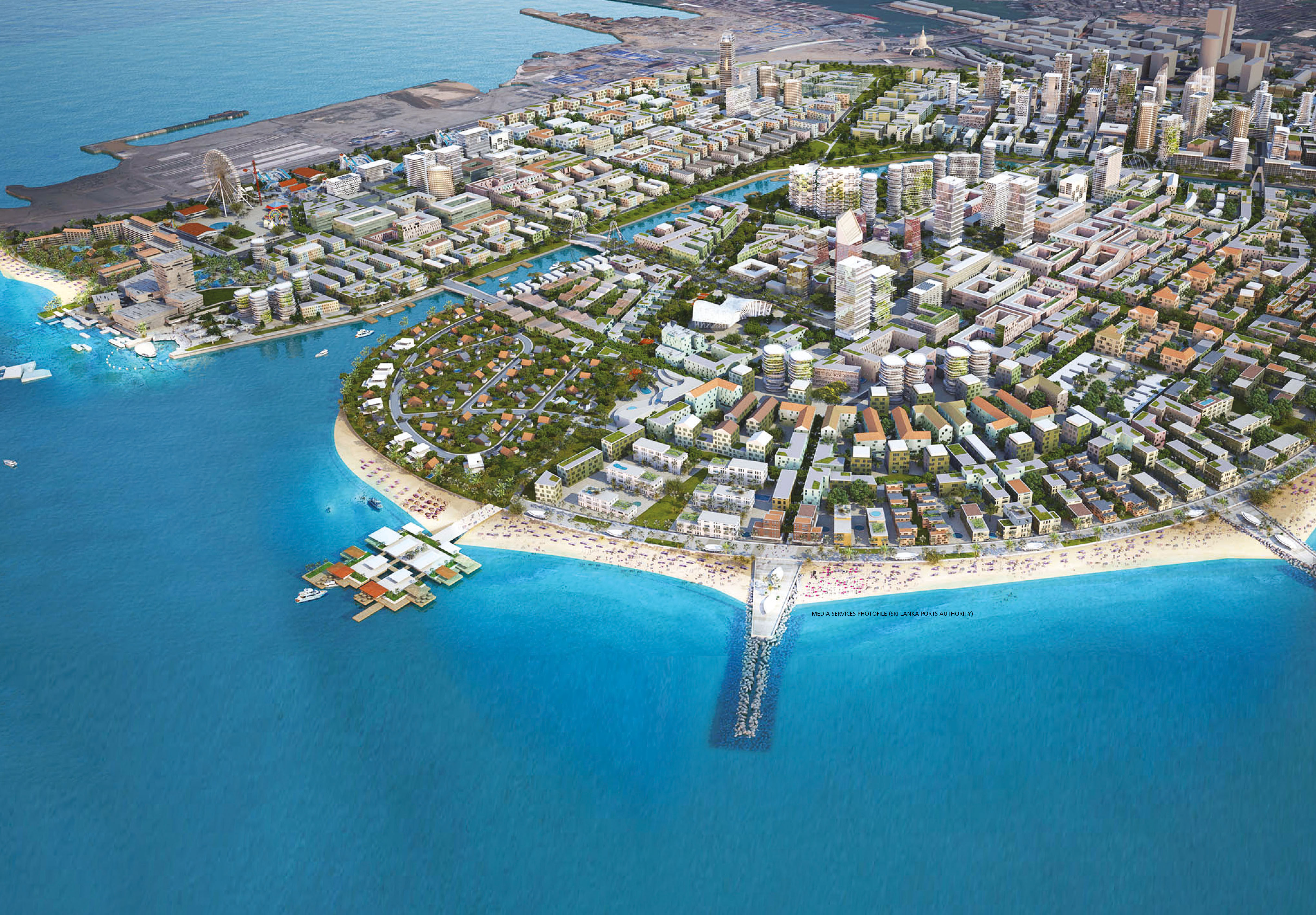 It may have come as little surprise then that postwar Sri Lanka's commercial capital would also look to follow in these elite financial cities' footsteps so as to make its presence felt as a vital cog in the wheel of both the regional and global economies.
In mid 2012, the Sri Lanka Ports Authority (SLPA) announced that construction of the 'Colombo Port City' would commence in 2014 with an estimated budget of US$ 1.5 billion. Subsequently, the project was launched on 17 September 2014 under the auspices of the then President Mahinda Rajapaksa and his Chinese counterpart Xi Jinping.
The Colombo International Financial City (CIFC a.k.a. Port City) is described as a city development built as an extension of the central business district (CBD) of Sri Lanka's commercial capital Colombo.
It spans 269 hectares of land reclaimed from the sea, and is positioned as South Asia's premier residential, retail and business destination, offering planned city living along the waters of the Indian Ocean. The development is set to comprise five precincts including a financial district, central park living, island living, a marina and an 'international island.'
As for progress thus far, phase one (infrastructures and utilities) – which commenced in the latter half of 2017 – reached 99 percent completion in November 2019. Land reclamation and breakwater construction have been completed while ground improvement is all but one percent complete.
CHEC Port City Colombo – a Board of Investment of Sri Lanka (BOI) approved entity set up for the purpose of the Port City project, in addition to being a wholly owned subsidiary of China Harbour Engineering Company (CHEC) – has also indicated that the reclamation and necessary internal infrastructure would be completed this year.
In this exclusive feature, LMD takes an in-depth look at and seeks to offer a balanced perspective of prospects for CIFC given its importance to the Sri Lankan economy in the longer term.
– LMD
Sri Lanka's landmark project Colombo International Financial City (CIFC a.k.a. Port City) – a mega undertaking that has endured multiple changes in the national administration – was opened to investors on 6 December 2019.
This marked a change on the island's map and was followed by the commencement of phase two, which focusses on crucial amenities such as electricity and transportation.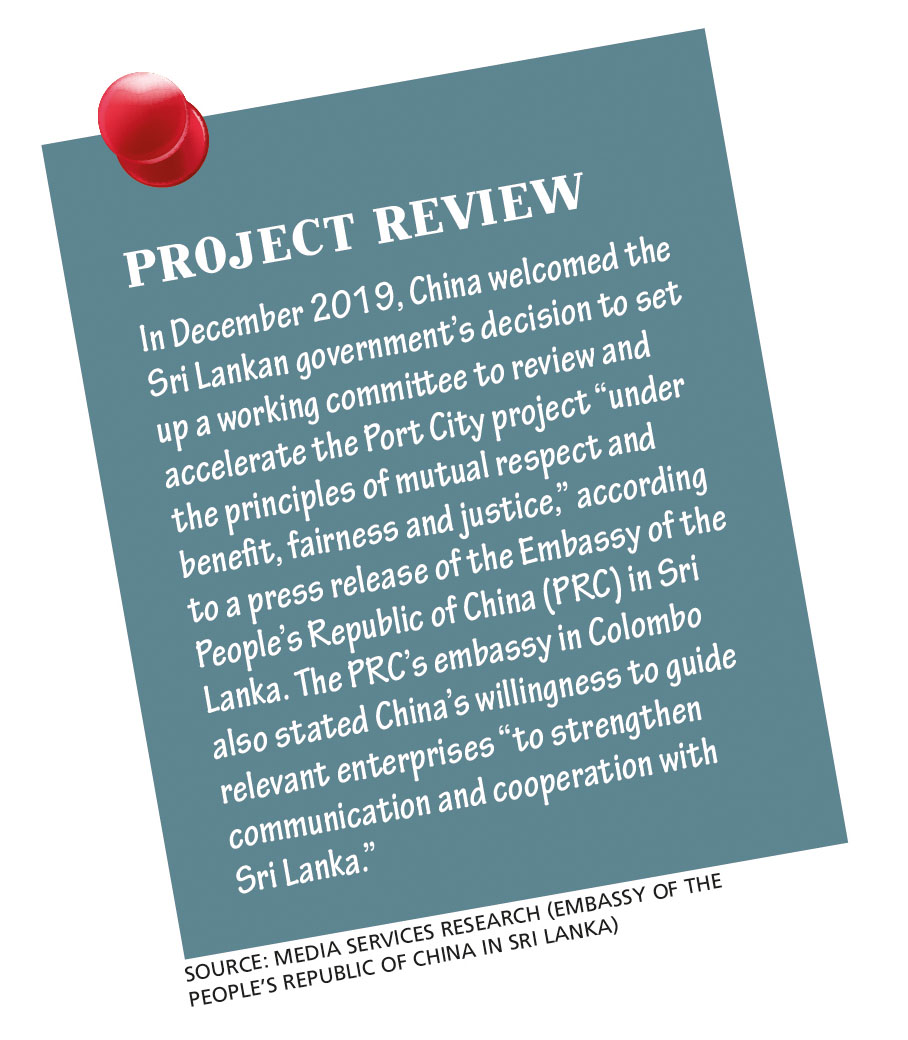 The vast artificial landmass built off the coast of the commercial capital's CBD and costing an estimated US$ 1.5 billion is aimed at attracting international investors to Sri Lanka – and to create a pivotal hub for the region and beyond by offering high tech facilities and a sustainable business environment for global corporations to set up and flourish.
Indeed, as potentially the largest foreign investment district in the island, CIFC has the potential to transform Sri Lanka's corporate sphere and FDI potential like never before.
Set against this backdrop, the key attributes of the project and whether they warrant further scrutiny are worthy of consideration.
PROPERTY VALUES Upon completion of the China funded project, property values in Colombo are expected to rise within a period of six years. This has been reported by Xinhua News Agency, which cites a Lanka Property Web report focussing on real estate trends in the island.
The report forecasts that business as well as residential areas in Central Colombo would witness a sharp increase in both real estate and rental values upon conclusion of the Port City project.
Moreover, it suggests that residential buildings located around the Beira Lake frontage could double in value over the coming six years whereas rental yields would also rise, given the demand for more convenient, affordable and modern living in proximity to the Port City.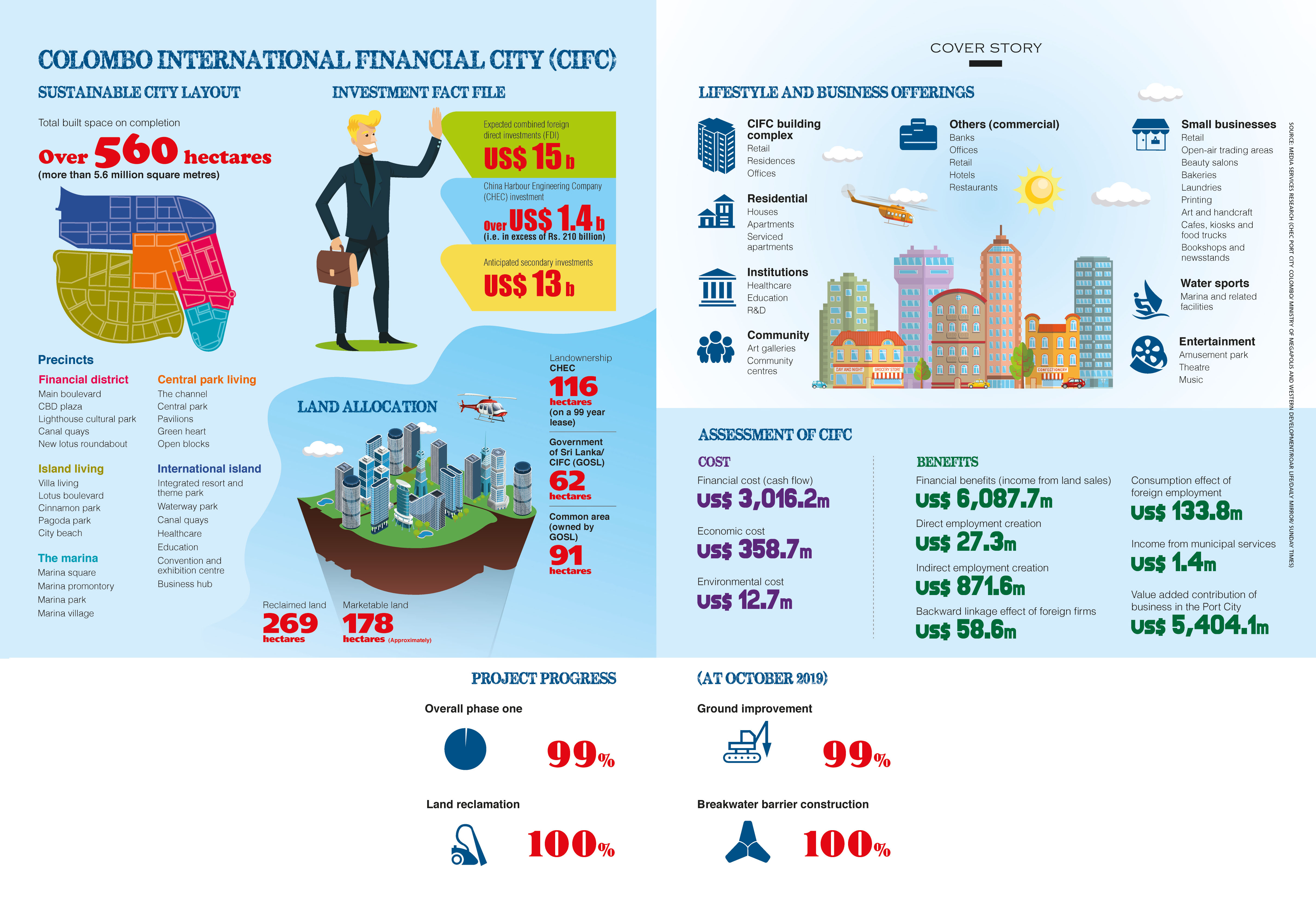 REGULATORY POLICY In September last year, the former government gazetted the Port City landmass that's set to become part of the Colombo District while indicating that it would introduce legislation to provide titles for land under the project for investment.
As for guidelines on building designs and specifications, the Singaporean government-owned consultancy Surbana Jurong has been commissioned to prepare detailed design control regulations (DCR).
CHEC Port City Colombo points out that "all development within Port City will need to adhere to the conditions stipulated in the DCR including certain parameters related to building design and specifications. Also, the Port City Master Plan, once approved by the UDA (Urban Development Authority), can only be changed by mutual consultation and agreement between the project company and the Government of Sri Lanka."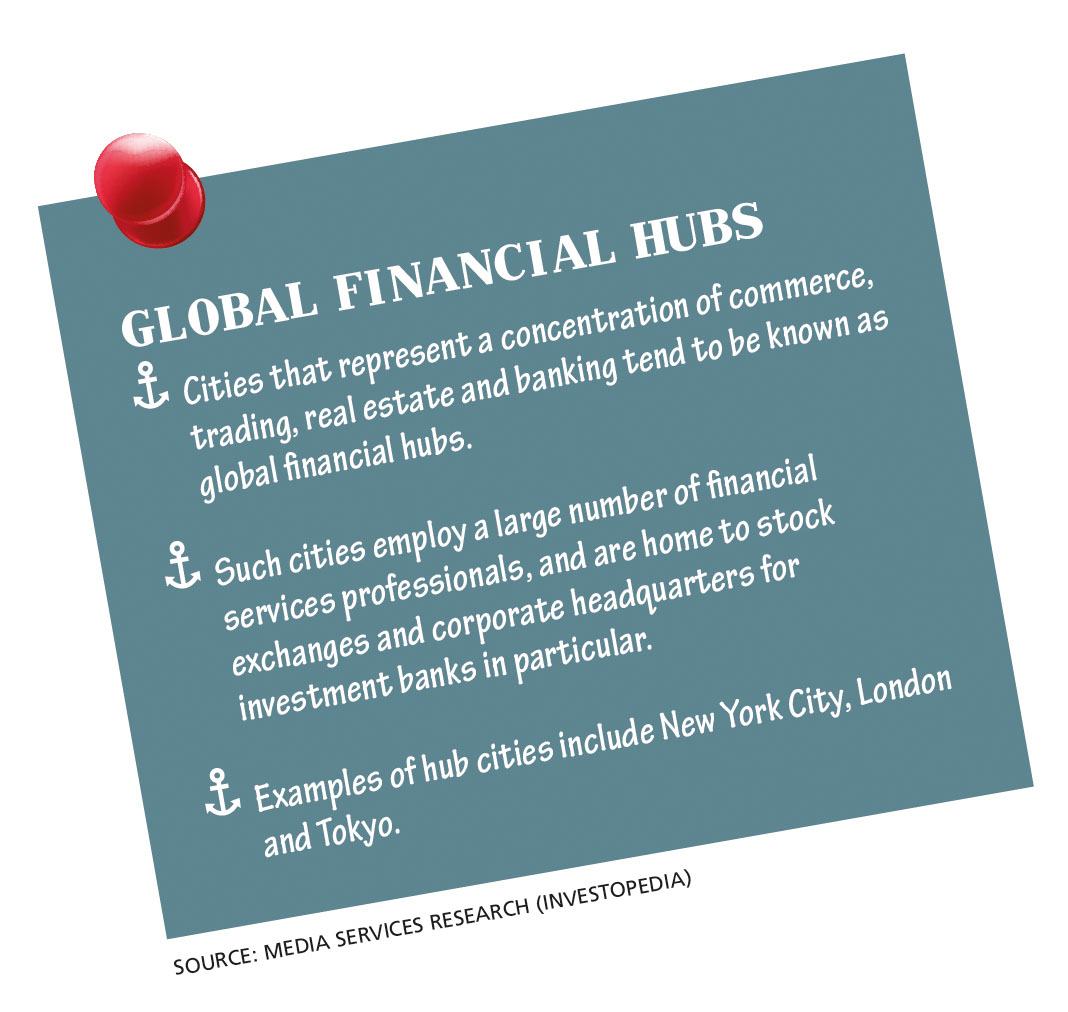 Moreover, it states: "Foreigners can own residential condominium properties. The local law relating to foreigners owning residential properties or land applicable anywhere in Sri Lanka are applicable within Port City as well. At the moment, local banks could lend up to 40 percent of the value of the property to a foreigner. The remainder should be funded by foreign currency inward remittance."
CITY AMALGAMATION Concerns have been raised over the Port City's infrastructure and integration with the City of Colombo, and whether a study has been undertaken to measure impacts stemming from sewerage disposal, the demand for and supply of water, discharge of solid waste, a traffic impact assessment and so on due to the project.
To this end, CHEC Port City Colombo reveals that "utility capacity will be created on the basis of actual demand for such services and therefore, utility agencies will obtain a return for the services provided."
It continues: "In the case of road infrastructure, it is envisaged that the higher disposable income of those living and working within Port City will justify the investment in required road and public transport infrastructure to access the central business district of Colombo."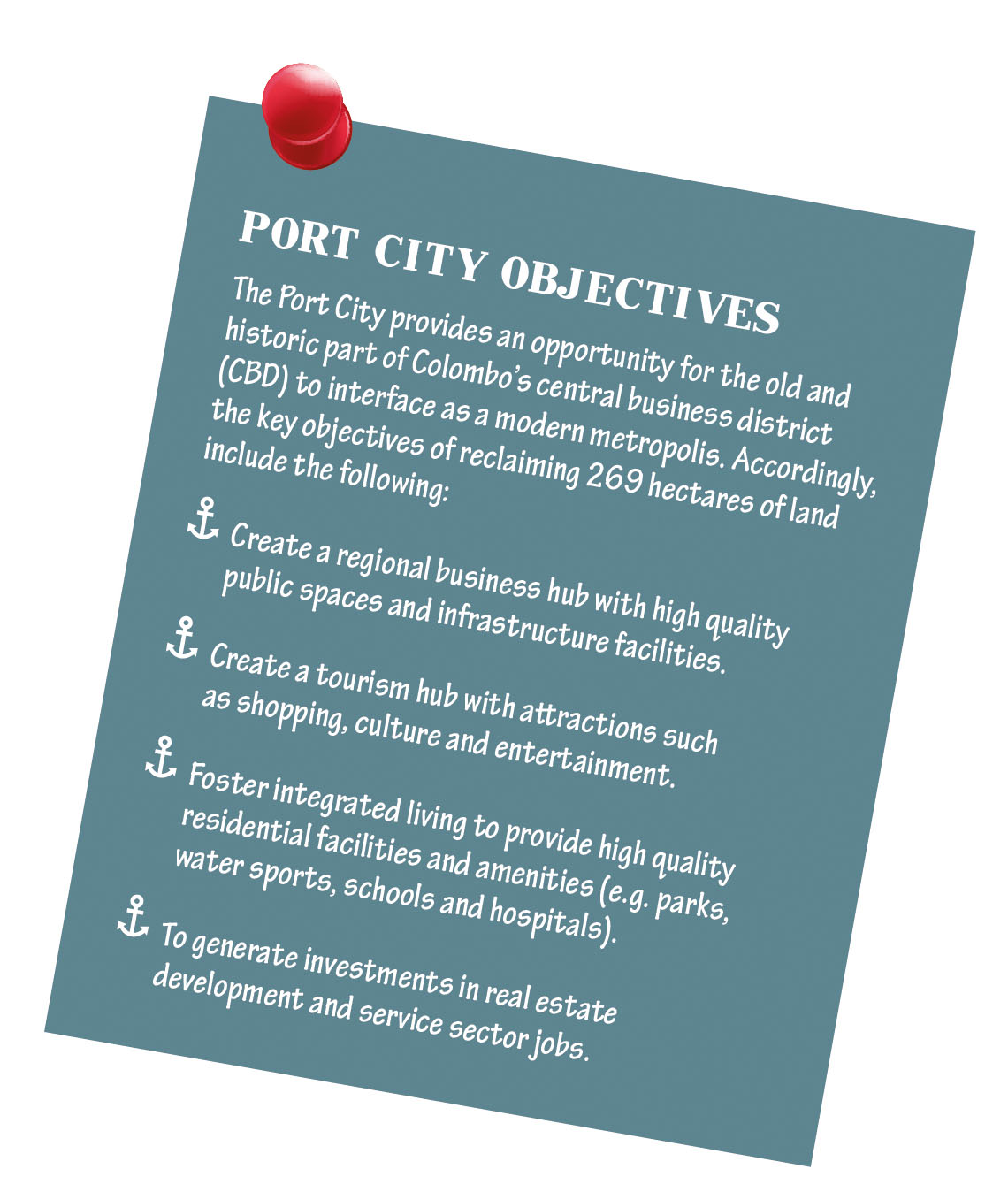 STATUS UPDATE In the aftermath of the presidential election in November 2019 and a new head of state assuming office, it was announced that the 'caretaker cabinet' has decided to review the scope of CIFC. This was reportedly to ensure that the project remains in line with the prevailing political, social and environmental needs of the nation.
Accordingly, cabinet approval was granted to a proposal made by Prime Minister Mahinda Rajapaksa to appoint a committee to examine the relevance and feasibility of the Port City project. The committee would include eight members with experts evaluating the legal consequences, economic aspects, scope for urban development and engineering proposals, as well as to study CIFC's provincial, regulatory and administrative implications.
News reports indicate that the incumbent administration is not looking to make major changes to the project proposal and instead, seeks to understand and review the work that has been carried out so far.
Given the sheer scale of CIFC and going by past practice of how changes in the national administration have affected the outcome of development projects, it may not be foolhardy to assume that the Port City will progress to its subsequent stages with the fullest cooperation of whoever is in power on this island paradise.
CITY WITHIN A CITY
Yamini Sequeira unveils myriad facilities that will feature in Sri Lanka's new city by the sea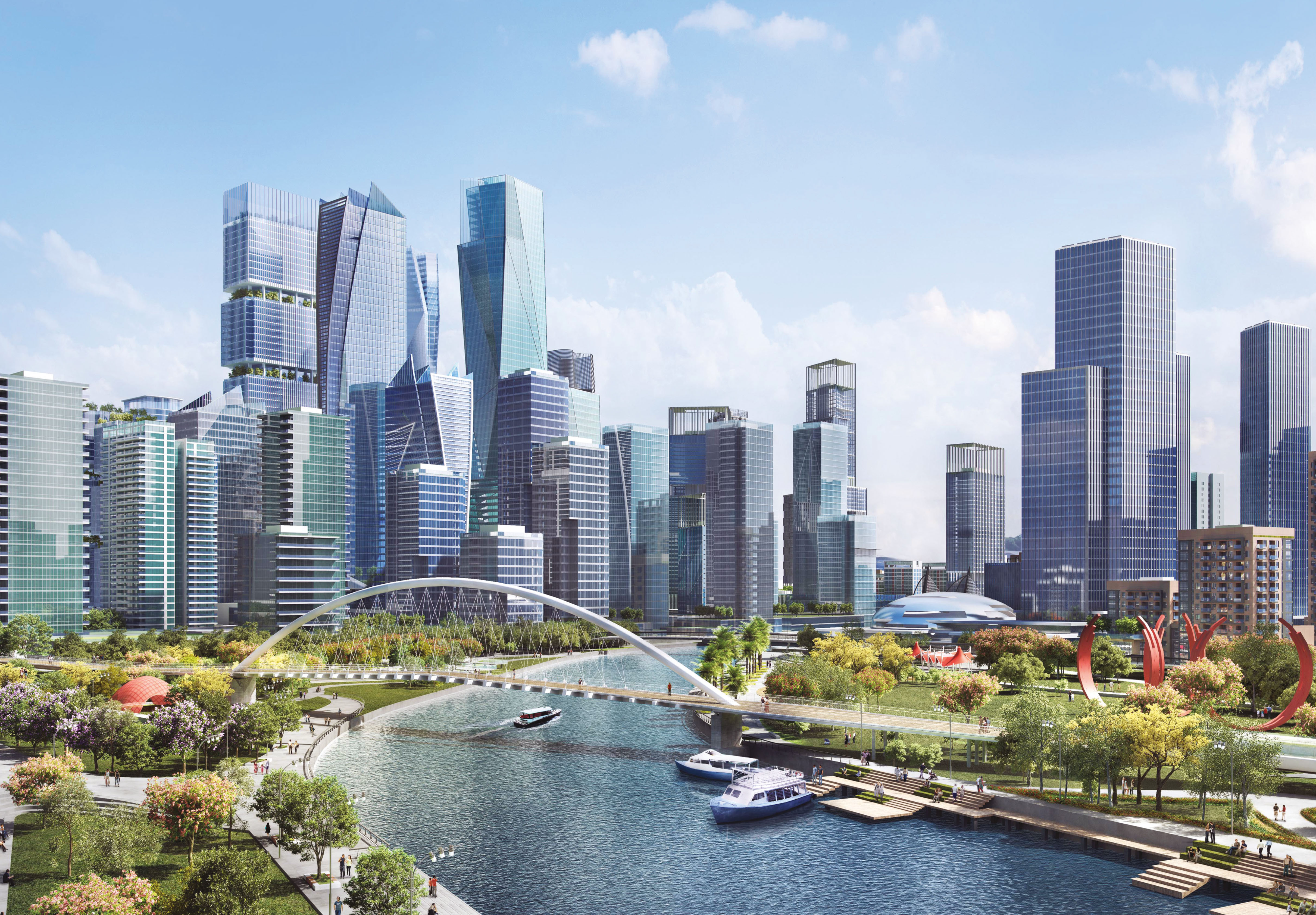 The ambitious Colombo International Financial City (CIFC a.k.a. Port City) has been envisioned as a city within a city – a home for global corporations, and leisure amenities from retail, culture and tourism to recreational activities. When completed in 2030, CIFC is set to showcase over 5.6 million square metres of built space, featuring the latest in design and standards.
An extension of Colombo's central business district (CBD), CIFC spans 269 hectares (ha) of reclaimed land from the Indian Ocean. Its offerings are to include world-class facilities for healthcare, education, entertainment, hotels and restaurants, retail installations and offices, along with an integrated resort and a marina that will make for the best in living by the sea.
BEST IN CLASS Built against a backdrop of the latest sustainable city designs and smart city concepts, CIFC is being positioned as the most liveable city in South Asia.
Swanky business districts across the world are providing lifestyle options for residents – especially for shopping, dining, culture and recreation. The Port City is expected to accommodate 200,000 residents and generate 80,000 jobs. Keeping in mind that there'd be a sizeable expatriate population working in the CIFC, it goes without saying that they would seek leisure and recreational facilities.
A protected water area for public use in the planned marina, which will be capable of accommodating 150-200 boats, also offers opportunities for water sports. This is destined to enhance Colombo's offering to tourists since they presently have to travel down south to enjoy water sports.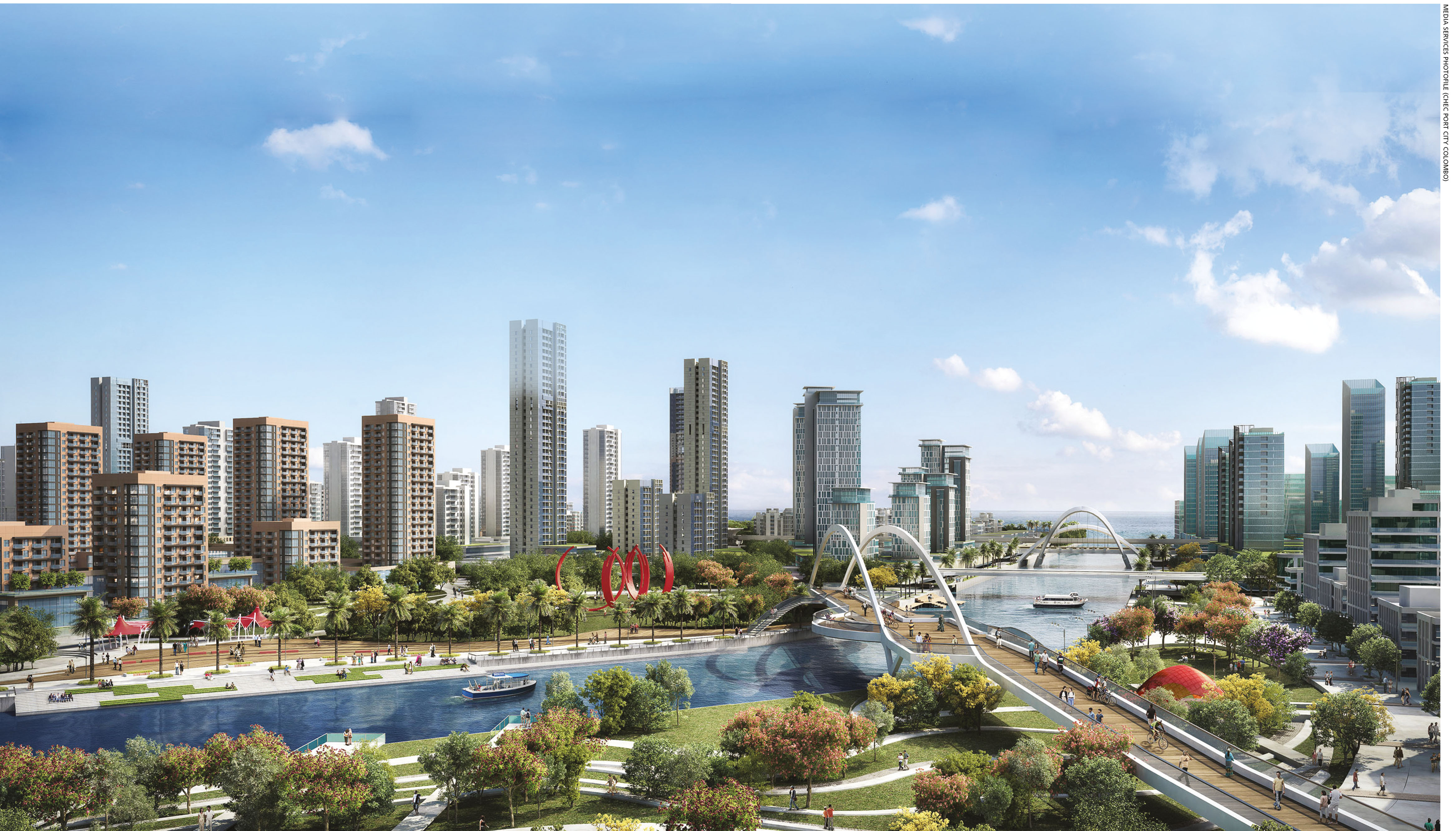 CIFC is also expected to offer transport, telecommunications and high-speed internet to attract international business houses – and to this end, the special law that will govern CIFC is reportedly in its final stages of being drawn up. And CIFC's close proximity to the Port of Colombo will mean that cruise ships calling at the port can access the new city's offerings.
GREEN ENVIRONS Most importantly, the Colombo International Financial City is being designed as a 'green city' with open waterways and parks, and the use of renewable energy.
It promises less traffic congestion and another feature that Colombo desperately needs: a pedestrian and cycle friendly environment. The master plan has allocated a three kilometre long artificial beach and 45 hectares of parks, which would be some nine times larger than Galle Face.
PORT CITY MENU The Post City will also house apartments, hotels, offices, malls, art galleries, banks, food trucks, bookshops, restaurants and exhibition centres – and the previous administration also included an international school in the mix. And in exciting news for adults and kids who enjoy the thrills of roller coasters, an amusement park has been pencilled into the plans too.
Today's executives are acquiring a penchant for working hard and playing hard, and they seek locations that offer the best of both worlds so to speak. As such, the first phase of construction is to include an office tower, two luxury condominium towers and a shopping mall.
WORLD CLASS If CIFC delivers all these leisure facilities together with buzzing nightlife along the ocean, it could propel Colombo onto the list of highly regarded international financial cities such as Dubai and Singapore.
Expatriates in Dubai for instance, enjoy tax-free income, world-class education for their children, a crime free environment and excellent leisure amenities, which serves to attract a highly skilled workforce.
Studies indicate that the attraction of the Dubai International Financial Centre (DIFC) is so widespread that more than 80 percent of the city's population comprises expatriates.
In fact, Sri Lankan officials travelled to Dubai some years ago to study DIFC's success story.
CIFC is an exciting prospect for Sri Lanka in its ambition to replicate the successes of cities such as Dubai and Singapore. The island nation has long enjoyed rave reviews for its biodiversity, rich heritage and tourism potential.
Perhaps once the new city within a city opens its doors to business and leisure, CIFC will be an engine of growth that Sri Lanka needs.
A QUESTION OF SUSTAINABILITY
Lourdes Abeyeratne highlights the environmental considerations of the ongoing Port City project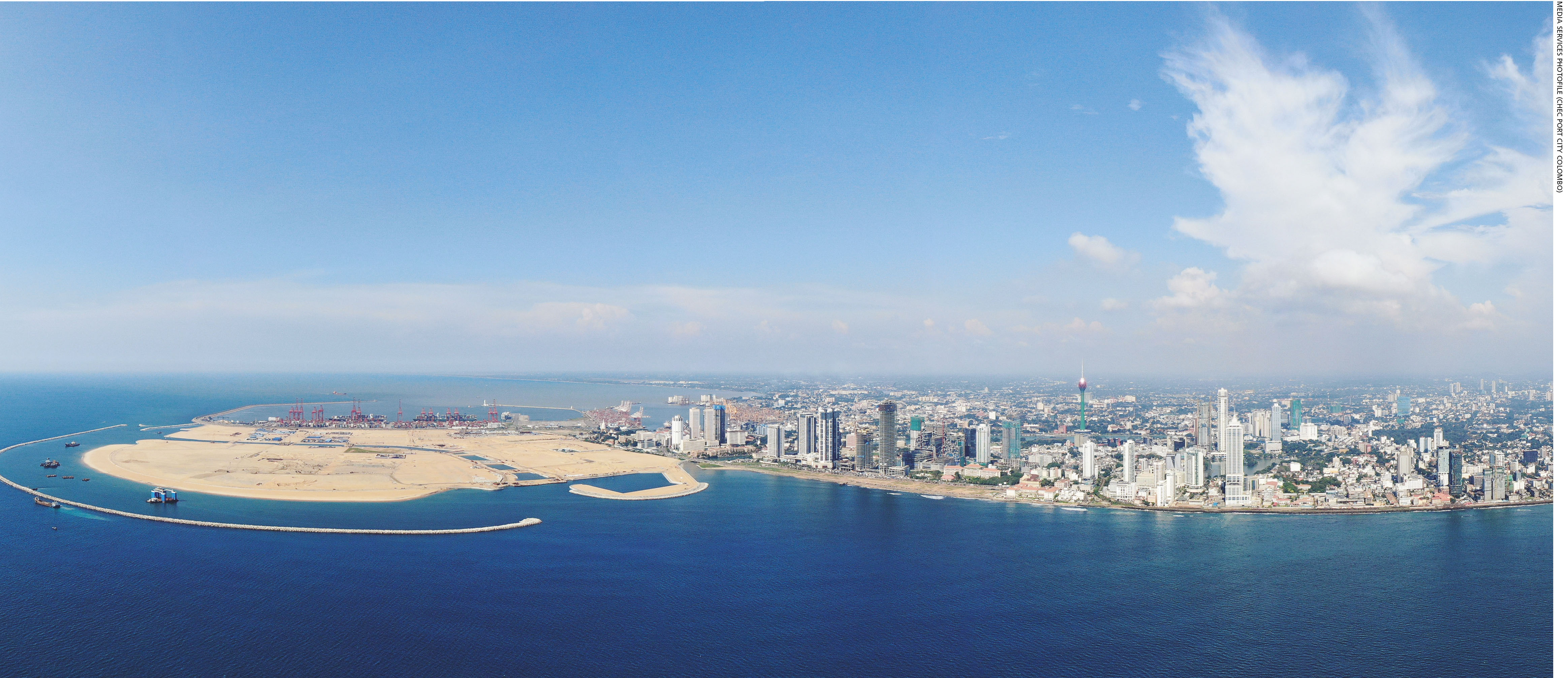 Built on land reclaimed from the Indian Ocean, the Colombo International Financial City (CIFC or Port City) has been the subject of environmental concerns raised by fishing communities and civil society. These concerns were cited among the reasons for the project's suspension back in 2015.
THE ENVIRONMENT While the initial environmental impact assessment (EIA) was approved by the Coast Conservation Department (CCD) in 2011, it was noted that this covered only 200 of the 269 hectares of land that would be reclaimed. Moreover, environmentalists pointed out that the EIA failed to assess the impacts of obtaining raw materials for the landfill and on marine life.
As a result, a supplementary environmental impact assessment (SEIA) was prepared in 2015, addressing the reclamation, dredging, construction of protective structures and extraction of materials.
According to the assessment, CIFC is expected to have minimal impact on the reclamation site and surrounding coastal zone. The SEIA also reports the sand extraction process – a major concern associated with the project – is not expected to result in coastal erosion as dredging occurred at depths of at least 15 metres.
However, Rs. 500 million was to be allocated to the Ministry of Fisheries and Aquatic Resources to support fishing communities as their activities had to be conducted away from dredging sites, potentially leading to a loss of income. Dredging was also banned in one proposed site due to the presence of fishing grounds.
POLLUTION WATCH Concerns have also been raised regarding air pollution and traffic during the construction phase.
Department of Commercial Law Prof. Naazima Kamardeen at the University of Colombo has stated that the SEIA failed to consider the potential impact of infrastructure development.
In response, Chief Environmental Consultant to the Port City project W. A. D. D. Wijesooriya noted that a separate EIA performed in 2017 covered development activities on the reclaimed land. This addressed aspects such as material and waste requirements, air quality, traffic management and environmental monitoring, proposing measures to mitigate such impacts. It was approved in 2018.
Furthermore, Wijesooriya pointed out that 36 million rupees has been allocated for monitoring activities annually in accordance with Port City's Environmental Management Plan.
SUSTAINABLE CITY On the sustainability front, Port City's water systems are to adhere to conservation and efficiency principles, reusing rainwater for irrigation and gardening, and implementing energy efficient and environmentally-friendly systems.
A transit oriented development model has been adopted to ensure that the city's skyline is preserved. This model also aims to improve access to public transport from commercial, mixed use and residential areas.
Approximately 91 hectares will be allocated for public use including roads, open spaces and utility areas with 45 hectares set aside for parks. Liang Thow Ming – Chief Sales and Marketing Officer of CHEC Port City Colombo – notes that public transport would be given priority in the new city.
To this end, a light rail transit system will be the main form of transport while walking and cycling are to be encouraged to reduce air pollution.
SOCIOECONOMIC FRONT Reclamation based investment projects have been reported to generate a number of socioeconomic benefits such as contributing to broader social welfare by improving the competitiveness of local and national economies. Moreover, public spaces such as parks and beaches can enhance the quality of life in urban settings. In the case of projects such as Hong Kong International Airport and Hong Kong Disneyland, infrastructure has also improved with the development of new roads and commercial sites contributing to the region's modernisation.
Considered an important part of China's Belt and Road Initiative (BRI), the Port City is expected to deliver far-reaching economic benefits by generating thousands of jobs and boosting the local economy.
And as witnessed in other regions, the surrounding locales may also enjoy a host of benefits such as infrastructure development and an improvement in the quality of life.
A HUB LIKE NO OTHER
Yamini Sequeira surveys the CIFC's foreign investment prospects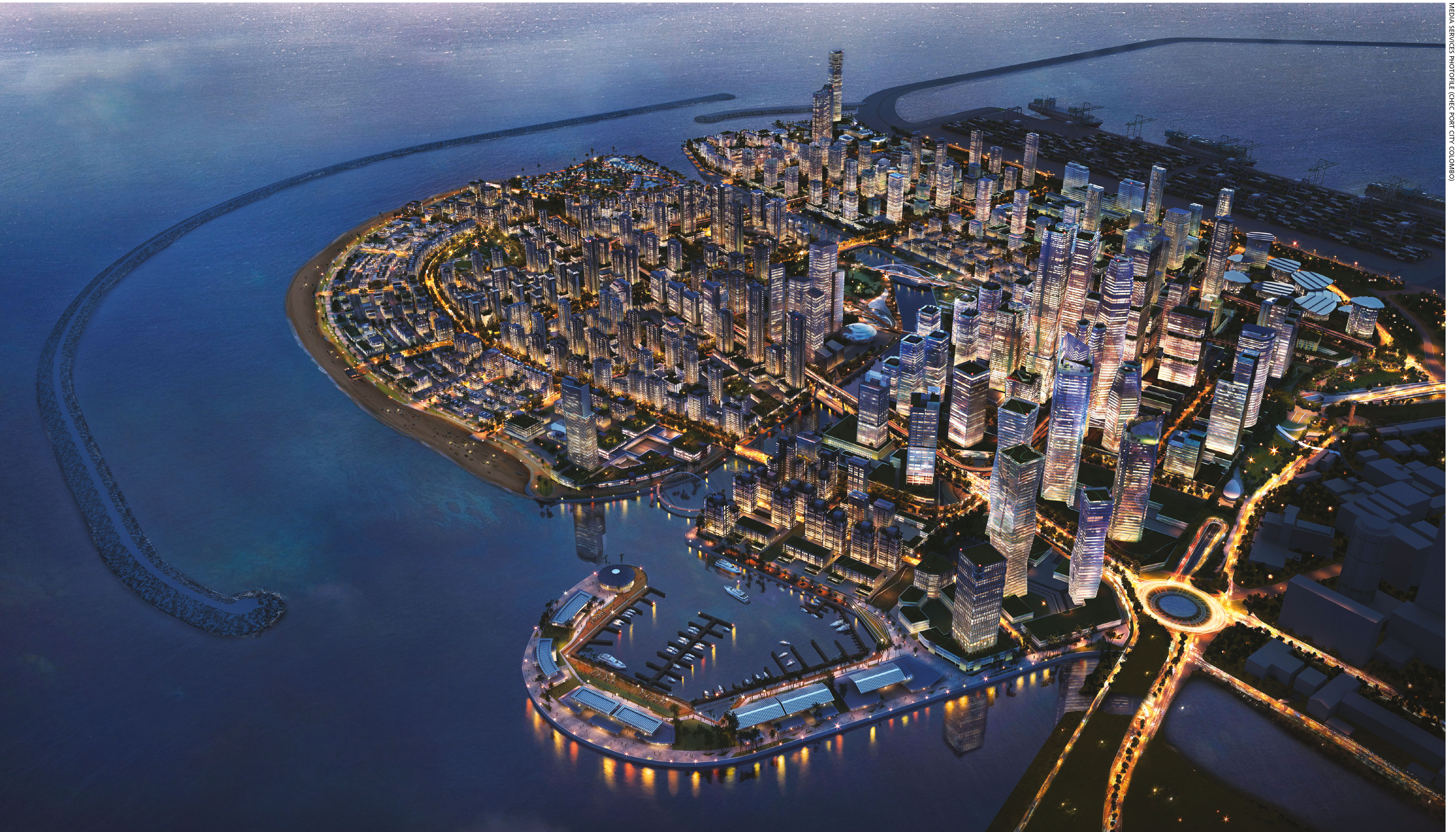 When the skies over Galle Face lit up in a profusion of fireworks and pyrotechnics on 6 December as 269 hectares (ha) of reclaimed land known as Colombo International Financial City (CIFC a.k.a. Port City) was added to Sri Lankan territory as a valuable extension to the commercial capital's central business district (CBD), one may imagine phones ringing off the hook in investors' offices around the world.
Marking a major milestone in the nation's development programme, CIFC is ripe for the picking by investors.
FDI POTENTIAL Investments to the tune of some US$ 15 billion are expected to pour in once investors are provided land, infrastructure facilities, manpower and other utility services. And for foreign investors with little knowledge of how business operates in Sri Lanka, it could well be that China's presence may offer greater assurance.
With an initial investment of 1.4 billion dollars, CIFC is being jointly developed by the Government of Sri Lanka and China Harbour Engineering Company (CHEC) under the Belt and Road Initiative (BRI).
The leasing out of 116 ha to investors under a 99 year lease agreement would be vested with the Chinese company and CHEC has first right of selection for plots of land – and importantly for Sri Lanka, it bears the risks associated with commercial success. As a Fortune 500 company, the developer's credentials are likely to inspire investor confidence in the medium term.
A study undertaken by EY notes that large corporations base their location decisions primarily on the overall attractiveness of cities and countries. The most critical factors in this equation are the stability of the political and regulatory environment, market access, the business landscape, cost competitiveness and quality of infrastructure.
Foreign investors can access 40 percent of the land value in CIFC while they must fund the remaining outlay through inward remittances. Meanwhile, the recent flurry of high end luxury condominiums in and around the city's CBD renders real estate an attractive asset category for investors.
HUB POTENTIAL As one of the newest countries in China's BRI, Sri Lanka hopes to reap economic rewards through this partnership with China to realise its long coveted hub status in the region. As part of the BRI, it has secured infrastructure financing for CIFC – by far the largest foreign direct investment (FDI) project in Sri Lanka.
Other related developments in the island dovetail with the reimagining of the City of Colombo.
With three deep-water ports, Sri Lanka boasts an unmatched strategic advantage in the region. Colombo was anointed the port with the highest growth in 2018 and 13th best in global connectivity.
Investors are perceiving Sri Lanka's proximity to India and China as an opportunity for entrepot trade. An investor forum at the London Stock Exchange (LSE) flew down Sri Lankan officials, investors and legal experts to brief prospective overseas investors in the Port City.
The pipeline of investments flowing from CIFC is expected to be in the spheres of healthcare, lifestyle, education, shopping, and commercial and trading activities. Investors have opportunities across road construction, transport, renewable energy and so on.
STATUS UPDATE Meanwhile, the sale of land to prospective investors is expected to commence as the government and project company prepare to float tenders for plots in Port City.
CHEC anticipates around two billion dollars in investments for the two building complexes envisaged for CIFC. The company has signed an MOU with the Sri Lankan government to develop a US$ 1 billion building complex at the Port City.
CIFC's second phase is currently underway. This includes the construction of roads, electricity grids, water systems and common amenities. While the project expands Colombo's CBD, the lure of oceanfront realty is universal and should appeal to investors everywhere.
There's little doubt that a massive initiative such as CIFC – the only one of its kind in South Asia – would place the international spotlight on Sri Lanka. Nevertheless, the formula for success must balance risk and reward between foreign and local investors to derive the accelerated pace of economic growth that Sri Lanka seeks.