GULF AVIATION
MIDDLE EASTERN AIRLINES FLY HIGH  
Yasmin Helal points to the formidable rise of national carriers in the Gulf countries and how they coped with  competition from global carriers
Until the late '90s and early 2000s, the majority of Middle Eastern families travelled overseas only when absolutely necessary since this was an expensive venture. And when they did invest in such journeys, travellers resorted to Western airlines that had dominated both international and regional markets.
Back then, US and European carriers transported passengers from one Middle Eastern country to another.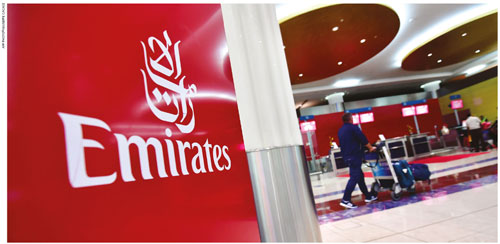 At the dawn of the travel industry in Gulf countries, traffic predominantly consisted of foreign workers seeking employment in expanding regional markets. After the advent of leisure travel in the region, local families didn't travel beyond nearby destinations like Cairo and Beirut.
When the popularity of such destinations declined in the face of political instability across the region, travelling farther abroad for holidays in Europe became more appealing. In the meantime, as regional businesses grew, local aviation companies began flying to strategic locations.
Following the Dubai Airshow 2013, aircraft orders shot up to US$ 200 billion. The majority of aircraft were purchased from Boeing and Airbus, by Emirates Airline, Etihad Airways and Qatar Airways. "Boeing surfaced as the winner from the Dubai expo where it surpassed 1,000 orders for the 787 Dreamliner and made the 777X launch the most successful ever for a large aircraft," Bloomberg reported at the time.
This deal may have been one of the biggest business decisions these regional carriers made but there were also smaller actions that helped establish Gulf airlines in the international aviation business.
One such event took place a few weeks prior to the Dubai Airshow 2013 when Emirates launched daily flights between New York and Milan, triggering a fear psychosis among aviation giants in the United States. Soon enough, other regional aviation businesses like Saudia and Oman Air entered the fray.
Eventually, they began competing with European and US airlines that had once dominated foreign markets. These airlines fought back and the rise of Gulf airlines in the international aviation business triggered a wave of lobbying, as well as legal and political battles in former aviation hubs like Washington D.C.
For more than a year, Delta Air Lines, United Airlines and American Airlines together with their labour unions waged a multimillion dollar fight to get US officials to block their Persian Gulf rivals from expanding in the United States.
"It is the biggest single threat to our newfound prosperity," United's then chief executive Jeff Smisek lamented to the Wings Club, as quoted in an article published in the New Zealand Herald.
This shift came as part of a changing global business environment that was increasingly gravitating towards the Gulf region against a backdrop of loosening trade restrictions on airlines.
In 2017 and 2018, Emirates transported over 58 million passengers. Many of them were transit passengers travelling from Europe to South and Southeast Asia. And a number of visitors stopped over in Dubai for a few days where they shopped, enjoyed a plethora of hospitality services and spent heaps of tourism dollars.
Other milestones included doubling the number of US destinations afforded to Gulf carriers, many of which are nonstop flights. Another bold move was to expand their territory to Latin America with direct flights from the UAE to São Paolo and Rio de Janeiro.
Meanwhile, Gulf airlines were also developing their existing markets with an increasing share of travellers journeying between the US
and the Indian subcontinent.
Even as the list of achievements grows, Gulf airlines face many challenges considering the dynamic and globalised nature of the markets they serve. Some of these problems include currency devaluation in key markets like China and India, as well as in the Gulf region itself, which has contributed to lower revenue streams.
Another threat has come in the form of competition that's emerging from neighbouring markets like Turkey where the foundations of aviation power are being built.
Istanbul's new airport, which was inaugurated late last year, is expected to serve 90 million passengers in its first phase. The plan is for it to become the world's busiest airport with six runways and a capacity for up to 200 million passengers.
According to an analysis published by ForwardKeys, "in addition to the success of various routes, Istanbul's growth has been helped by a reduction in terrorist incidents in Turkey since 2015 when a wave of bomb attacks hit both Istanbul the city and Istanbul the airport."
"One also should pay tribute to Doha for maintaining its transit volumes in the face of a diplomatic spat with its neighbours, which saw Bahrain, Egypt, Saudi Arabia and the UAE close their airspace to Qatar Airways flights last June," it adds.
In spite of the challenges facing Gulf airlines, Arabian Business – a weekly business magazine – says that Middle Eastern airlines are expected to record an increase in net profits to US$ 1.3 billion for 2018 due to a number of factors including improved 'aeropolitical' relations with the US.
Meanwhile, IATA notes that airlines in the region are recovering with the gradual rise in oil prices, which helps increase revenue and oil based economies on the whole.