GEN Z PERSPECTIVES

INDIAN OCEAN

DIPLOMACY
Dona Senara reviews the emerging partnerships between Sri Lanka and Japan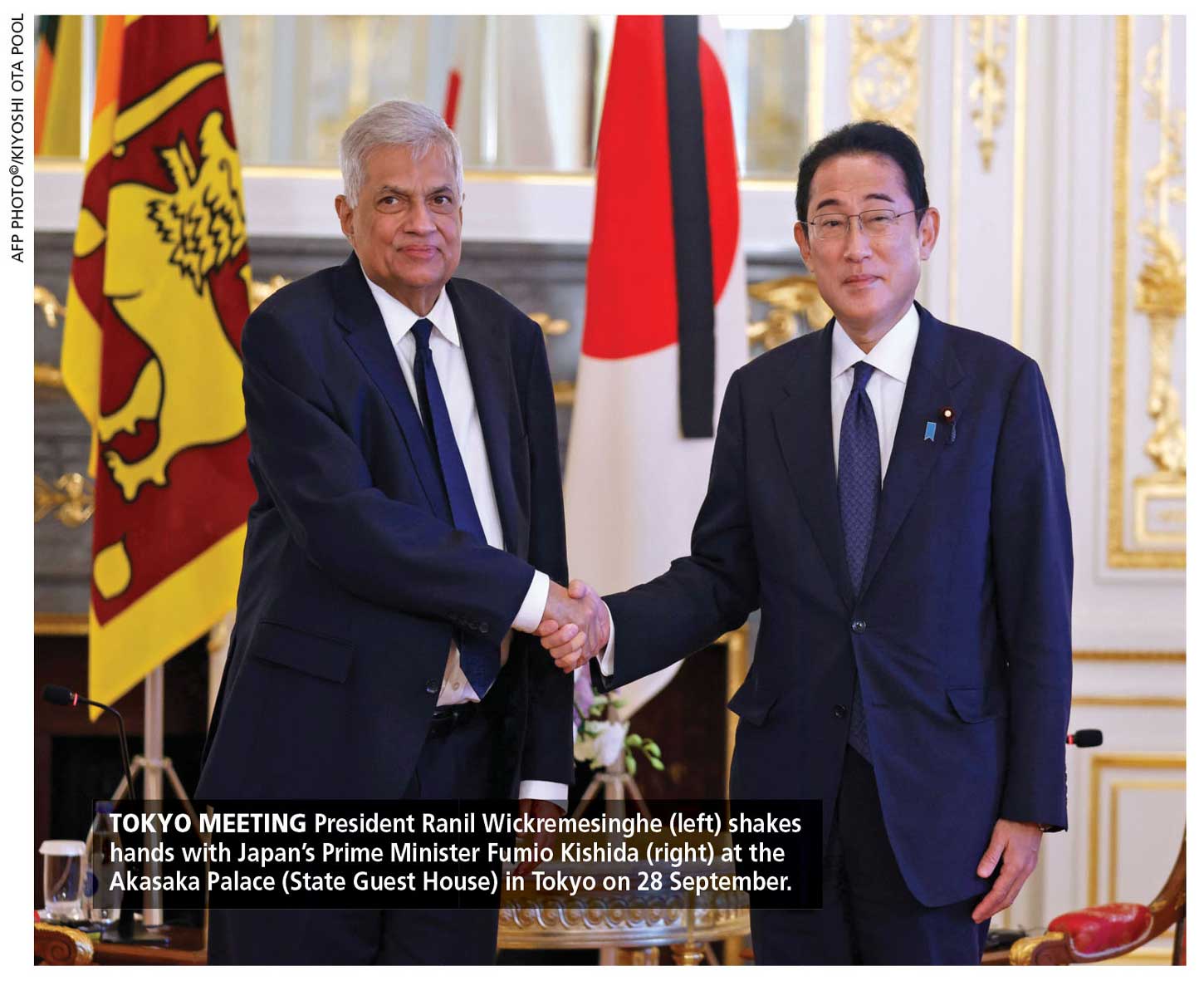 Bilateral relations between Japan and Sri Lanka, which go back 70 years, were initially focussed on religion and culture. Subsequently, these evolved into more political and economic bonds.
J. R. Jayewardene's famous speech at the 1951 San Francisco Peace Conference, where he urged the world community to be magnanimous towards Japan, laid the foundation for good relations between the two nations. To date, the Japanese remember and appreciate his words calling for compassion towards them after their defeat in WWII.
Japan has continued to be a good friend to Sri Lanka over the decades. Recently, Tokyo promised to support the debt restructuring negotiation process so that Sri Lanka can reach a final agreement with the IMF.
Sri Lanka is seeking a loan of US$ 2.9 billion from the International Monetary Fund through a 48-month Extended Fund Facility (EFF). While a staff level agreement between the government and the IMF has been reached, confirmation of the EFF depends on the debt restructuring arrangements with Sri Lanka's creditors.
As one of the country's main creditors, Japan holds approximately US$ 3.5 billion of the total bilateral debt in Sri Lanka, which amounts to almost 10 billion dollars covering 4.4 percent of the nation's GDP.
While support from Japan will be of immense help to the debt-ridden nation, Sri Lanka cannot expect the re­structuring of its debts to be easy and must work strategically to achieve it. This was evident when Japanese Foreign Minister Yoshimasa Hayashi rejected reports that said his country would hold a debt restructuring conference on behalf of Sri Lanka.
Meanwhile, when meeting with President Ranil Wickremesinghe, the Prime Minister of Japan Fumio Kishida emphasised Tokyo's desire to reinforce bilateral relations with Sri Lanka, if the island supports Japan's vision for a Free and Open Indo-Pacific (FOIP) – an umbrella term for respective regional strategies.
While there is a lot to learn from other countries, there's also plenty to be cautious about particularly at a time when Sri Lanka is vulnerable.
Japan is a powerful entity in terms of both hard and soft power, and it boasts an industrially advanced economy, a distinct military called the Japanese Self-Defense Force and a lively culture with global influence.
The US and Japan are close strategic allies, and the former has several military bases on Japanese territory. Furthermore, Tokyo has signed security agreements with Washington to oppose any potential threat of Chinese hegemony.
Sri Lanka is a strategic pivot in the Indian Ocean region, and its foreign policy is guided by physical and geographical elements that easily allow external influences to manipulate the nation.
As the Strategic Security and Intelligence Analyst on South Asia Colonel R. Hariharan notes, Colombo is eyed by many since it is an ideal location from which to eavesdrop.
Perhaps, Japan is joining the power games being played in the Indian Ocean region with America's backing, to constrain the sphere of influence being exerted by Beijing and New Delhi on Sri Lanka.
China and Japan are the two most powerful states in East Asia. While Beijing has a growing influence in Africa and parts of South-west Asia, Japan's soft power affects the culture and economy of Europe and the US. These regional powers can impact the norms, rules and practices of the international community in their own regions but don't possess the global outreach of a superpower.
Therefore, Sri Lanka needs to be smart in its efforts to promote Sri Lanka-Japan relations that were established after J. R. Jayewardene defended Japan in its hour of need. Even as it works towards mutually sustainable associations with Tokyo, Sri Lanka must grow cautiously without losing itself.